10 Sure-Fire Social Media Marketing Strategies That Will Transform Your Brand in 2018

So you have an account in social platforms that are relevant to your business and regularly post stuff about your brand, and your industry in general.
Overall, you are doing good.
Right?
Unfortunately, the blunt answer to that question is a blunt NO.
You see, having an account and posting every now and then is not the same as having a presence.
So what is it about having a presence?
How to come up with a social media marketing strategy that's effective?
Being there is all about engaging with your audience. It's about having an impact and leaving a footprint.
It's about creating a brand image that will have a net positive influence on your target audience.
If you are not leveraging the power of social media to its maximum potential, you will be left out.
Now, don't get me wrong. I don't want to scare you into this.
Instead, I want to present you with 10 highly actionable steps with proven results.
Although most of these 10 steps have been around for some time, in this article, I have fine tuned them to suit the ever changing social media scene, so it's apt for 2018.
With further ado, let's look at each of these 10 steps in detail.
1.Set Objective Goals That Are Attainable and Relevant
Let's face it. With so many popular social media platforms each with its own unique appeal, it's easy to get lost in the sea of options.
Without proper goal setting, you will be in the danger of wasting your efforts.
Having a clear picture of what you want out of your efforts allows you to be more efficient in terms of optimal allocation of your resources.
For example, Snapchat, Twitter, and LinkedIn all have very different demographies.
If you are not sure about what your goals are, you might end up with diluted efforts by going for all three platforms.
People who use Snapchat regularly are highly unlikely to use LinkedIn and vice versa.
So if your product is targeted at young college going kids, why waste efforts on LinkedIn? Why not go all out on Snapchat?
Having a clear set of goals that are documented allows you to constantly track your performance.
With this reference, you can effectively monitor progress and make key adjustments to your processes and other tactics.
Another reason why you should set your goals clearly and document them?
Well, this is more related to the human psyche than social media strategy.
If Statistics is anything to go by, people who write down their goals are 30 times more successful than those who don't.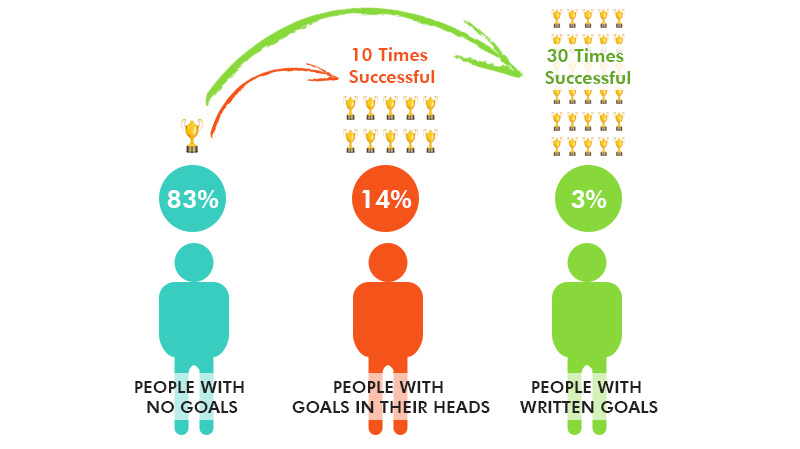 Few Social Media Marketing Goals to Ponder About in 2018
All said and done, social media marketing is just an extension of marketing in general.
Therefore, all the strategies that apply to marketing and business processes also apply to social media marketing.
Because social media marketing involves a lot of variables, there is scope for a variety of goals that can be set.
Here are some of most fundamental goals that you should set as a part of your social media marketing strategy.
Increase Brand Awareness:
Compared to traditional marketing media, social media has no costs involved in terms of buying airtime or magazine real estate.
As a result, there can be huge temptation to post a slew of promotional posts.
Don't give in to this temptation. Focus on meaningful posts that lead to strong brand image and brand awareness.
Focus on Quality of Sales:
With millions of posts posted on the social media everyday, the challenge is to know what people are saying about your brand in particular and your industry in general.
Monitoring specific keywords, phrases, or hashtags is crucial.
You also need to focus on the general behavior of your target audience to gauge their responses to certain stimuli.
This helps you reach your audience in an efficient, impactful, and timely manner.
Boost In-Person Sales:
This is a great way to build lasting relationships. Take every opportunity to drive your customers to your stores.
When they are in your store, they are more likely to be enchanted by the experience and that leads to stronger brand loyalty.
You could also organize events for your audience to take part.
Improve ROI:
Every business out there, whether online or brick and mortar, wants to increase its ROI.
Measuring ROI is a challenging, if not impossible, task on social media.
A good place to start is with a complete social audit of all the channels that you have deployed.
This way you can be sure that costs such as labor, advertisements, and design are well on track.
Establish a Loyal Support Base:
One of the best ways to promote brand loyalty is to encourage user generated content.
One of the best days of my life was when the football club I support published an article I wrote about developing grass roots talent.
Another way to gauge the pulse of your customer base it see how frequently and vehemently your audience react to your posts without being initiated.
Getting to this point might be challenging and time consuming. But it's well worth the effort.
Keep Up To Date With Your Industry:
The key to staying ahead of your competitors is to know what they are doing.
Ask yourself "What is it that my competitors are doing that's working for them?
What are the strategies that they are adapting that are driving their sales or improving their customer engagement?"
Get their pulse and see how it can help you achieve better results.
2. Get To Know Your Audience Better
Like I mentioned in the article earlier, each social media platform caters to a different set of demography.
Is your target audience mostly comprises of young, college educated sub-urban females with a high disposable income?
Or is it middle aged, high school graduate males from the inner city with a moderate income?
Finding answers to such questions can help you formulate effective social media marketing strategies that are sure to be engaging.
Once you have understood the ideal make up of your target audience, you can then look at the typical demography of each social media platform to get an idea of which platforms can be most beneficial.
Depending on your business/brand, more than one platform can be chosen.
Here's a brief look at the demographics data of some of the most popular social platforms.

Identify Your Customer Demographics Today
So you have learned how important it is to align the demographics of your brand with the demographics of various social platforms.
The million-dollar question is "How to know the exact demographics of your brand?"
One of the most effective and yet easiest ways to achieve this is to use social media dashboards.
What's more, such a service is cost-effective too!
Some of the most popular social media dashboards include Sprout Social, Dasheroo, Cyfe, and Klipfolio.
While all such dashboards provide similar analytics and insights, there are subtle differences and it's best for you to try their free trials to determine which of these tools works best for for you.

3. Define Your Most Critical Metrics
Let me ask you a question.
If you have a Facebook page, how many likes would you rather have?
100 or 1000?
It's a stupid question, right?
Now let me ask you another question, a smart one this time.
How many likes would you rather have? 100 likes with 90 of them actively following you or 1000 likes with 10 of them actively following you?
You got the answer!
Someone so rightly said, "Statistics are like mini-skirts, they hide more than what they reveal."
Defining your critical social metrics goes a long way in establishing an effective strategy.
While it's absolutely great to have a large follower base and likes, what really matter is the engagement.
The degree to which your audience is interacting with your posts.
Some of the more meaningful metrics that you should aim to improve upon are:
Reach: Simply put, this is the number of unique followers who saw your post on their feed. Is your post reaching a lot of your followers? Often times, users can choose to like your page/account without necessarily following your posts.
Clicks: So you are reaching a decent number of followers and your reach is good. What next? If your post is a clickable link, how many of your followers are clicking it? Tracking this number can lead to a deeper understanding of your followers' curiosity and what drives them to buy.
Engagement: This is a simple ratio of the number of clicks to the number of reach. This gives you an idea of the quality of your follower base.
Hashtag performance: Which hashtags performed the best? How to get your audience to interact with you more? Tracking this metric will help you answer these questions easily.
Sentiment: Did your audience express delight or anger at your most recent post? Did they just like it or they loved it?
In addition to getting direct information through the reaction buttons of social platforms, smart computer programs can scan through the comments and conclude if the sentiment expressed is overall positive or negative.
Organic and paid likes: In addition to standard likes, you can also earn likes through paid social campaigns such as Facebook Ads.
Depending on the platform, some are easier to achieve organic likes so the paid version might be a better option.
4. Competitor Research and Analysis
You might recall that while setting your goals I mentioned that it's important to know what your competitors are up to.
What are the strategies that are working of them?
The same holds good for content too.
Agreed that you have great ideas when it comes to creating unique and engaging content. I am not trying to curb that thought.
In fact, you should stick to that.
However, getting to know what your competitors are doing in terms of their content gives you a different perspective.
You can learn what's working for them and what's not.
And based on that you will gain further insights to develop your original idea and take it one step ahead.
After all, you are targeting the same audience as they are, and this analysis will give you a clear advantage.
Before you analyze your competitors, you must know who they are.
One simple way to know this is a simple Google search.
Let's say you are in the business of selling premium soaps, and "handmade natural soaps" is one of the keywords you are targeting.
Head to Google and search for your targeted keyword.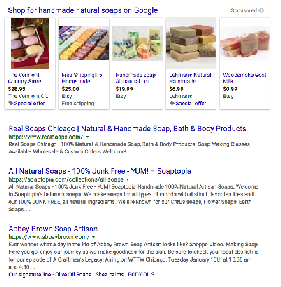 Exclude big players such as Bath and Body Works, Amazon, and the likes. Focus on those who are in direct competition with you.
If you are a local business or cater to a specific geographical area, you can narrow down your competitor base on those lines too.
Maybe you know who your competitors are because of your industry expertise.
No matter how you end up on the list of your close competitors, make sure you have a handful of names so your sample size is significant.
Once you have shortlisted them, check who are active on social media, and more importantly, who is doing really well and who is not.
Perform a detailed social media competitive analysis of each of your shortlisted competitors using online tools such as Sprout Social, Cyfe, or Klipfolio.
A typical analysis screen would look something like this: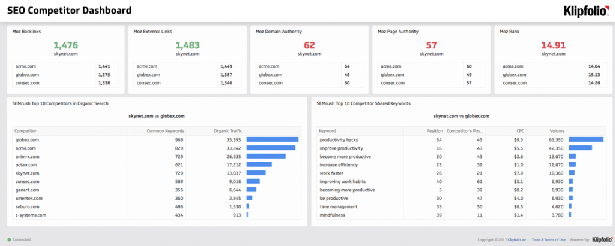 Armed with all these information, you are well placed to understand what your target customers really want.
5. Create Engaging Content Social Media

If you are reading this article to hone your social media marketing skills, you are probably content savvy enough to have your own content-related ideas.
Perhaps, you are so full of ideas and raring to go that you don't know where to start. It's absolute chaos. Madness!
In this section you will learn about how to stick to the fundamentals. You will learn about find a pattern in the chaos. A method to madness.
First things first.
Stick to creating content that fits your brand identity. Stay away from creating content for demographics that aren't a part of your target audience.
The golden rule you must follow when creating content foe social media is finding the right balance between creating target content and promotional content.
Veer of this track and you will see drastic loss of audience.
In a recent survey, 46% of the users said that they will unfollow a brand if they post too many promotional content. Also, 41% said that irrelevant content makes them unfollow a brand.
Content Is King, But Video Content Is The Emperor
You might have probably read in many articles about the advent of video content and how it is transforming the way we consume content online.
Social media content is right at the heart of that transformation.
The importance of video content as a part of your social media marketing strategy cannot be simply overstated.
A whopping 90% of online purchasers are influenced by video content before making a purchasing decision. On an average, 37% of the viewers watch full videos.
Such numbers are compelling and warrant for betting big on video content.
Each social media platform is optimized for posting videos, and no matter what your choice of platform is, you will not find it technically challenging.
Content Theme – The Key to Consistency
The aim of this section is t make it simpler for you to create content for the social media.
And one of the greatest challenge is to create content that is consistent and to do so day after day.
The key is to come up with a theme that reflects your brand identity and caters to your target audience's tastes and aspirations.
Initially, you could come with two to three themes and experiment to find out which theme works best and creates the most engagement.
Look around platforms such as Instagram where consistency matters a lot.
6. Engage With Your Audience
You might find this heading a bit too obvious.
After all, social media sites exist to converse, exchange ideas, discuss, and generally engage your audience in meaningful dialogues. Right?
Just like how we tend to miss out on the most obvious aspects of life in general, many brands simply ignore to engage.
I mean, what's the point of having a great social media strategy, creating great content, and all the jazz, only to ignore their audience who come knocking on the doors?
Whether it's a comment on one of your posts, a query about your product, or a complaint, never miss out on an opportunity to interact with your audience.
Social media as an effective tool for customer service is gaining strong traction because it's real time.
Make sure that there is a designated person/team to reply to all of the comments/posts in a timely, compassionate, and friendly manner.
Remember, do NOT succumb to the temptation of promoting sales at every given opportunity.
Your interaction should be solely based on your customers' needs and intent.
Best Times to Post
So much about 'reactive' engagement. What about proactive engagements a.k.a your posts and content sharing?
As users of social media ourselves, we all know that one friend who annoys us with far too many posts throughout the day.
You don't want your customers to have the same opinion about your business.
At the same time, you don't to miss out on capturing your audience's attention when they are ready.
So how to strike a balance? What is the optimal frequency?
Unfortunately, there's no one-size-fits-all approach to this.
Each business has its own set of unique followers and you should arrive at the right frequency through trial and error.
A non-obtrusive way is to start with a low frequency. It's better to miss out on an opportunity to engage than to annoy a customer and him permanently.
Once you have the right amount of engagement, gradually increase the frequency until you arrive at the right saturation point.
In addition to frequency, timing also matters a lot.
Which time of the day? Which day of the week?
Again, a clear understanding of your target demographics play a huge role in coming up with the right strategy.
For example, if your target audience mostly comprise of working individuals, then evenings and weekends are your best bet.
Do you encourage your customers to use the messaging system within the social media platform? If yes, it becomes really important to ensure that the messages are replied in a timely manner and with the right information that the customer has sought.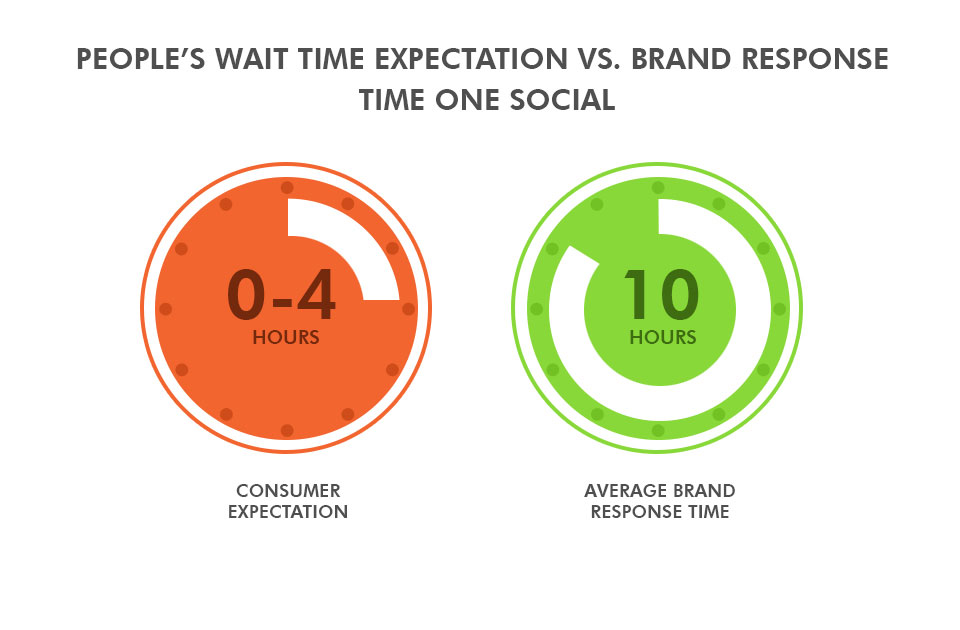 As you can see, the average expectation of customers to get a response is about four hours. However, the average response time is ten hours!
Frequent updates to social media platforms are only making it more difficult for business posts to appear on the users' feed. And you don't want to ignore those precious few interactions.
7. Continuous Improvement Through Effective Tracking
So you have set the right goals, you have researched your competitors and your audience, created great content, and did just about everything right.
But do you know if your efforts are giving you the desired results?
Having a right measure of success in the social media scene is one of the greatest challenges that social marketers face.
In fact, 46% of business-to-business marketers accept that measuring their success in a given campaign and to know how one campaign fared over another is still a daunting task.
So what to do about it?
Like I said earlier, it's all about keeping it simple.
One of the most effective ways to measure your success is to track one key metric.
Engagement!
That is a true measure of your overall objective.
And to achieve this, there are no short cuts. You have to be genuine in your approach.
As long as your focus is on building long-term, meaningful relationships that are built on mutual trust, you're doing good.
The very tools that I mentioned earlier to track the success of your competitors can be deployed to measure your own success too!
Just remember this mantra: If it can be measured, it can be controlled. If it can be controlled, it can be improved.
8. Optimal Allocation of Budget and Resources
Do you allocate your budget first and then choose tactics that fit in to your budget or vice versa?
If your choice is the latter, think again.
Once you have your business goals and objectives in place, you will have a clear picture about the tactics you can deploy.
Depending on the tactics, you can come up with a detailed list of all the resources you will need such as social media analytics tools, services that will be outsourced such as content creation, and other offline promotional costs such as events and advertisements.
Once you have a ball-park figure of your costs, take a look at your budget.
If your projected costs is more than your budget, prioritize your tactics.
Go for short-term tactics that result in instant profits that can be later invested towards long-term tactics.
Remember, you should only change the priority of the tactics in terms of time frame.
You should never abandon any tactic permanently.
9. Effective Assignment of Roles
Since social media marketing is a fairly new field, there are no clear boundaries in terms of roles and responsibilities.
As result, there can be many overlapping efforts that consume time and other resources thereby greatly reducing the efficiency of the campaign.
Try to identify unique roles with clear lines of responsibilities and authority.
Coming up daily and weekly plans is also a great way to efficiently distribute the work so everyone is clear about what is expected of them.
There are plenty of tools such as ActiveCollab and Basecamp that help you allocate and monitor the workflow while allowing your team to effectively collaborate.
10. Influencer and Paid Marketing
Are you looking to build your audience base and need to attract attention right away?
There are two different avenues that you can explore.
Let's examine these two options.
Influencer marketing: You will be basically piggy backing on a social accounts that have garnered a large number of followers, and more importantly, engagements.
When such an account shares your content, people naturally form a positive opinion about you just because of your association.
Think of it as a celebrity endorsing a product on the television.
It's important to ensure that you share a common set of demographics so your efforts are suitably rewarded.
Paid Marketing: Most social platforms allow for paid posts to appear on a set demographic group.
These posts can be tracked and paid over various metrics such as reach, clicks, and engagement.
Both influencer and paid marketing helps you gain initial traction and audience base.
Once you have a significant number of followers, you can gradually disengage form this and focus on building your customer base through content shared by your followers.
With optimal budget allocation and effective tracking, these options can positively impact your social media marketing endeavors.
The Bottom Line
Whether you are on social media just to spread brand awareness or aggressively pursue improved sales, the power of this platform cannot be discounted.
From serving a comprehensive range of demographies to highly targeted advertising based on user data, the advantages of deploying social media marketing are numerous.
The list of strategies discussed in this article are time tested and fine tuned so they apt for 2018.
However, it must be pointed out that each of these strategies, while being highly effective, need further customization to suit your specific needs.
Don't be afraid to experiment without going over board.
Have a cautious approach to implementing them with a long-term perspective and you are bound to see the results sooner rather than later.
Do you have another strategy that's not in this list? Or an innovative idea to implement any of these in a radical way?
I'd love to hear what you have to say.
Leave your comments, suggestions, or questions in the 'comments' section below.
We constantly strive to come up with the best resources for our readers and are glad to present you with a complete 7-step check list that will help you formulate an effective social media strategy.
Feel free to let us know if this helped and don't hesitate to share with your friends.