Top 15 Email Marketing Softwares of 2017
Be smart and make your email marketing campaign in 2017 be successful by finding the best email marketing software package to suit your business needs and model.
Email remains one of the most effective, easiest and personal ways to universally reach people that show interest in your product or website. This has pushed many businesses to adopt email marketing strategies not just to maintain customer loyalties, but also to attract new customers. To make this marketing strategy successful, there is need to employ the use of specially designed programs that make the process effective and ensure that your emails do not end up in the Spam folder.
What are the advantages of email marketing?
It is a low-cost marketing channel
Allows you to target the relevant audience to your brand
Email campaigns are easy to create and track
It instantly connects to people all around the globe
Today, there are numerous email marketing services available, which makes it difficult to identify which is right for your business. In this article, we highlight some of the best email marketing software in 2017 by exploring their features and benefits. Generally, a good marketing service should be simple and reliable. The basics that most software offer includes the ability to properly manage your contacts, help create relevant emails, track the performance of your campaigns, have auto-responders and if possible pull in other communication-based tools like social media. However, the final decision on which service to use will depend on factors such as scale of business, budget, business goals, and skill level.
1. AWeber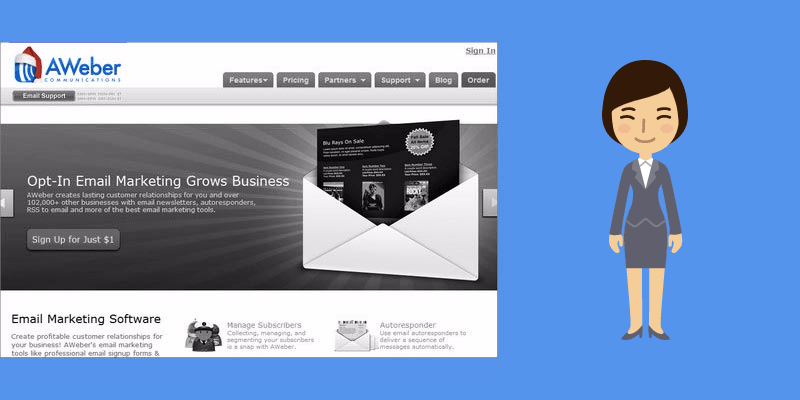 AWeber is a solid performer and reasonably priced email marketing software. It comes with excellent autoresponder abilities that generate timely, personalized and targeted messages, ensuring your customers get relevant information when you want them to. The software is also capable of integrating with other online services to improve information flow across different business functions. With AWeber, you can take full advantage of your opportunities through their regular live and range of webinar courses by experts in email marketing. To make your campaign even more effective the software lets you keep an eye on more than just the revenue and subscriber counts. You are able to see how customers are interacting with your emails, which allows you to assess any weaknesses in your strategy that need to be improved. While it does not offer any free plans, it has five plans to choose from starting with $19 per month for up to 500 subscribers and up to $149 for up to 25,000 subscribers.
2. Benchmark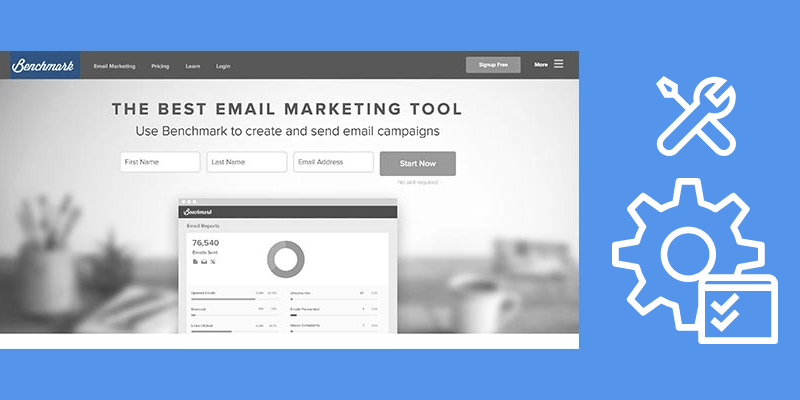 Benchmark offers a simple and intuitive interface, which is ideal for new users of email marketing services. It is purely web-based and thus you need not install or download anything prior to use. There is a variety of pricing plans to choose from including a free plan and a massive scale of pad plans that service between 600 and 7,140, 000 subscribers. The software guides you through most tasks, allowing you create emails or newsletters professionally. You also are able to track the effectiveness of your email campaigns as well as customize sign-up forms with your own fields. In case of any trouble, you can contact their support team that is available by phone and email or you can browse through the Knowledgebase section on their website to get a solution.
3. Campaign Monitor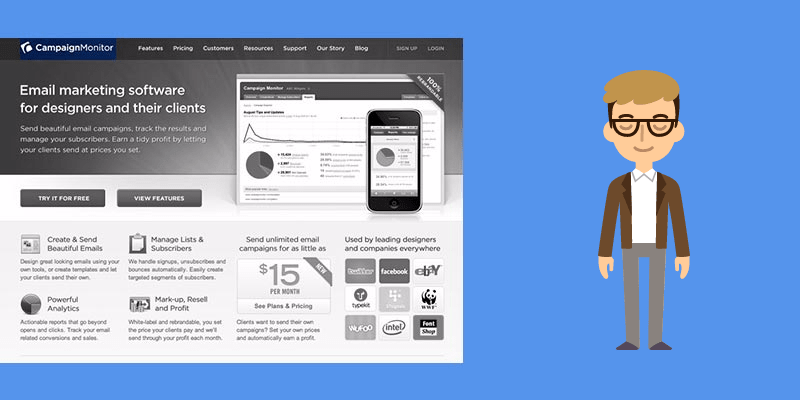 Campaign Monitor offers you everything you need for a successful email campaign, in addition to some convenience features. The software has an attractive drag and drop email builder that lets you use and personalize professionally designed email templates. It also includes the drag and drop-segmenting tool that helps create campaigns for various contacts based on their actions and characteristics. Their support is available round the clock via email and support forums. There is also an extensive documentation guides on how to fix any issues on your own. Phone support can also be used but for premier customers only Pricing plans for Campaign Monitor start from $9 per month.
4. Constant Contact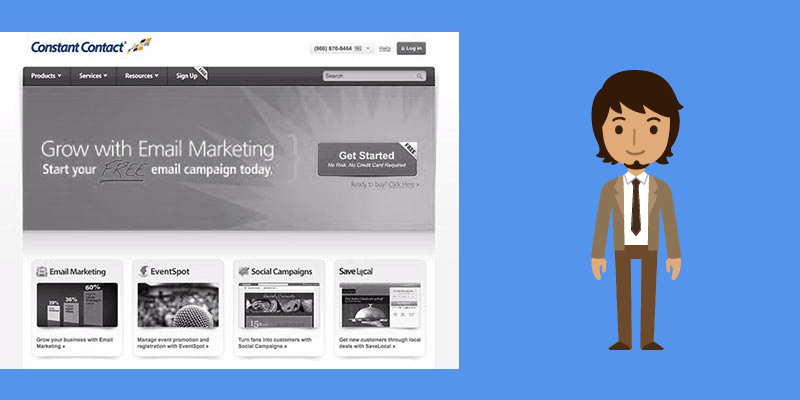 Constant Contact is popular and fast-growing email marketing service that is very easy to use and friendly to beginners. The service lets you manage email lists, contacts, email templates and more It features built-in social media sharing tools, an image library, easy tracking and reporting and 1GB storage system. With Constant Contact comes unrivalled support with live chat, community support, email and a rich library of information. You will also get to enjoy online training and live seminars to help you quickly grasp the basics of email marketing and become a pr. In addition to the various packages offered at different prices, Constant Contact also offers 60 days free trial, which lets you access all email marketing tools and webinars.
5. Emma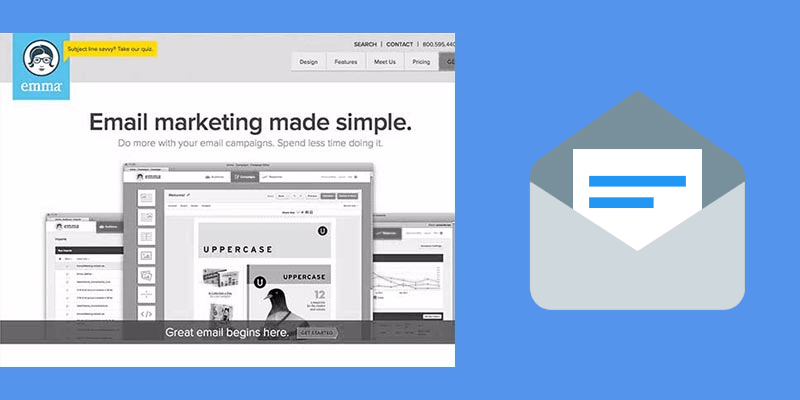 Emma is versatile email marketing software with a wide range of features that include custom integrations, auto-responders, over 100 templates, and Chemed sign-up forms. Despite the many features, the software's interface remains clean and easy to use. Its highlight is on the tracking campaign feature that lets you see open rates and click rates, as well as a heat map of your campaign to see how your customers are engaging. With every mailing, you get a mailing score based on engagement. Emma has three tiered plans that cover between 2,500 and 1,000, 000 contacts. Each plan offers unique features to suit different user needs. They also provide custom services in the following categories: strategy, creative, technical and training. The software offers free trial for 15 to 30 days depending on the plan you want. It also has an open application-programming interface (API). Additionally, their call support is available on weekdays starting 5am to 7pm (CST). There is also email support, a resource centre and an online community where users can interact and share advice and experiences.
6 GetResponse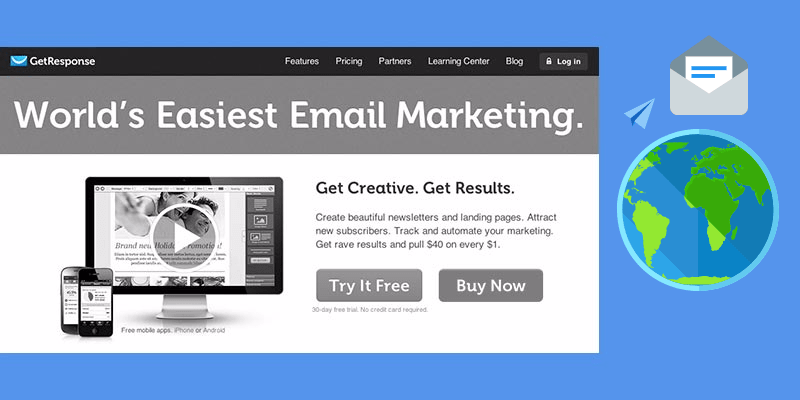 GetResponse is a good entry-level email marketing platform for those looking for a reliable and easy to use solution. To maximise the effectiveness of your marketing campaigns, it has a visual email creator that lets you create high-quality visually appealing emails. Things are made even much easier with the several pre-designed email templates and access to the 'Stock photo library. Importing contacts is fast and easy and you can also view emails on different browsers and operating systems to determine which is more effective at generating views and clicks. Additionally, GetResponse can send out multiple versions of the same email. It offers various segmentation and automation tools which allow you tailor content to the specific characteristics of various groups within your email campaign. It has several pricing tiers starting from $15 per month for 1000 subscribers, up to $450 per, month for 100,000 subscribers.
7. iContact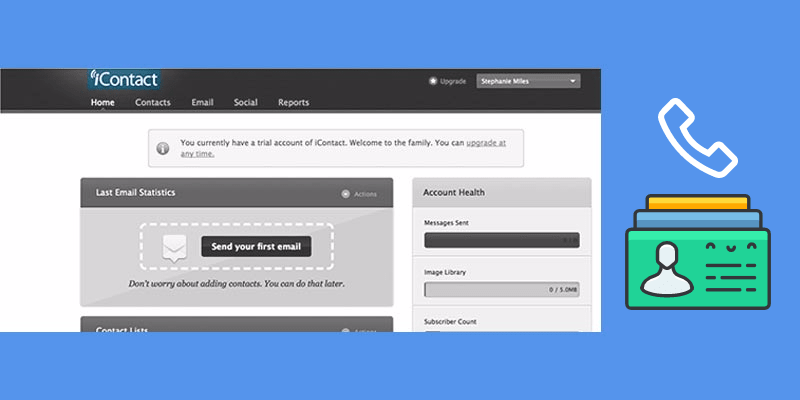 The Gold Award winner, Contact, makes it easy to manage your contacts and create attractive email campaigns. It lets you send as many emails as you wish and has a free 30-day trials on all packages. Pricing plans begin at $14 per month for 500 subscribers and goes up depending on number of subscribers and package type. Registering is very simple and does not require a credit card. The user interface on iconatct remains clean and easy to use Several features at your disposal help you manage subscribers' list set up and track campaigns. Some features worth highlighting include HTML editor, MessageBuilder with 679 design templates, access to an image library, survey tool and auto-responder. You can also integrate social media to this platform as well as create a alD'do not contact" and unsubscribe lists.
8. Mad Mimi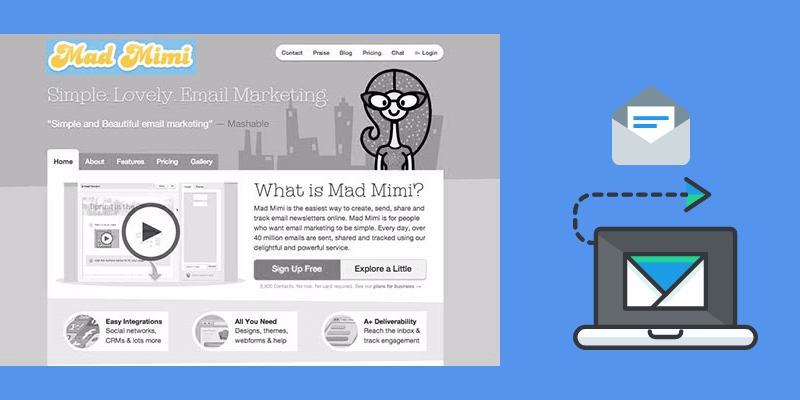 Creating beautiful HTML emails is made fun and easy with Mad Mimi. The simple and colorful theme of the software removes intimidation from the user process and adds a liveliness to the concept of email marketing. This program lets you create, send and track your email campaigns, all from a single simple and intuitive interface. It provides easy integrations to social networks, CRMs and lots more, all at a very affordable price. Mad Mimi uses a mark-up-driven editor with additional customization options that is also contextual. You can also turn on the autoresponder tool as well as compare different campaigns and eventually get a report of how the campaign performed through visuals. Their support team is available via email, live chat or you can search through online resources to find a solution for your problemit offers free trial for up to 100 contacts and the cheapest plan starts at $10 per month for 500 contacts.
9. MailGet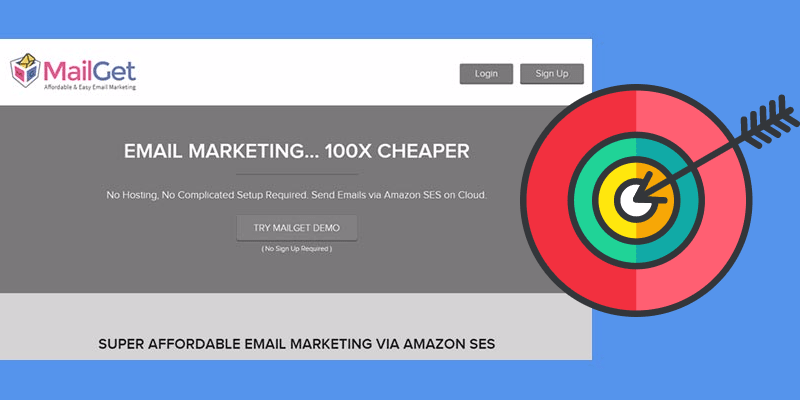 MailGet does not require hosting or any complex set up to get your email campaign running. Users can simply send out mass emails to their target clients through Amazon SEs and other SMTP service on cloud. It has a highly responsive email builder that creates high quality and attractive branded emails. For special layaouts there is the custom HTMI feature to give emails a unique and special look. Also available on this program is the 40. SMTP Integration that distributes and sends email via multiple services to maximum effectiveness. Others features offered by MailGet include personalization tags, intelligent list management, email list cleaning, automated email drip/autoresponder, API Integration, and ability to get rid of hard bounced addresses. There are six price plans starting at $29 per month and you get unlimited emails to 10,000 subscribers.
10. MailUp
MailUp Combines powerful campaign management tools with SMTP relay, API and plugins for ecommerce, CMS and CRM to create an accessible and user-friendly email and SMS marketing program. With the software, you can send out as many emails as you wish and thanks to the SMTP+ option, you can send emails from your mailbox, web application or even ecommerce store. In addition, you can compare two versions of the same email and determine which performs better. MailUp also integrates with social media platforms and is able to import mail lists in several formats while identifying up to 1600 types of syntax errors. Support on MailUp function is included in the annual fee and is offered through email, chat and phone. Extended support, which includes faster advice on HTML code, quality of communications, message creating and deliverability, is charged depending on contract speed. Unlike other platforms, MailUp classifies its pricing plans depending on sending speed. The faster messages are sent the higher the pricing plan.
11. MailChimp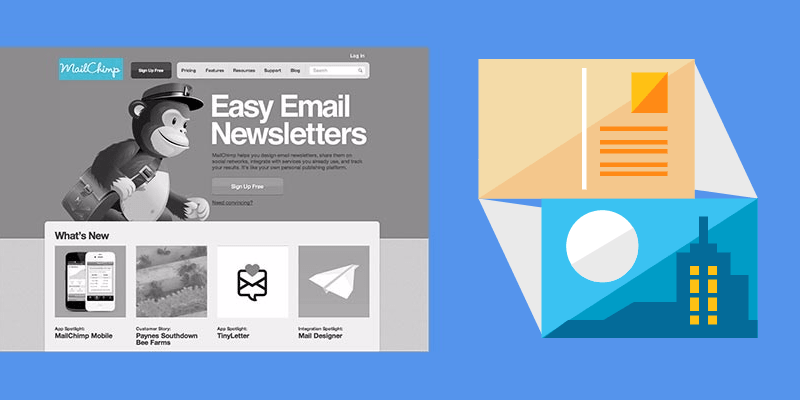 MailChimp is rich of practical features that make email marketing a smooth and experience. The program lets you manage emails, create online newsletters, create autoresponders and do so much more It has a variety of email templates to let you create professional and personalized emails that appeal to your target audience. For better results, the program facilitates building of segmented lists, which helps you identify customers by their unique characteristics. MailChimp also allows for automation, letting you send emails on schedule that work sfor both you and your target customer, for optimum results. It also comes with a mobile application which lets you enjoy all major features from your smartphone device. There are several pricing plans to choose from depending on what you need. There is free plan for up to 2000 subscribers and 12,000 emails per month and the paid plan starts at $10 per month for unlimited emails, to up to 500 subscribers.
12. Remarkety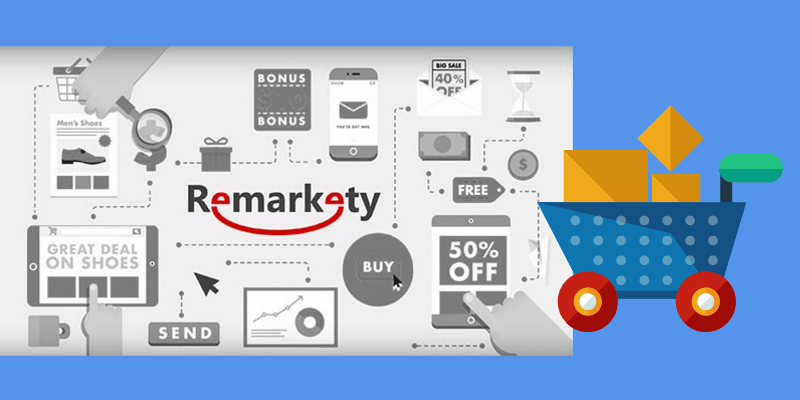 Remarkety is an email marketing and automation tool that helps businesses increase sales by managing all email marketing campaigns and letting business owners know what to do, to increase chances of success. With automation lying at the heart of Remarkety, users can successfully increase engagement and conversions with little effort. It comes with a free 30-day trial and free plan for less than 500 subscribers. The program is constantly guiding users through all stages of email campaign, making it easy to use Its interface is practical and friendly to users. It allows you select the type of campaign you want to run, and then personalize the conditions under which a campaign will be generated. Additionally, Remarkety offers support through a live chat or the platform's extensive resource center.
13. SendGrid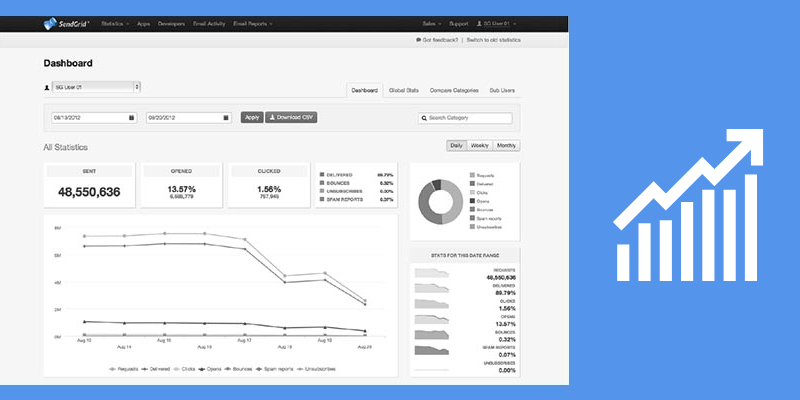 SendGrid is a cloud-based platform that relieves you of the complexities of email marketing. With the service, you can send transactional emails through API or SMTP as well as have custom SPF, DKIM and DMARC records. It also comes with hosted templates that allow you to create engaging and professional email messages. Emails are created and sent online and there are guides and videos to help you through with everything. Users can schedule and test their marketing emails as well SendGrid offers a variety of pricing plans: there is the free plan that offers basic features and allows for up to 12,000 emails per month and then the cheapest paid plan starts at $0.10for 1000 emails with basic features.
14. SendinBlue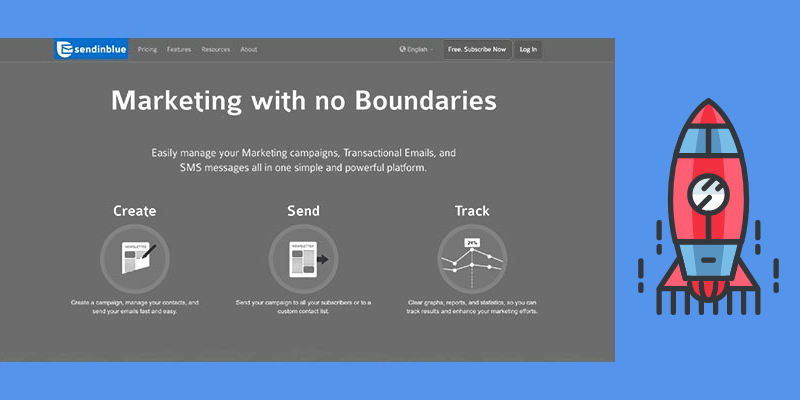 This all-in-one email marketing solution is fully automated and packed with the right features to ensure customer retention. SendinBlue comes with an intuitive interface that makes all tools easy to access. It has mobile-friendly and personalized template designer that lets you generate attractive campaigns even without any designing skills. Besides marketing, the program is also handy for sending out transactional emails and SMS. This is made possible with application alerts and push notifications that help businesses engage customers on current happenings such as sales, goods dispatch or receipt of payment. It has a free plan with unlimited contacts and sends up to 9000 emails per month. The paid plan starts at $7.37 per month for unlimited contacts, sending up to 40,000 emails per month.
15. VerticalResponse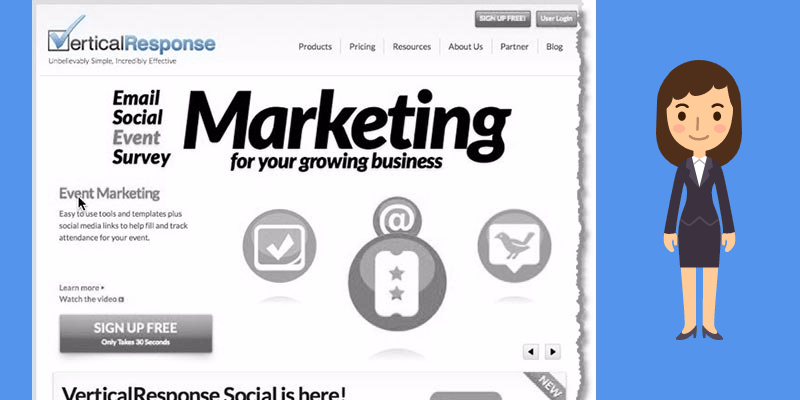 VerticalResponse provides quality email designs and campaign management tools. It comes with a built-in survey tool that is easy to manage and track and offers the first 25 responses for free. The service also has good integration with Salesforce, a customer relationship management platform, thus allowing you build contact lists from your customer database, create and send emails as well as view campaign reports, all through the Salesforce interface. Other features of VerticalResponse include comprehensive learning materials and event management tools. It also offers a free and no obligation trial account that only sends up to 100 emails. Cheapest plan is between $8.80 and $12.75 for up to 500 subscribers.
Conclusion
It does not require a pro in marketing or a technical guru to attain success through email marketing software. While you may not get it right at the first attempt, most email marketing services come with everything you need to eventually become successful. All you require is some patience and just to learn the basics of an effective email marketing campaign. Thereafter you use the wide selection of tools offered by various software to your advantage. If you are having a hard time you can always start with a basic service of free trial to get an idea of how everything works, before upgrading to premium pricing plans. When choosing an email marketing service, it is important to understand the scope of your needs. Is your target distribution list large or small? Do you need support tools to build the list? Who are your subscribers and are they all the same? Answering these questions lets you then identify an effective approach and the tools needed for success.
You will have established the demographics of your audience and therefore you can now shape your messaging strategy to ensure success. Also important is the need to establish the future needs of your business to choose a service plan that can accommodate any changes to come. So, what is your ultimate goal whenever you are choosing email-marketing software? Do you prefer to stick to one platform throughout your business or would you like to try different platforms? What are some of the good and bad experiences you have had with email marketing platforms?