What Is Google Analytics v5 – 8 Cool Features You Must Know
If you are into online marketing and search engine optimization, then you cannot be far away from Google Analytics v5.
For starters, Google Analytics v5 is an online tool from the search engine giant that gives invaluable data and insights about the performance of your website based on various parameters.
Although this tool was launched in late 2005, its current and the latest Version 5 has taken some of the best features and made them even better.
In this article, you will learn about 8 features that can transform the way you track your website's performance and use them to your advantage.
Let's start
1. Your Most Important Google Analytics v5 Data in One Place
With so many performance metrics and parameters to track, it's easy to get lost in the maze of numbers and figures.
That's until now.
With the tool's latest avatar, you can prioritize your most important metrics and put them all under one dashboard so you can glance though every time you log in.
What's more, you can create multiple dashboards and categorize all the metrics that you want to track into different sections.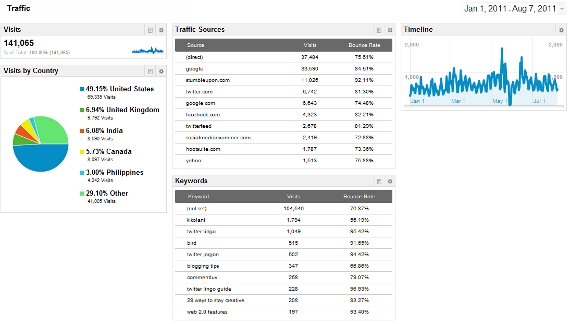 To create a dashboard, simply head to 'Dashboards' that's on the menu bar of your analytics tool and click 'New Dashboard'.
You can select from a list of widgets, each of which can track a metric. You can select as many widgets as you like under every dashboard you create.
Whether you want to track a single metric or create a pie chart to compare two or more metrics, the possibilities are endless, including the ability to create a table with a dimension to track two different metrics.
You can further filter each type of widget for enhanced accuracy.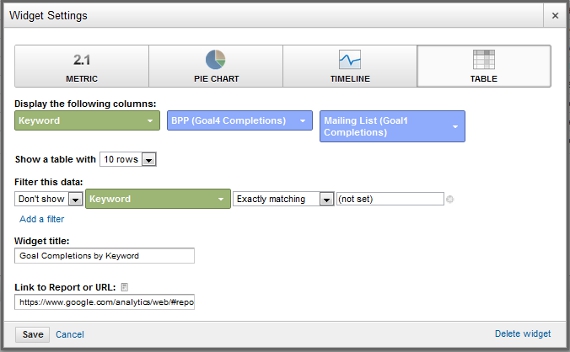 Want to know the best part? You can choose the date range for which you want to track the metrics. This way you can get an overview of all the parameters for traffic, PPC campaigns, goal completions, and all other metrics of your choice
2. Find Out Which Campaigns Bring the Highest Traffic and Conversions
If you have more than one online marketing campaigns such as PPC, social media marketing, and others, Google Analytics v5 allows you track traffic and conversions from various inbound channels.
To begin with, click on 'Advanced Segment' and select 'New Custom Segment' from the drop-down, and give the segment an appropriate segment name.
You can create more than one Custom Segment based on the channels and category. For example, if you are tracking your local search campaign, you could name the segment as 'Local Search Segment'. Your source will be the web address of Google Maps, Yelp, and other websites.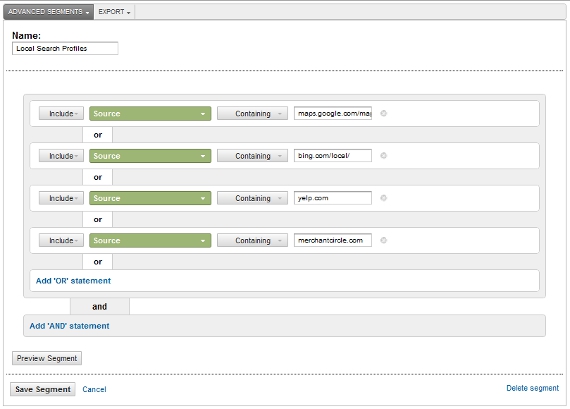 After creating your custom segment, the next logical step is to test and find out if it is pulling the right data.
To view the data, click on 'Advanced Segments' and put a check mark in the box against the segment you want to view and click apply.
You can now view all the traffic and conversion data that are arriving from this source. Based on this, you can decide whether or not this particular campaign has been effective.
When customized right, you can accurately determine the ROI of each campaign and strategize up on the resource and time allocated to the corresponding campaign
3. Determine the Location of Most Valuable Visitors
If you have set up an advertising campaign on Facebook or other similar platforms, you would know the difficulty of which geographical location/locations to focus on. So how to know which are your best bets when choosing your target locations?
With Google Analytics v5, this seemingly daunting task becomes so much easier. All you have to do is o to the 'Visitors' menu and check out the 'Locations' demographics of your visitors.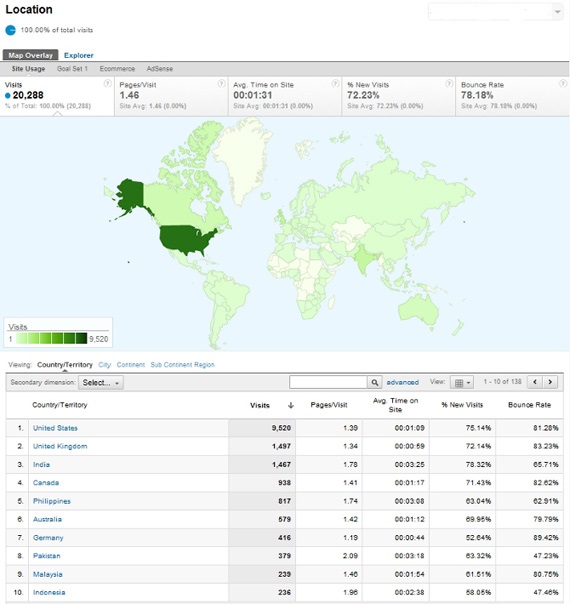 This section gives a country-wise break up of some of the key statistics such as average time spent, bounce rate, and goal conversion rates. You can even get region-wise break up within a country for ultra-high focus.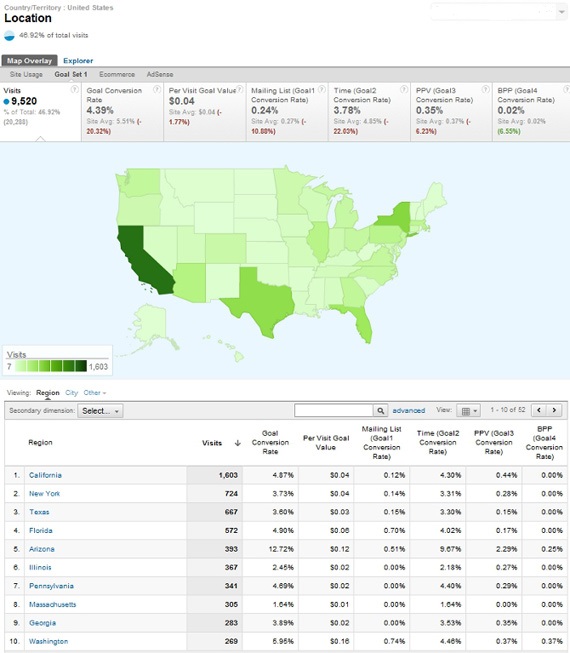 Armed with this data, you will be able to efficiently place your ads, increasing your ROI, decreasing your bounce, and generally performing great.
4. Understand What Your Users Are Searching For on Your Site
This feature is an absolute kicker if you have a search box within your site (and most sites do).
To use this feature, first perform a search within your site and find out the search URL of your site. For example, the search URL of our site is  https://trafficradius.com.au/?s=&searchBtn= .
Once you have found the search page URL of your site, click on the settings icon on the top right corner of your Analytics menu bar. Click on 'Profile Settings' and under 'Site Search Settings', check the option 'Do track Site Search'. Now enter a search parameter that fits your site's URL structure.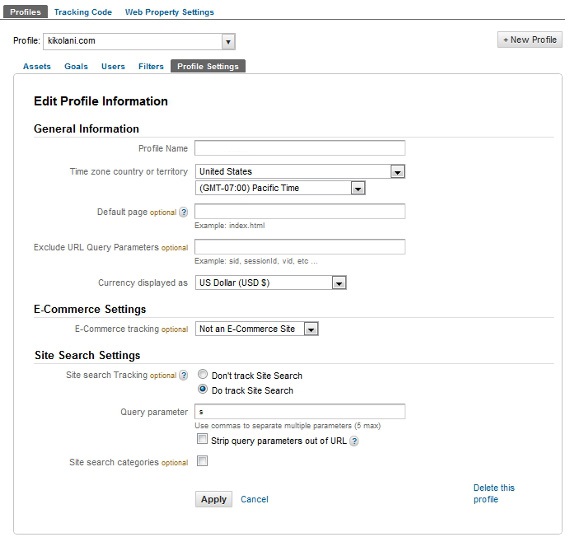 The results of this set up can be found under 'Content' menu. Go to 'Site Search' section and under 'Usage', you can find out what are the search queries that your visitors used.
Did your visitors use highly refined search queries?
Did they continue to browse your site after performing a search or did they exit?
With this information, you can find out if your visitors are finding what they want. It gives you great insight about the content on your site.
Under the 'Pages' section, you can check which are the pages that your visitors landed on after using the search query. Under each page, you find specific search queries that brought them to the page.
This enables to you decide which pages need more specific content as well as the kind of new content that you need to create so you can engage your visitors for a longer duration of time and in a more meaningful way.
5. Get a Visual Representation of the Sections That Get the Most Clicks
Yes! There are sections within your website that receive more clicks than other sections.
And the best part is Google Analytics v5 helps you exactly pinpoint those magical areas.
Under the 'Content' menu, go to 'In-Page Analytics'. This will open your site in the analytics browser with data on the percentage clicks on each of the internal links.
Each of these links are a treasure trove of information themselves. All you have to do is click through these links for more details.
You are now able to pinpoint the areas of your site that are more popular and also identify where exactly your visitors are clicking.
So you have a link that leads to your most profitable page? You now know where exactly to place it !
6. Where's Your Top Content?
Which are the pages that engage your visitors the most and make them spend the longest duration of time on your site? Which are the pages that have the least bounce rate?
This is the kind of information that most SEOs strive for. And with Google Analytics v5, you can get them with a couple of clicks.
In the 'Content' menu, select 'Pages' under 'Site Content'.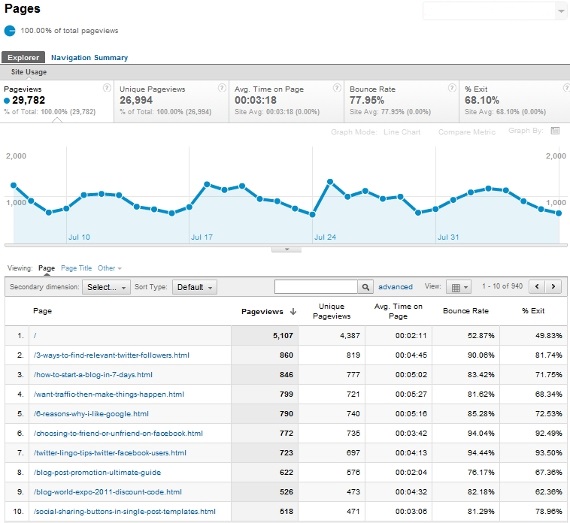 This information helps you understand your visitors' behavior so you can create similar content on other pages. You can also place relevant internal links to other pages so the link juice can pass to those pages.
7. Pages That Have Scope for Improvement
If you can identify your best pages, you can surely identify the worst ones?
Yes. You sure can.
Under the same section where you found your best pages, scroll down further to find the not-so-good sections of your site. These are the pages with lowest duration of time spent and highest bounce rates.
This information, however, should be taken with a pinch of salt. What if the page is so well organized and written that the visitors easily found what they were looking for? They will spend less time and exit as soon as they found what they wanted. So exercise caution before jumping to any conclusion.
All said and done, these are the pages you should really focus on if your site needs to perform well. From the targeted keywords and the content to the layout and design of the page, conduct a thorough audit of these pages.
If you find that most visitors are abandoning a specific page and landing on another, consider merging these pages.
In short, use every bit of imagination to identify the loose ends and tie them up in the quickest possible time.
8. Why Was the Shipping Cart Abandoned?
Most online purchase processes have multiple steps and it becomes really important to know which step of the process has to the highest abandonment rate.
With Google Analytics v5, you can get a clear picture of each step that's involved in the purchase process. From adding an item to the shopping cart, all the way to getting a 'Thank You' message, you can track every step.
To use use this feature, you should first create a goal funnel. Click on the settings icon on the top right corner and click 'Goals'. Type in an appropriate name. Shopping Cart for example, and select the goal type as 'URL Destination'.
Once you have entered all the details, check the 'Use Funnel' box to enter the URL of each step that the visitor must take to complete the purchase.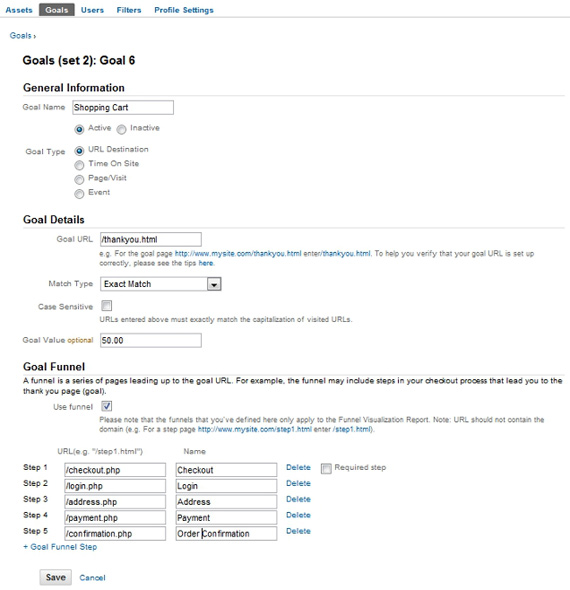 With this set up you will be able to view a detailed report of shopping cart abandonment and it looks like this: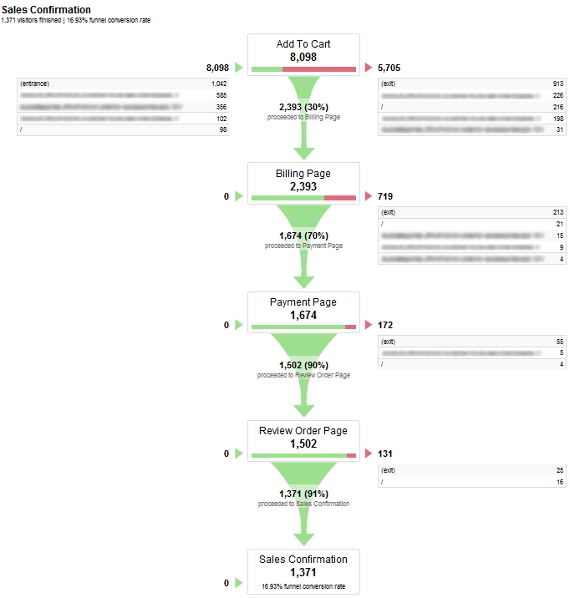 From experience you'll know that visitors who are not fully interested in purchasing an item will add it to the cart so they can come back later. So you'll find high rate of abandonment after the first step. However, if you notice a spike in this step, it's certainly a red flag.
Most genuine abandonment happens during the payment step. This is usually do to delay in processing or any glitch with the payment gateway. Remember, when it comes to money, your visitors will step back at the slightest hiccup. So make this process as smooth and quick as possible.
Be sure to be as transparent as possible right from the first step. Nobody likes a surprising fee added during the 'Review Order' step.
Just like other processes, you should use your imagination and analytical thinking to figure out what could be happening by looking at this report. With effective troubleshooting you can minimize the shopping cart abandonment.
The Bottom Line
All the research you do to arrive at the right keywords and understand your competitors is great.
To understand what your visitors are doing once they land on your site is equally important, if not more.
With Google Analytics v5, you can get a goldmine of data that's easy to interpret. What's more, in it's latest version, most of this data is presented in a visual format that makes it even more appealing and detailed.
This wonder tool has many other features that you can use for fantastic performance. In this article though, I have touched upon the major ones that you should know about before you can venture on.
Which of these features you find most useful? Need some tips from a pro to make the most of this tool?
I'd love to hear from you. Feel free to use the comments section below and I'll certainly get back to you.