7 Secrets About Google My Business Listing Every Local Business Should Know
Do you have a local business and want to make the most of Google My Business listing?
Most local business owners think that customers search the name of their business just to find directions, to know business hours, to find contact details, or to know the types of payment they accept. Right? Wrong!
There's more to your Google My Business listing than meets the eye.
GMB is leveling the playing field in favor of small businesses more than ever.
Is your competitor big enough to spend on AdWords when you cannot?
Have they been in the business for a long time and established well enough to rank well in organic search?
How about the proximity? Why would your customer choose your competitor over you just because they rank well when they are 20 KM away while you are just 2 KM away?
GMB listing is here for you.
In addition to the awesome features you are about to find out, it can also drastically increase your chances of showing up in Google's Local Pack, Local Finder, and Google Maps.
What's more, it can even positively impact your overall organic search results.
Not bad right? Considering that it's absolutely free and you get all these benefits by spending few minutes of your time.
So let's find out how your GMB listing can contribute significantly to your local SEO strategy.
Claiming and verifying your local business' Google My Business (GMB) listing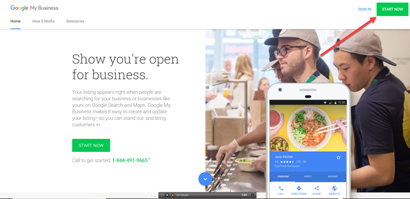 First thing's first.
If you've already claimed and verified your GMB listing, congratulations! You're on the right track and all set to jump to the next section.
Don't have your GMB listing yet? No problem. Just read on.
To begin with, first check if your business qualifies for a GMB listing. Once you know that your business qualifies for a listing, visit https://www.google.com/business and follow the easy on-screen instructions.
You will be asked a variety of questions, each question pertaining to some detail about your business.
Answer all the questions that are relevant to your business and fill in as many details as possible, even the minutest ones you can think of.
Remember, if you don't answer a question, someone else will – and that includes your competitors. More on this later.
So you've set up your business profile on GMB and it has been verified. What next?
This is where it gets better!
Most business owners get their Google My Business listing and leave it at that. However, with the tricks that you're about to learn, you will be at a clear advantage over your competitors.
So let's dive straight in to the features!
Posts
Posts are a great way to interact with your customers – both prospective and current.
Think of Posts as mini-ads your customers can see in Google search in your Google My Business listing (in the Knowledge Panel and on Google Maps.)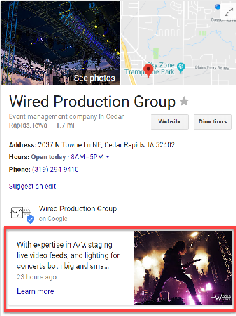 How to use Posts you ask?
Well, it's entirely up to your imagination! Add an image, a Call to Action (CTA), or even a link to another site.
You can also create Google My Business Listing posts directly from Yext dashboard.
Some ways you can have fun with your GMB Posts:
Are you organizing an event in your community? Create an "event" post. You could add specific date and time as well as a link to register.
How about an ongoing sale? Just create a "sale" event with all the details.
Do you blog and want more people to read it? You know the drill.
Did you just add a new product to your shelf? Post a great pic. Add a link from where your customers can purchase.
Send 4thof July or holiday greetings. Maybe you have promotions going on!
Just remember that posts stay live for 7 days or until after the event date. So be sure to time your posts appropriately.
Google also sends out reminders when it's time for a new post. Be sure to watch out for them.
It's important to note that when you add an image in your post, it's necessary to check for the right size as the image might get cut off on Google Maps.
Be sure to try out different sizes until you arrive at the right size for both desktop and mobile devices.
Like all Google interfaces, GMB has a simple, easy-to-use dashboard which is on the left-hand side when you log in. Posts is one of the options there.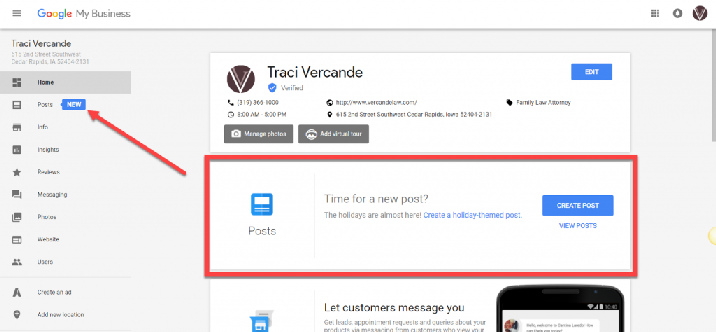 How can GMB Posts help with your overall search rankings?
Although GMB Posts don't affect your search rankings directly, it can indirectly help you achieve higher rankings.
All you have to do is create engaging content and don't hesitate to be active. Google likes users who are active.
Busy with running your business and don't have much time time to post regularly?
Thanks to a recent update, you can now schedule your GMB posts via Google My Business API.
Booking Button Feature
If you require or prefer that your customers/clients make a prior appointment with you, GMB's Booking Button Feature can do wonders for you.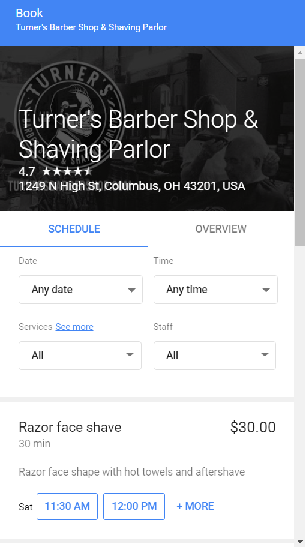 With this feature, your customers will be able to book an appointment directly from your Google My Business listing making it easier for even your first-time customers. How cool is that!
Google will automatically add this button to your GMB listing if you're using integrated scheduling software from any of these service providers.
Don't have an integrated scheduling software? No problem. Just follow the instructions from this Google resource and you'll be all set.
Messaging
What if your customers can message you directly? That would be great isn't it?
Google My Business Listing allows your customers to do just that. Now stay in touch with your customers in real time. Answer their queries, take orders, and do much more.
As much as your customers' enquiries are valuable to you, sometimes it can be rather annoying. And Google understands that.
Say good bye to untimely or inconvenient messages with this feature on GMB while still staying connected with your customers.
Just install Google Allo app to receive notifications when a customer messages you rather than a message to your personal inbox.
All you have to do is use the same telephone number to set up the Allo app that's connected to your Google My Business account.
Like Posts, Messaging can be accessed from the dashboard that's on the left-hand side of the GMB interface.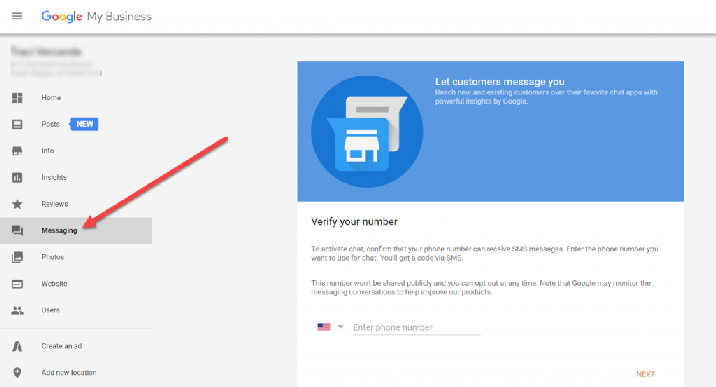 This is one of the newer features on GMB and as of now it has limited access. Only users performing web search using Chrome on their mobile device are able to message.
Although, it is expected that app and desktop users will soon be able to message as those using Knowledge Panel and Google Maps.
Google My Business Listing Online Reviews
We all love a great review from our customers. Don't we?
Well, if the features mentioned so far has caught your imagination, this feature will leave you awe struck.
GMB's online customer review is quite different from other listings such as Yelp.
While listings like Yelp strongly discourages business owners to ask their customers for reviews, Google does the opposite.
Yes! You heard it right.
You are encouraged to ask for reviews from your customers.
But here's the catch. You will have to do so in an ethical way and by following Google's guidelines for Google My Business reviews.
It's still a fantastic opportunity. Here's why.
Research has shown that customers who had a bad experience are more likely to leave a review or a comment than those who had an excellent experience.
Now, just think of all those customers who thought that you did great but somehow did not leave a positive review.
And it doesn't stop here!
Search result rankings, click-through rates, and consumer trust are all known to be impacted by online reviews.
Here are some of the key statistics from BrightLocal's 2017 Consumer Review Survey.
97% of consumers based their decision on online reviews while choosing a local business in 2017 and 12% looked for a local business every day.
85% of consumers placed as much importance on online reviews as personal recommendations.
73% of the consumers are influenced by positive reviews when trusting a local business.
49% of consumers need a minimum of four-star rating to choose a local business.
30% of consumers named responding to reviews as a key parameter to judge a local business.
79% of consumers thought they has read a fake review in 2017.
Here's the kicker.
When asked for, 68% of the consumers left a review for a local business.
So you see, if you ask rightly, you will get it!
One key point worth noting?
Always respond to the reviews, whether it's good or bad.
Your response shows your customers that you value their feedback and are ready to act on it. Potential customers will think that you care.
Got a bad review? Don't fret over it much. We all have that bad day. Don't we?
If you are generally doing really well and you get this funny one-star rating with a nasty comment, your customers know who you really are and they'll probably guess what happened there.
Check this article about 10 Proven Ways to Generate More Google Reviews For Your Business.
Question and Answers
As a business owner, you probably know by now that if someone's asking a question about your business, they are most likely interested in doing business with you.
GMB let's your current and potential customers ask any questions they might have straight from your GMB listing.
Now that's what we call 'awesome'.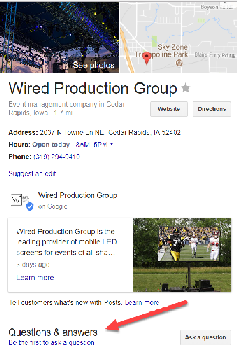 So how do you go about using this cool feature? Here are few tips.
The GMB mobile app does not support this feature.
You can use the GMB dashboard to see if you have new questions that need your attention.
But don't lose heart. There's a turnaround.
Log in to to the Google Maps app on your Android phone using the same email address that you use for your GMB listing.
Bingo! You will now get push notifications in real time whenever someone asks you a question.
Now you might ask why is this important.
Well, Google values any information from people who know about your business so Google can know more about your company. Therefore it allows anyone to answer these questions.
So it's very important that you constantly monitor the questions asked. If someone has answered a question, make sure that it is accurate.
You can also go to Google My Business support forums if you think that someone is abusing this feature.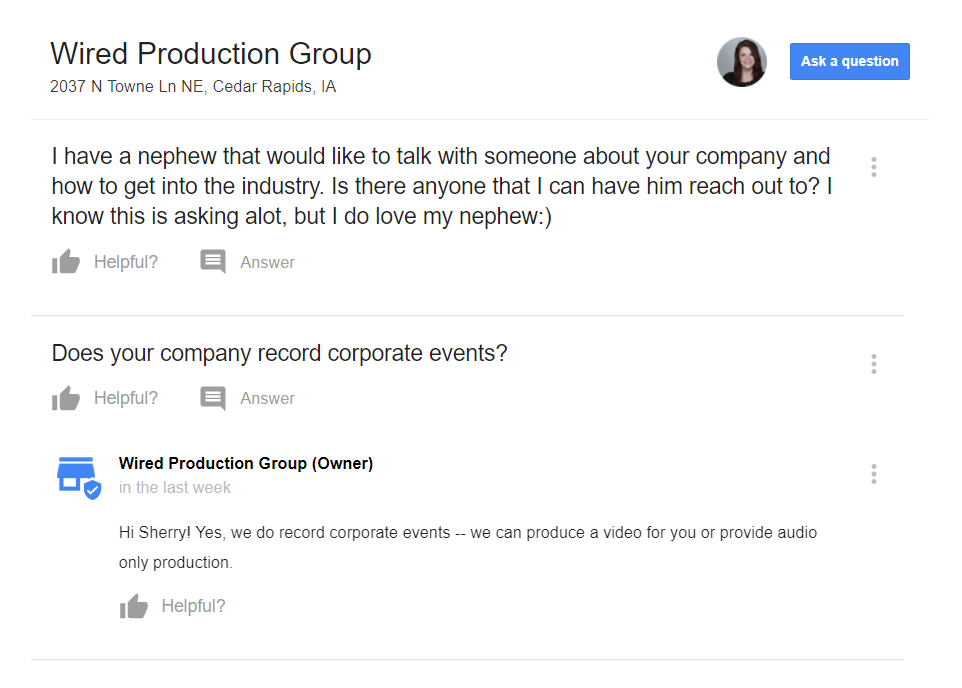 Hurrah! You are now equipped to fully utilize Google My Business listing and all its amazing features.
So are you all set? NOPE!
Remember we said early in this article that you'll know more about creating your profile the right way?
There are two other features in GMB that you need to be really careful about.
They are: "Suggest an edit" and " Know this place? Answer quick questions"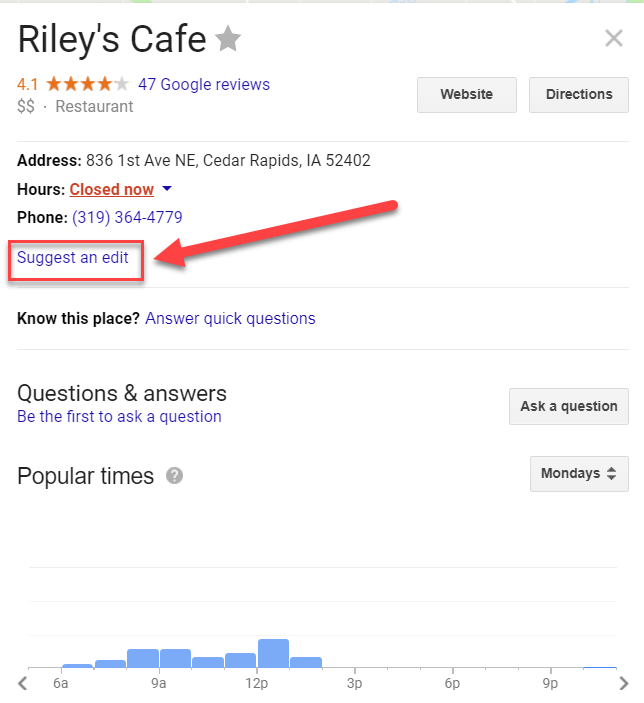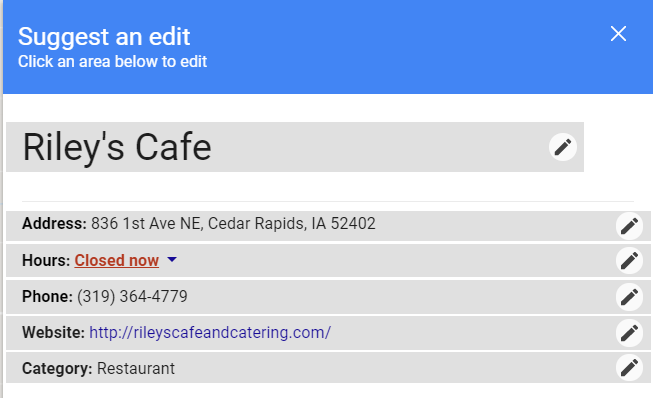 Because Google wants to know more about your business from those who know about it, it allows anyone to edit your business profile and answer few questions about it.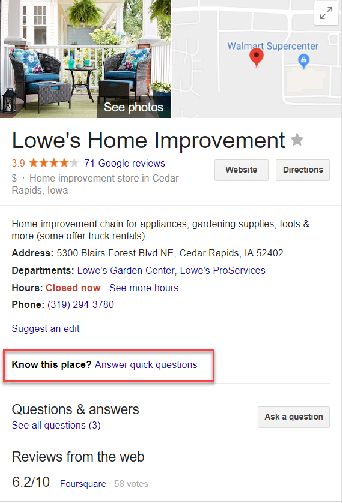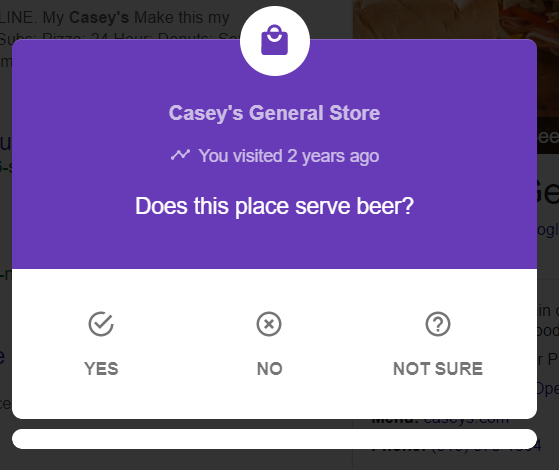 So it's very important to log in to your dashboard every now and then to check if there are any edits that need your approval or if any malicious activity needs to flagged for Google's attention.
Think of it as regularly checking your mail, but this time just to protect your business interests.
The bottom line is Google My Business listing is a great tool that local businesses must include as part of their local SEO strategy.
From allowing your customers to book an appointment and messaging you to allowing you to post engaging content and answering their questions, this tool helps you contribute significantly towards your local SEO optimization.
That's it.
So it's best for you to get started now.
Good luck and let us know if you have any questions, suggestions, or comments in the comments section.