How to Use Google Search Trends for SEO?

Introduction
Ever struggled with determining the popularity of your brand, or pinpointing regions where your product is most searched for? Or the most common one, with finding which key terms and queries (relevant to your business) are most searched for on Google?
Your struggle is about to end. It may come as a surprise but the answer to all these questions can be one simple tool, Google Trends.
Google trends is yet another Google tool that gives you key insights about consumer interest as well as popular search terms relevant to your business. These insights are quite distinct from those that you get from Google's Keyword planner, which means when used in conjunction with keyword planner, Google trends can help you get a whole lot of information needed for your business's SEO.
And the good news is, it is absolutely free! Yes, you heard that right. Also it does not mock you by asking you to sign in, unlike other Google tools, say for example Adwords. All you simply need to do is type Google trends and hit enter. Click on the first URL and you'll be directed straight to the Google trends dashboard.
What Google trends can do for your business?
The first question that pops in your head is what all can Google trends do for you and your business. And why should I learn to use this tool? Well, the answer is quite simple. Right from exploring the interest over time of a keyword to drilling down the popularity of your product across specific regions, Google Trends does it all. You can run over trending searches over a pre-defined or customized time period, determine the reach and influence of your brand, your overall brand health and those of the competitors. You can also get ideas for content writing for blogs and articles by analysing trending charts and searches and much more.
However, what this tool does the best is to fetch the local consumer behaviour. It tells you exactly in which area is your product and that of your competitors searched for. What's amazing is that you can drill down this information for specific cities and towns. If this information is utilized in the right way, it could certainly help to boost your business.
To make this simpler to understand, I would list the Key features of Google trends, from a business perspective and for SEO purposes as:
Keyword Research
Market Research
Determining Brand Health
Content Building
We'll dig into each of these features in the upcoming section. First let's work through the basic functionalities of Google trends.
Getting Started with Google trends
When you navigate to Google trends URL, you land on the Home page. This page is simply a collection of trending searches across Google, YouTube and Google news arranged by the order of their popularity.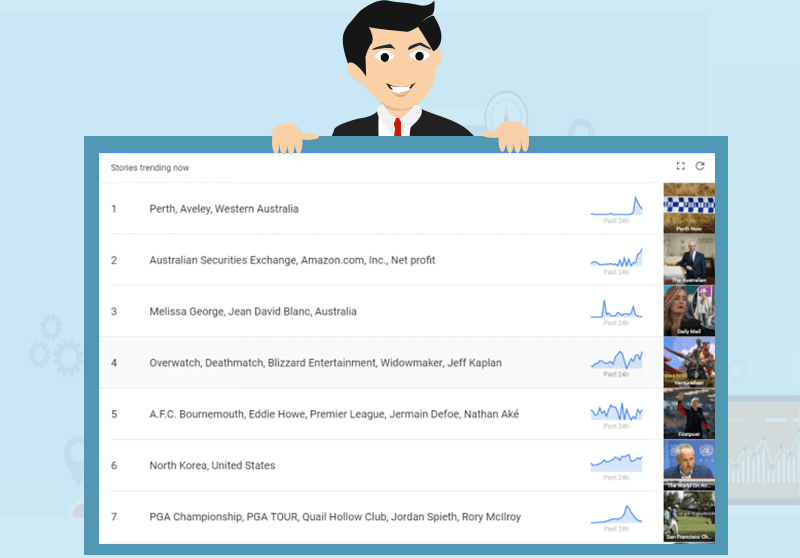 If you click on the first link which says Perth, Aveley, Western Australia, you are redirected to a page which has a few articles and a graph about the trending news surrounding "shots fired in a house in Perth". You can observe from the image below how the interest in this search has increased post 5 AM. Also we can see additional information such as trending queries (what most people typed in for the search) and interest by sub region (which area is this story most popular in).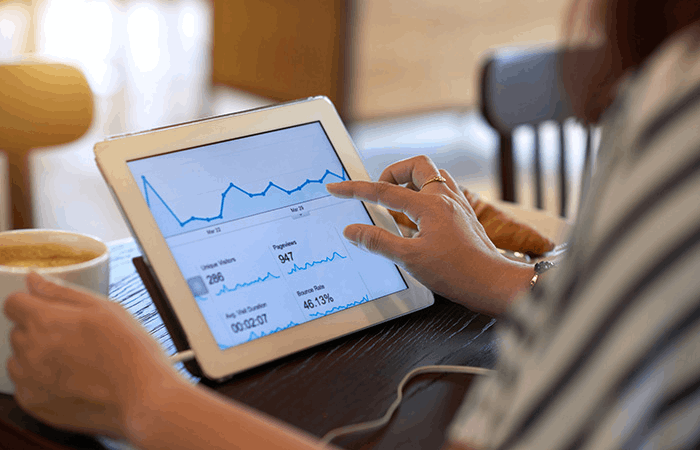 Let's move further and talk about two of the core functionalities of this tool, Explore and Trending Searches.
Explore:
This functionality is the one that lets you traverse through the relevant search trends of the topic you are interested in. This functionality can be accessed in one of the two ways. First being when you type a topic on the search bar, located at the home page, which says "Explore Topic". Second being when you change the tab to "Explore" by clicking on the top left Menu icon. You can use either of these ways.
The Explore tab has four parameters that allow you to customize your search. Let's take a look at each of them below.
Worldwide:
The first parameter is Worldwide, which is generally used for geo-targeting purposes. Say for example, you have an online flower selling business in Australia. In this case, you would not need data from the United States for the query "flower delivery", as that would not add value to your business. Via this tab you could select Australia, and then drill down to Melbourne after typing in your relevant search query to see results.
Time-Range:
The second parameter is the one that says "Past 12 months" by default. This tab lets you choose the time-period over which you want to analyse the results of your search query. Past 7 days, Past 5 years, 2004-Present and you can also customize a time range. As you can see, this data tracks back to several years in a past so you can trace the data and track if a search term has gotten more or less popular overtime.
Categories:
The third one is entitled "All Categories" by default. You can choose the category your search term falls into (this helps you get better results). This tab works in the same fashion like in the Keyword Planner tool.
Web Search:
This parameter lets you choose between Image search, News search, Google shopping and YouTube search. For example if you are running an entertainment company, you might be interested in finding how well a topic is doing on YouTube. In that case you'll set the parameter accordingly. By default, this parameter searches all over the web.
Below screenshot shows how you could use these four parameters for an online flower business in Australia.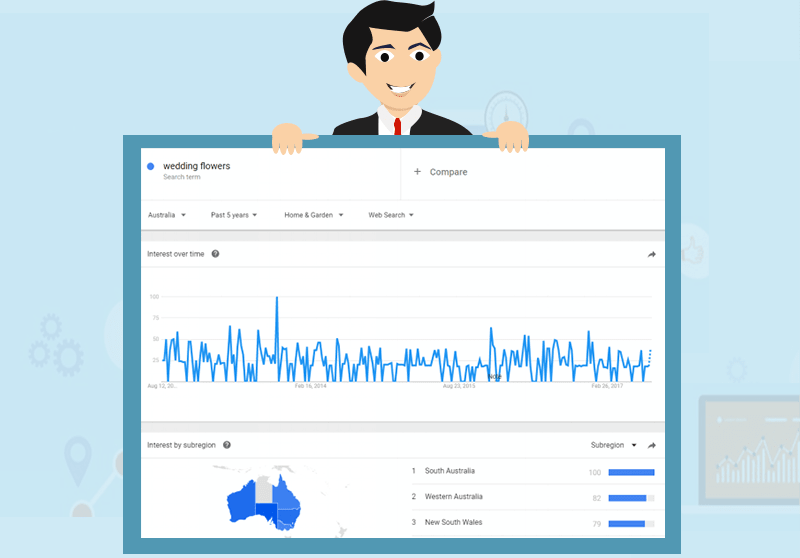 The Explore functionality lets you compare results of your search term with another search term using the "+ Compare" sign next to your search term.
It also provides you with information such as "Interest by Subregion" and "Related queries" with respect to your topic, which can be used for Geo-targeting and Keyword Research purposes. This will be covered in the sections below.
Trending Searches:
This tab displays the top trending searches on a daily basis. This page can often be confused with the Home Page. However the Home page shows us the trending stories (incidents or news that have suddenly caught up the search engine's attention) while trending searches are the keywords typed in the most.
If you click on a trending search, it will redirect you to a Google search of that term.
For example, if you click on "PGA Championship" on the Trending Searches page, you will be redirected on the page below: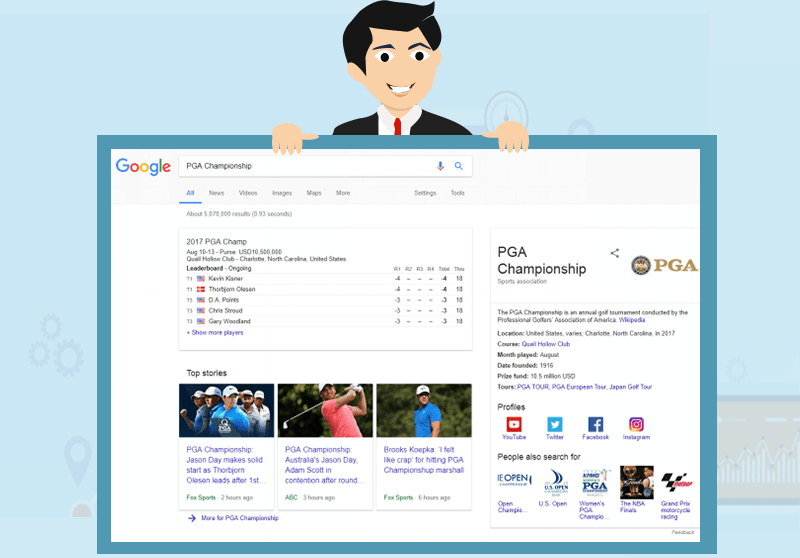 Once you have familiarized yourself with the working of these functionalities, it's time to put these to use for implementing some of the tool's key features, like "Keyword Research", "Market Research". "Determining Brand Health" and "Content Building".
Keyword Research
This is the first step towards Search Engine Optimization and every business involved in digital marketing will agree that the usage of the right keywords can easily improve the traffic to your site. The most commonly used tool for this purpose is the Keyword Planner tool. No doubt that this is one of the best in the market today and it provides you with accurate search volume data for your keywords. However, alongside the keyword planner tool, Google trends would bring additional valuable insights to the table.
Let's understand this keyword research using an example:
Consider that you want to open an online wedding cake business. However as of now, you have restricted yourself with Victoria.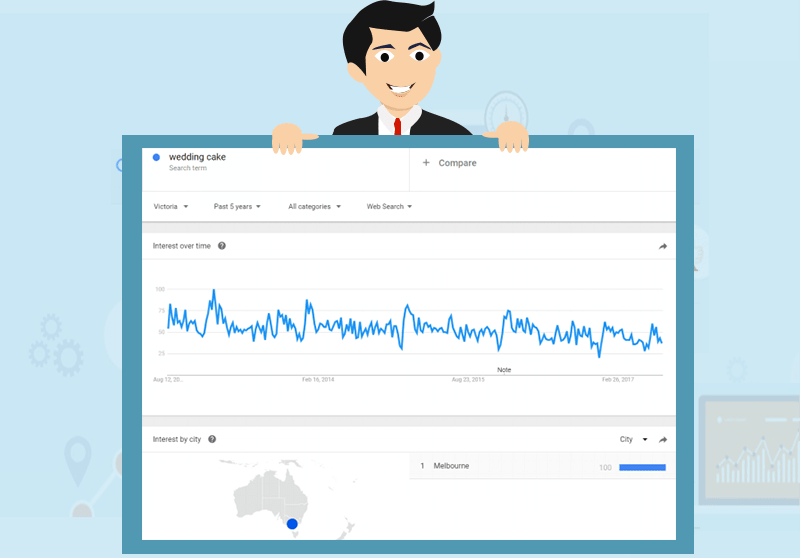 As per Google Trends, Wedding cake is most searched in Melbourne in Victoria. If you scroll down further, you can view following information: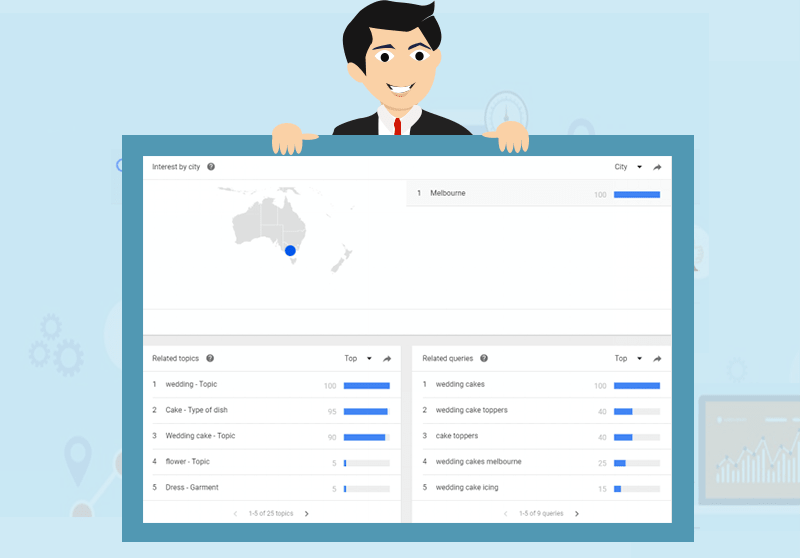 What we are looking at here is the "Related queries" section. This tells you what do most people in regards to your topic search for. For example, "wedding cakes Melbourne" is a good keyword for your business, check the volume of this in the keyword planner tool and if all goes well, you have one keyword finalized.
If you're confused between two keywords and want to see comparative results, Google trends is the only tool that will let you do that. Type the other keyword in the + Compare space and click enter.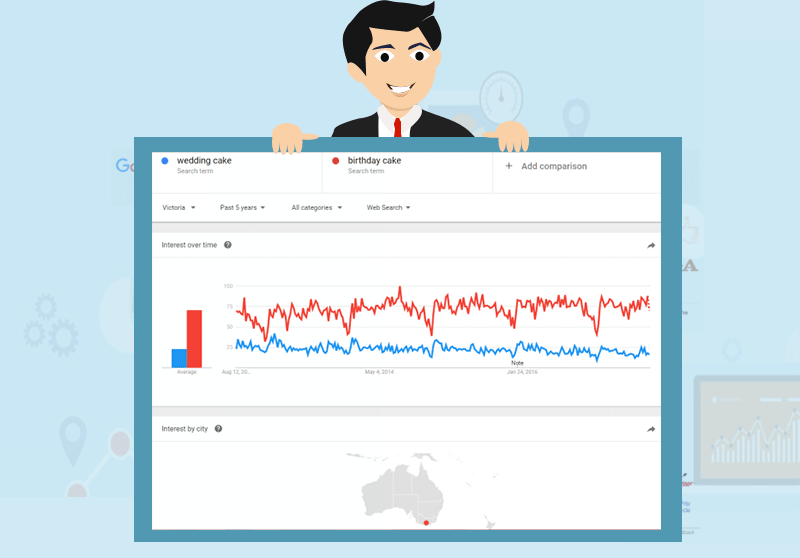 Looks like birthday cakes are more popular, and hence you shouldn't limit myself to just wedding cakes for your business.
Market Research
Google trends make you aware about the overall market, your competitors and which location they are targeting as a part of their campaign.
Let's say for example you are researching about fitness centres in Australia, you'll find the following "Related queries" associated with it: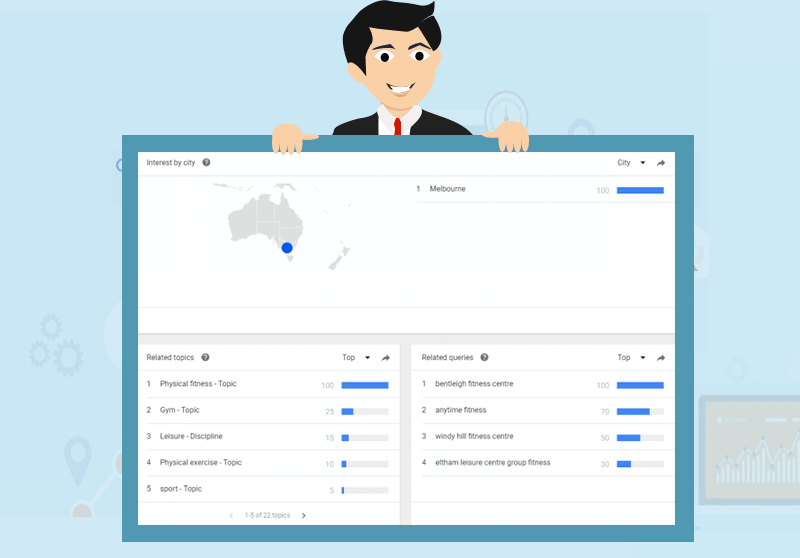 The Related queries clearly highlight the most popular fitness centres in Melbourne are the "Bentleigh fitness centre" and "Windy hill fitness centre" in Essendon. We can then use this data to narrow our search and look for the strategies that our competitors are implementing. Also we could use addition tools like SEM RUSH to determine which keywords they are ranking for and implement a Search Engine Optimization strategy on that basis.
Determining Brand Health
Monitoring your brand health is important if you're a medium to large size organization. Google trends let you do that in a matter of few clicks. Just type in your product name and compare the results of the related queries. For example if you're Windy Hill Fitness Centre in Essendon then you might want to analyse the information below: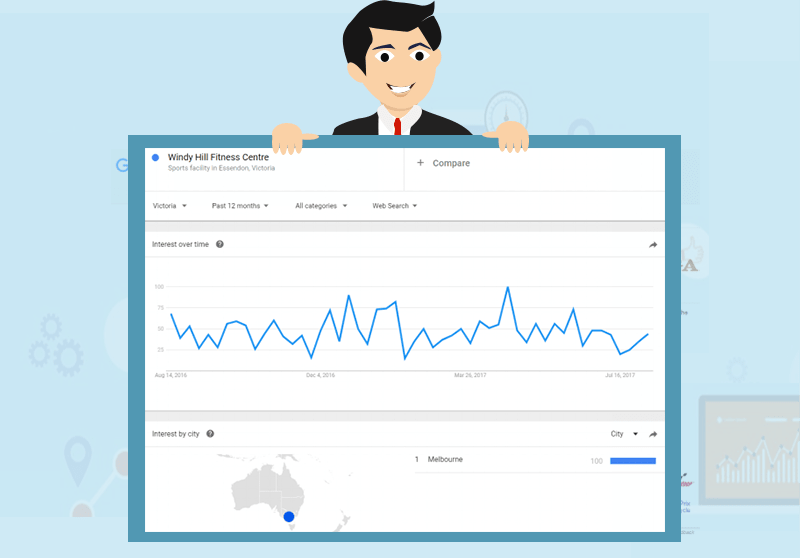 The snippet tells you how your brand has been performing over time, be it currently, over months or over years. Also you can fetch information like what keywords your site ranks for. For a good brand, this is some serious information to watch out for.
Content Building using Google trends
One cannot emphasize enough on how important "Content" is for Search Engine Optimization. The more content you have, the more likely it is for you to rank for some of the keywords in there. A very widely used approach to enhance a website's content consists of writing blogs around topics that are related to their domain. Google trends can help us find popular topics to blog about. This can be done in distinct ways and would sometimes require some brainstorming and analysis skills to go along with.
One way to go about it is to simply go through the "Related queries" results of the topic of your interest and write a blog about the most searched query. The other way to this is to patiently go through the results of trending stories, within your category of interest, and blog about the topic that is trending as well as relevant to your domain. The second method would definitely have more reach but it is often difficult to find a trending topic and to relate it to your area of domain.
Google trends in conjunction with other tools
We have consistently said throughout the blog that it would be best to use Google Trends along with a few other SEO tools for best results. For keyword research, it could be used along with Google's keyword Planner. For market and domain research, it would go well with SEM RUSH and AHREFS. And if you want to monitor your brand, you're better off using this tool alongside Google Analytics.
To sum it up, Google Trends makes your life easy. Using a tool like this, one can do basic in-house SEO in a matter of few hours. Also, you can determine where to set up your next marketing campaign.
Have you used Google Trends before? Do you find the tool interesting? Do you find it to be useful or just a glorified play toy? We would love to hear about your experiences with Google trends and what you think about it as an effective SEO tool.
(Reference: https://www.youtube.com/watch?v=ChWL69IrhsA)