How to Promote Your Blog Using Skyscrapper Technique : A Case Study
We know how important content marketing is for better performance on Google. High quality content rich in keywords can generate traffic and ultimately higher revenue for the company. However, it is not always easy to create quality content on a consistent basis.
To solve this content creation problem, Brian Dean of www.backlinko.com has created a technique called Skyscrapper. It's quite simple but ingenious way of creating high quality content that will create better engagement with your audience. In this case study, we will be looking at one of our clients' www.webuycaravans.com.au for whom we have used Brian Dean's Skyscrapper Technique to bring traffic and improve keyword indexation for the website. The original blog URL is:
Following are the steps we followed from the Skyscrapper technique to create and promote this blog:
Step 1 – Finding the Right Topic
One of the toughest challenges is to find the right topic that will be interesting and engaging for the audience and at the same time is someway connected or relevant to your business. If you just select a popular topic that has no relevance to your industry, you may get engagement but it will not be fruitful and will not convert it to inquiries or leads overtime. In this case, we were writing blog for a company that buys old and used caravans and pays instant cash for them. They conduct their business across Australia.
In order to find a topic that is both relevant and popular, we brainstormed with our client and decided to write a topic relevant to "Caravan Parks". This is because caravan parks are very popular in Australia. Almost every person who owns a caravan would have at some point in time visited a caravan park. They would also be a good audience to target as they may be potentially looking at selling their old caravans in order to buy a new one.
We also wanted to know if this was an evergreen topic. That is, the popularity of this topic had not faded over time. In order to confirm this, we put the keyword "caravan parks" in Google Trends and found that popularity of this keyword had been consistent over previous 5 years.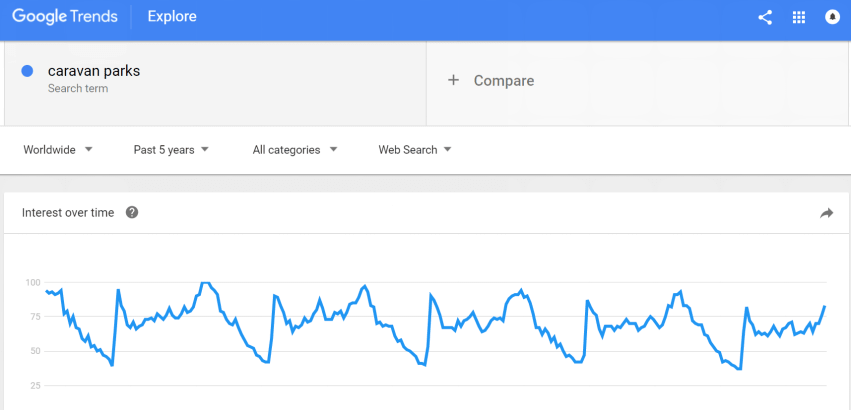 Step 2 – Keyword Research
Once we had established the topic, the next step was to do keyword research so that we can target the right keywords for the selected topic. There are several good tools for keyword research including Google's own Keyword Planner Tool. However, we decided to use SEM RUSH for our keyword research as it can provide relevant keyword phrases in quick time. Also, we wanted to target "Sydney" as a geographical location as this is a huge market for buying and selling used caravans.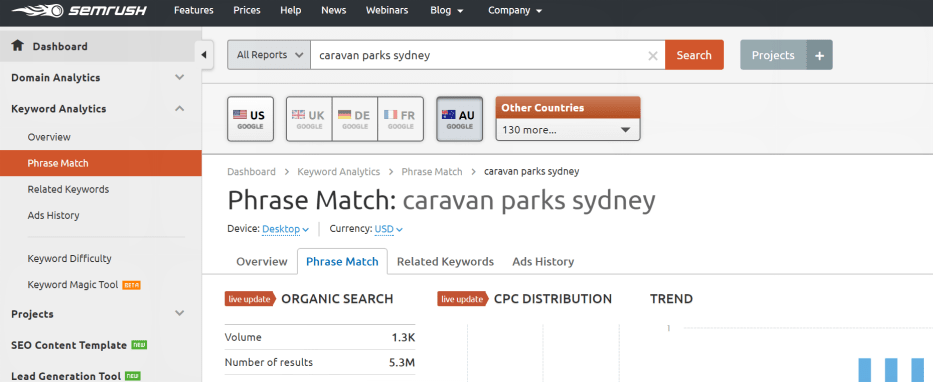 When doing our research, we came across keyword "caravan parks in Sydney" which was a long-tail keyword with 320 monthly search volumes. We decided to use this as our Primary Keyword along with a list of some other supplementary keywords.
Step 3 – Reference URL
Once we finalized the primary keyword we wanted to target, we then needed a good reference URL on which we can base our new blog. When finding the right reference URL, it is vital to select a page with following features:
High Number of indexed keywords
At least 10 keywords on the first page
High search traffic
Relevant to our topic
Has good social media signals
Good content with potential of expanding the topic further
The last point is very vital and the reason why this technique is called "Skyscrapper". The idea is to find a good quality article that is already doing well on Google. Then finding potential loop holes in that article where it could be further expanded and made better to create a bigger structure on top.
When we put the primary keyword "caravan parks in Sydney" on Google, we came across this Reference URL:
This page talks about 18 good camping grounds in Sydney.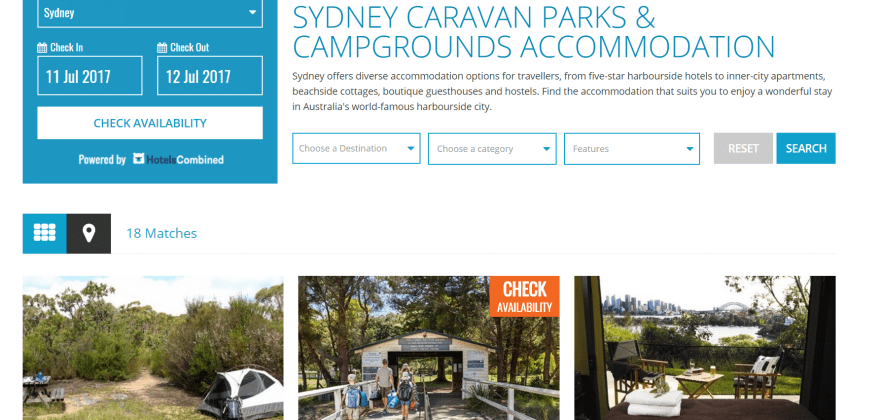 As per AHREFS.com, this page has almost 1,000 organic keywords indexed on Google with organic traffic of over 3,400

This made it an excellent topic for us to work on. Also there were 2 limitations in this page:
1.It did not cover all the caravan parks in Sydney
2.There was very limited content explaining the features of each park
So we decided to write a new Skyscrapper blog that can overcome these limitations.
Step 4 – Selecting Blog Title
This is a very important step. You can write best article in the world but if it does not have a good title, it can significantly impact the CTR or Click Through Rate and will not reach your target audience.
When writing blog title, we wanted to focus on the strong aspects of this blog which were the number of caravan parks we were covering along with target geographical location and benefits that users can get by reading this blog. Hence, we came up with below blog title:
TOP 21 CAMPGROUNDS & CARAVAN PARKS IN SYDNEY FOR A PERFECT HOLIDAY
The first part of the title "TOP 21" shows that our blog covers maximum number of caravan parks of any other blog on the same topic. The number also makes the title more attractive for readers and prompts them to click on the title.
The middle part "CAMPGROUNDS & CARAVAN PARKS IN SYDNEY" contains our primary target keywords.
The end "FOR A PERFECT HOLIDAY" tells users the benefit of reading this blog.
Step 5 – Writing the blog
Of course, the next step was to write the blog. We did this in-house with our content writers but it can also be outsourced. But when writing the blog, we kept following things in mind:
Structure of the content – We made sure to start with an introduction, followed by the list of top 21 caravan parks in Sydney and finally a brief conclusion.
We ensured that blog was divided into a proper list and each section had its own dedicated image. Images within blogs create greater engagement.
We targeted the primary and secondary keywords within content but made sure the keywords were not stuffed.
We made sure that the paragraphs were short in size making them easy to read.
Internal linking – The main keywords we wanted to target for this website were all indexed on their Home Page. We wanted to pass on the power or link juice from this new blog page to the home page. Hence we internally linked the keyword "caravans and motorhomes" to the home page.
Step 6 – Publishing the blog
Next step was to publish this blog. Now, WordPress is always ideal platform to launch the blogs. In this case, the website was built in WordPress so it was easy for us to create a new blog section. However, even for websites built in different CMS, we do recommend using WordPress since it has features that are tailor-made for blogging.
When publishing the blog, we took care of following aspects:
Relevant and engaging Meta Title (less than 60 characters)
Relevant and engaging Meta Description (less than 160 characters)
Putting the blog title as H1 tag
Keyword rich URL (our blog URL is …/campgrounds-caravan-parks-sydney/)
Adding Facebook sharing plugin to the blog (making it easy for users to like and share the content on Facebook)
Adding a comments section that will allow users to put comments and engage with the content.
Step 7 – Promoting the Blog on Facebook
Facebook is a great channel to promote high quality content. Once our blog was published, we put it on our client's Facebook page and used the "Boost" feature of Facebook to promote the blog post. We only spent around AU $40 in boosting the post.
We immediately started seeing good results for this page. This blog now has 898 likes on Google and 901 followers as of July 2017.

If the blog is shared and liked on Facebook, it is regarded highly by Google. Google looks at positive social media indicators when ranking blog pages.
Step 8 – High Quality Link Building
Link building is perhaps the most critical aspect of blog promotion. You could have the best content in the world but if it is not backed up by a good backlink strategy, it will not have a mass appeal that you would have wished for.
When doing link building for this blog, we had 3 major factors to consider:
Where do we get the backlinks from?
How do determine relevance of these backlinks?
How do we know that these backlinks are of good quality?
8. 1 Backlink Source
There are several sources to find potential backlinks. These include:
Backlinks from the Reference URL
Performing Google research with target keywords
Finding backlinks via tools like AHREFS.com
In our case, we did a Google search with our primary keyword "caravan parks in Sydney". We looked at the backlinks of top 5 ranking websites and added it to an excel spreadsheet.
8.2 Backlink Relevance
This one is quite simple. All you need to know is what industry your blog belongs to. For e.g. we know that our blog is relevant to caravan parks. Caravan parks are used by people who use caravans for long distance holiday or leisure travel. So the category we needed to focus on was Leisure and Holiday Travel.
So based on the relevance criteria, we went through our excel list of websites and weeded out sites that did not meet our standards.
8.3 Backlink Quality
Now, we measured backlink quality in terms of following features:
Website's DA or Domain Authority (from Open Site Explorer)
Amount of traffic (from Similar Web)
Number of pages indexed and ranking on Google (from SEM RUSH)
For example, one of the domains that we found during our research was youramazingplaces.com. So the first thing we did is find DA of this website via Open Site Explorer. Normally, websites with DA of 30 or higher are considered to be good quality and when we analysed this one, it came out to be 42.

Next, we checked how much traffic this website gets via Similar Web. Similar Web is not 100% accurate but gives you very good estimate of a website's traffic. In this case, Similar Web showed that this website gets almost 75,000 visits per month which is a very good number.

The final point to check was the keyword indexation and number of ranking keywords which we found via SEMRUSH.com

This website has over 16,500 keywords indexed on Google. Not just that but almost 4,000 of these keywords that is almost 25% are on the FIRST PAGE. This indicates that the website is very popular on Google.
From above research, we concluded that this website meets our criteria of quality backlink. The next step was to get in touch with the owner of this website and request a link.
8.4 Outreach Emails
Once we had a final list of websites to backlink to, we began outreach process by emailing all the web owners of these sites. We used Brian Dean's standard outreach template for this process.

Of course, we did not get response from everyone. In fact, only around 10-15% of the people replied us back. However, this is normal. This is one reason why your original list of websites should be high as only around 10-15% of them will be interested in linking to your article.
Below is an example of backlink we got via this process:
Now, you can see that this article is a bit different to the original one and has only 10 campgrounds mentioned. This was due to word limitation on their website. The web owner would only allow us to put certain number of words. We also re-wrote the article so that there was no duplication issue with Google.
Getting links in this fashion may be very time consuming but it is worthwhile in the long run.
Results
This blog was launched at the end of November 2016. However, as you can see from below screenshot (via AHREFS.com), this single blog page already has 166 keywords indexed on Google. The organic traffic for the website is on the up.

Keywords like "caravan parks Sydney" are now on the FIRST PAGE of Google. This is a highly competitive keyword with a monthly search volume of 1,800.
Since making the blog live, it has become 4th most visited page on the website with 634 page views. Average time spent on this page is 4 minutes and 57 seconds which shows high engagement.

Conclusion
This case study is a great example of effectiveness of Brian Dean's Skyscrapper technique. Even with basic resources and low budget, we were able to drive high quality traffic to this blog and it will continue to grow with time.
So what do you think about this Skyscrapper technique? Do you have any recommendations to make these results even better? Have you tried this technique before and had any success? Please share your experience in comments below.
(Reference URL 1: https://www.youtube.com/watch?v=pqe7U4YOGOA)
(Reference URL 2: http://www.sydney.com/accommodation-caravan-and-camping?)