What is an Infographic and How Does it Help With SEO?
Today, 80% of online content utilizes visuals in one form (infographic) or the other to engage a wider audience.
What is an Infographic?
An infographic does a lot more than educate and inform; it's a great way for marketers to capture viewer's interest through intelligent data visualization that eliminates heavy reading.
Data rich visualization of a narrative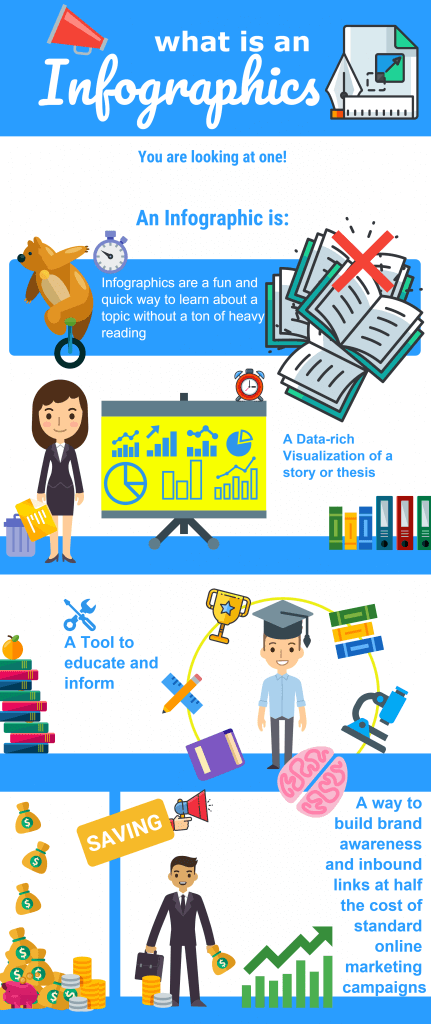 An intelligently designed infographic delivers maximum information through minimal text and catchy visuals. The idea is to get the message across loud and clear without wasting time.
Infographic is a modern educating tool that makes massive data easily digestible and drives engagement of a whole new level. Not only this, it's a perfect medium to increase brand awareness and inbound links, thus, increasing your visibility in SERPs.
Why infographics?

Looking for a reason to incorporate infographics into your content marketing strategy?
We give you 9 good reasons you can't deny. Read on to learn more.
50% of our brain is involved in visual processing, which means any information presented in the form of an infographic will engage most of the consumers' attention and drive the desired call to action.
An average human can get the sense of a visual scene in less than 1/10 of a second. With the attention span of an online user knocking down to less than 7 seconds, it's nearly impossible to retain a reader through plain text, no matter how interesting it may be. Thus, infographics come into play.
Also, an infographic is 30X more likely to be read than any long-form content.
Infographics are easier to process and understand. Saves time and helps retain information for a long time.
It hardly takes 150 ms for an average human to process a symbol and associate a meaning to it.
Infographics are extremely engaging. They can make complicated subjects and data-driven insights appear simple and easy to understand.
Colored visuals can increase reader's willingness to read by 80%.
Not only Infographics are easy to understand but they are easier to recall as well.
People remember 80%of what they see and do, while only 20% of what they read. Hence, Infographic is the undisputed winner here.
History of Infographics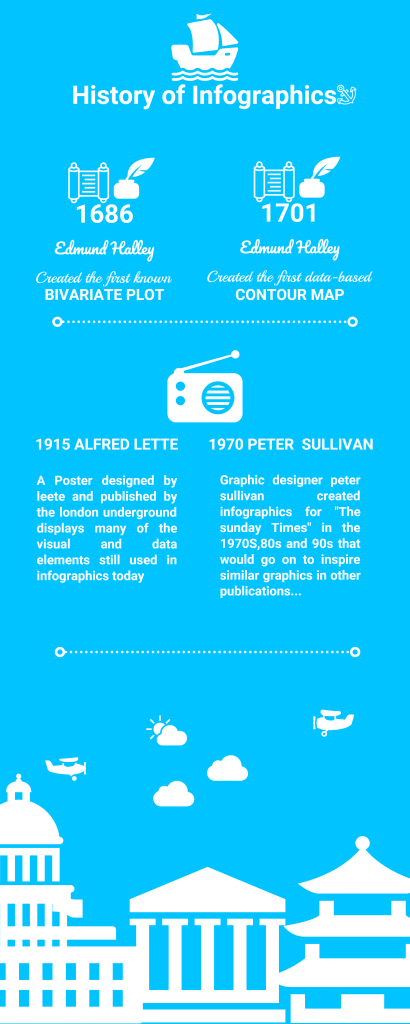 Infographics have been an important part of our history since time immemorial. The significance of infographics was realized long before the term 'infographics' was coined. The first confirmed infographic dates back to 1686, when Edmund Halley came up with Bivariate Plot.
Later, in 1858, Florence Nightingale created the Coxcomb chart, which helped viewers understand the information even when they didn't have technical knowledge of the subject.
1915 marks the release of the first poster by Alfred Leete that has continued to inspire infographic makers until today.
OTL Aicher and Peter Sullivan came up with their own versions of the infographic in 1970's, which changed the landscape of print media.
Current Trend: Online infographics
Since the Internet is getting saturated with information, content marketers are finding innovative ways to cut through the competition and stand out with something unique and engaging; hence, infographics. If you are still asking 'what is an infographic?', you're probably not keeping up with the modern online marketing world.
Creating an infographic is easy and fun, but it takes a little practice and direction to create an engaging one.
Creating an infographic in 2017
1. Identify theme of your data
First thing first. Identify the theme of your data as well as the problem that you aim to solve through infographic.
2. Outline and sketch
Create an outline and draw a rough sketch to see how well it goes with your concept. If it looks fine, finalize the sketch, and if not, keep thinking.
3. Research is the key
You must do your homework and confirm the facts before lacing your infographic with any information. Putting up inadequate or wrong information can be disastrous.
4. Focus on the narrative, not numbers
Put numbers in your narrative and not the other way around. Too much data can be overwhelming or confusing. Pick only key data points and focus on how to deliver them in an interesting manner.
5. Select an Approach
There are different approaches to go by:
Side-by-Side comparison
Timeline – a storyline with a beginning and an end
Visual Article containing imagery and facts
Create an infographic centred around one great image
Data Visualization
6. Add relevant visuals
Adding relevant visuals, such as Bar charts, Pie charts, Line chart, etc. can save reader's time while conveying the message clearly.
7. Do's and Dont's
Use the information in the condensed form to keep your infographic as succinct as possible.
Avoid verbose
Avoid too many colours, unnecessary design elements and fonts
Incorporate a clear call to action
8. Make sure the layout is logical and adaptable
Tips for creating an engaging infographic
Creating an engaging infographic is easier said than done, but taking the right approach should help you achieve your objectives with ease. Here's how you can add value to your infographic and the sharing process that follows.
Choose a trending topic and add a catchy title
Include different visuals and statistics
Promote via social media and make your infographic shareable
Add white background and do not include too much content
Pay attention to search rankings
How to measure success of an infographic
The sureshot way to measure the success of an infographic in terms of SEO is by determining inbound links using Google Webmasters.
Determine brand success by accessing image file loads
Keep track of the new fans, followers on social media since your infographics went live
Growing popularity of infographics
If you don't believe our words, you ought to believe the numbers.
In March 2012, Twitter users tweeted #infographic more than 56000 times.
For the period April 2011 – April 2012, "infographic" was searched 301,000 times every month, on an average.
In just 2 years, infographic search volumes have increased by 800% – source: The Guardian.
Conclusion
Infographic is an increasingly popular way to present complex concepts in an easy-to-understand visualization.
Creating an infographic may be more time-consuming than writing an article, but that extra time you invest will certainly pay off in the form of an increase in the number of viewers and better engagement.
How do you see infographics as a medium to inform and educate readers? Have you been using infographics to connect with your target audience?
If yes, then tell us in the comments how well it worked out for you.