What Are Internal Links and Why Are They Important?
Every website owner and marketer would certainly want their website to rank higher on Search Engine Result Pages (SERPs). Isn't it?
Well, even before your content gets ranked on SERPs, it is essential for you to establish hierarchy on your website.
This helps you to give more link value to the most important posts and pages on your website, than the ones that are less valuable.
In short, devising a competitive internal linking strategy can actually boost your SEO efforts.
But before that, we know . . . you are anxious to know what internal links are?
So, without any further delay, let us understand what are internal links.
What Are Internal Links?
Internal links are nothing but hyperlinks pointing out at the same domain (or the target domain) on which the link exists (that is, the source). In simple words, internal links are the links which point out to different pages on the same website.
Google crawls across websites by following specific links – both external and internal – with the help of Google bots.
The bots first arrive on the website's homepage. They then follow the internal links to determine the relation between different posts, pages and other types of web content.
Like this, Google ultimately figures out which page on your website has similar subject matter that is being searched by the users.
Sample Internal Code
The following is the format of an internal code:
<a href="http://www.same-domain.com/" title="Keyword Text">Keyword Text</a>
What Can Be an Optimal Format?
Optimal form of an internal link will have descriptive words in the anchor text to provide a sense of the keywords or topic targeted by the source page.
What Are Internal Links Used For?
Internal links are those links which go from one page to another. However, both these pages will be on the same domain.
These links are mostly used in main website navigation.
Internal links are used for the following three major reasons:
They enable users to easily navigate across a website
Assists the website owners and marketers to establish information hierarchy on their website
They help in spreading the link equity (which is a ranking power) across the website
How to do Internal Link Building – SEO Best Practices
Building internal links are extremely important for spreading link equity and establishing a good website architecture.
For the same reason, in this section we will be seeing how to use internal links to build an SEO friendly website architecture.
Search engines have to see content on every single page of your website.
Only then they will be able to list your web pages in their enormous indices that are keyword based.
Besides, they should have an easy access to the link website structure that can be crawled.
This is the kind of structure that allows the spiders to browse through the pathways of a site.
The structure gives the spiders to get a peek into the link structure of your website.
Several websites make the blunder of inappropriately burying their link navigation in a way such that it is just not accessible to search engines.
Such a set up makes it challenging for them to get listed in the indices of search engines.
The image below describes how this kind of problem might arise.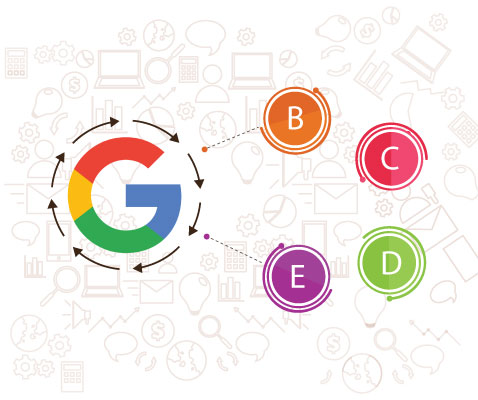 In the above example, the colorful spider of the Google has landed on page "A". It then finds internal links to the pages "E" and "B". No matter how critical the pages "D" and "C" might be to the website, the Google's spider does not know how to find it.
Even worse, it does not even know that these pages do exist. This is because there are no direct crawlable links to those two pages.
So, according to Google these two pages just do not exist.
Even good keyword targeting, smart marketing and great content cannot make a difference if the Google spiders are unable reach those pages.
Following is a pyramid structure, which is an ideal hierarchy for internal linking.
Here, the big page at the top is nothing but the homepage.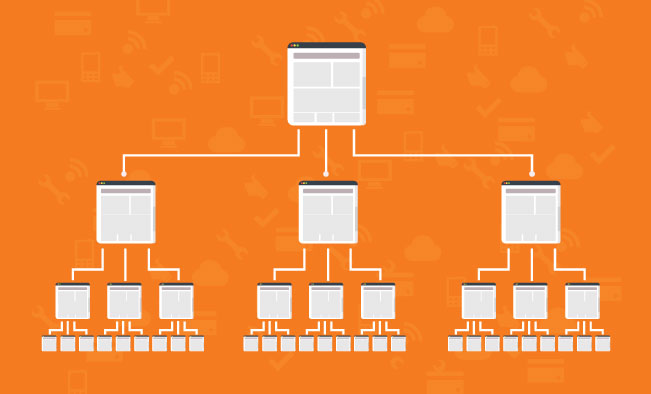 Here, you should notice that the homepage has minimum links to any given web page.
This is great because it enables the link equity or the ranking power to seamlessly flow throughout the website.
This increases the ranking potential for every page. Also, this is the common website structure followed by most of the high performing sites, one among them being amazon.com.
Sites like these have multiple category and sub-category system in place.
But how has this been accomplished. One great way to go about it is to use supplementary URL structures and internal links.
For instance, they link internally to http://www.example.com/mammals using anchor text "cats".
Following is the correct format of an internal link:
In the image above, the tag "a" represents the beginning of a link.
These link tags can have text, images and various other elements which offer "clickable" areas on the web pages that help users to engage and navigate to a different page.
This is the actual concept of the Internet. Link referral location guides the search engines and the browser to where the internal links point to.
Keeping the link structure basic allows search engines to eminently understand it.
The search engine spiders will then add this link to their link graph, leverage it to analyze query-independent variables and follow the link to index the web content that is referenced.
Another question that often bothers marketers is "should internal links open in a new tab"?
Well, certainly yes. But, we feel that is strictly based on your preference. But if you choose to make your internal links to open in new tab, then make sure the user is notified about it.
When Will My Web Pages Not Be Reachable?
At times, your web pages might not be reachable. Following are some of the reasons that makes your pages not reachable, thereby preventing these pages from getting indexed.
Links Present in the Forms that Require Submissions
Forms often include elements which are either as simple as "drop down" menus or as complicated as a lengthy survey. In either circumstance, the search spiders do not make an attempt to do the requested task – that is, to complete a survey or to submit a form.
So, whatever content will be available after the completion of that particular task will not at all be visible to the search crawlers.
Links Accessible Only Via Internal Search Boxes
This is a very obvious cause, as search engine bots definitely do not carry out internal searches.
Several website owners make the mistake of hiding numerous pages behind internal search boxes that are totally inaccessible.
Links in Javascript
Links that are built Javascript are either devalued in weight based on their implementation or cannot be crawled.
So, one best way to prevent this scenario is to use standard HTML links for the pages where traffic referred by search engines is extremely important and limit the use of Javascript.
Links in Java, Flash and Other Plug-Ins
The links which are embedded inside Java applets, Flash and various other plug-ins are generally not accessible to search engines.
Links to Web Pages Blocked by Robots.txt or Meta Robots Tag
The robots.txt and meta robots tag enable marketers and website owners to restrict the pages from becoming accessible to search engine spiders.
This can have a negative impact on your internal linking SEO efforts.
Links Present on Web Pages Having Several Links
Roughly, the crawl limit of search engine bots is 150 links per page. Once they reach this limit, they stop spidering extra pages which link back from the original page.
However, this limit is kind of flexible, also some of the important web pages can have up to 200 or 250 links. In general, it is better to limit the total number of links to just 150 on any given web page.
This eliminates the risk of preventing additional pages from getting crawled.
Links Present in I-Frames and Frames
Basically, links present in I-Frames and Frames can be crawled upon.
However, both present some sort of structural complications for search crawlers when it comes to organization and following.
So, it is recommended that you have a sound understanding of how search engines follow links in the frames and index them should use these elements along with internal linking.
By avoiding these mistakes, you can get HTML links which makes it easy for the search engine spiders to quickly access the content pages.
You can add several additional attributes to your links, however, search crawlers completely ignore all of it.
You can carry out a site scrawl using tools such as Screaming Frog, Moz Pro and Open Site Explorer.
Later, you can compare the number of pages crawled to the pages listed by running a site:search.
On the other hand, website internal link checkers allow you to identify links which can be detected by the search engine spiders.
Furthermore, internal links nofollow or the nofollow internal links are generally interrupted in a slightly different way by every search engine.
Next, SEO friendly internal links present you with valuable opportunities to internal link building. This is an important factor that helps your website to rank higher.
Furthermore, wise internal link building in SEO also helps search users with their queries and helps them to easily navigate through your website.
Share Your Thoughts