Setting Up a Small Business Website – 5 Simple Steps

Don't have a website yet? Well, that's pretty shocking as you are already losing out on several potential customers. In this digital era, not having your own small business website can hugely impact your business in a negative way.
With advancements in technology, excuses like "websites are too expensive to create" or "are too complicated" are no longer valid.
Whether you are a small business owner or a small marketing agency, one question that constantly bothers every marketer is – "How can I better promote my business and increase sales"?
Today, the answer to this question is "websites".
Websites are exclusively used to showcase your offerings and promote your business better. Every reputed and successful company will have a website.
Randomly think of a big brand, a corporation or even a clothing company you love. Just Google its name. They all have a website of their own!
Website is the digital face of every business. Now, when people are extremely active "online" than "offline", websites have become all the more important to expand your business.
Or for that matter even to establish it.
Already thinking how to make a business website? Well, before creating a website for your business it is important to know why you should have one.
Why Should You Have A Business Website of Your Own?
Still thinking why should you even have a good small business website? Then here are some of the major reasons that are worth considering:
Provide essential information on your offerings to your potential customers
Provide information on the location of your store
Communicate about your latest marketing campaigns to target audience
In short, one of the most critical marketing tips for small businesses is to have a website to keep their head just above the water to survive the competition.
There is no doubt about the fact that a website is considered to be an effective tool for connecting your business with your potential customers.
Excited to setting up a website? Let's get started.
5 Simple Steps to Build a Website for Your Small Business
In this blog, we have compiled five easy steps that help you to build a website for your small business. Here is how to make a small business website in 5 simple steps.
Step #1: Choose & Register the Website Domain Name of Your Small Business
The fundamental step in creating your own small business website is to decide "what will you name your website".
For instance – www.yourbusiness.com. Your domain name is similar to your street address, the only difference being you will be on the Internet.
It is important to choose the domain name carefully because it helps you to build a strong identity.
A good domain name can be the first step to gain brand trust from your target audience, which ultimately leads to higher conversion rates.
Once you decide the name of your business, your next step would be to check whether that particular name is available or not.
If your domain name is available, then go ahead and get it registered. Registering your domain will enhance the credibility of your website.
Besides, when you are getting your domain registered it is a good option to register all the domain extensions such as .org, .net etc.
This protects your brand identity from those who try to copy your brand name.
Top Tips to Find Business Website Domains
Is your website domain name taken? Well, there is nothing to worry about. Here are a few top tips for you to consider while you search for alternative website domain name.
Use terms that users are likely to search- For search engines like Google, domain names are extremely important. So, it is a great idea to include the words that are likely to be searched by the users in your domain name.
Simple yet catchy domain names- Keeping domains that are short, crisp and easy to pronounce is very important. After all, who would want to read some complicated jargons that are difficult to remember. A simple trick is to keep your domain name so easy that people should be able to find it online even if they hear it from somewhere.
Create location-based unique URLs- Have all other options been taken? No worries. You can include the name of your area or the city to your domain. This serves as a boost to make your website rank higher in the Google. This is because search users tend to add their city name while they carry out search.
Step #2: Choosing the Right Host and Platform
After choosing your domain, your next step would be to decide where should your website be hosted.
A host is nothing but a service that stores a website which is then transmitted to the search users.
While there are multiple host platforms available today, two of the best ones include Weebly and Bluehost.
Bluehost is an extremely versatile option and is also known to deliver maximum value. They will register a domain, host a website and will also provide a business email address.
Weebly, on the other hand is more user-friendly and is known to provide flexible and customized customer support.
So, this makes it a great option for those users who are not so tech savvy, the ones who require simple information website.
Let us now explore both these options in detail.
Option 1 – WordPress Website with Bluehost
If you are a tech savvy marketer, then creating WordPress website is just the perfect option for you.
This is because it gives you access to extensive functionality and unlimited features.
Bluehost has good hosting plans as well as free WordPress site with a business email account and domain name.
To make it easy for you, we have also explained how to set up the WordPress site here.
Beginning with WordPress
Before we proceed note that being an intermediate website user, WordPress does not demand the users to have programming knowledge.
However, it is essential for the users to get accustomed to WordPress' backend menu.
While WordPress has a traditional edit menu, Weebly lets users to simply drag and drop the elements.
Option 2: Using Weebly – A Website Builder
Small business owners who have short of time or are not very technologically advanced, but do not mind paying a little more, Weebly can be the best choice.
Weebly belongs to the new category of tools referred to as Website Builders.
This class of tools use drag and drop interfaces making it simpler for the marketers like never before to design their website.
Once you choose Weebly, you can begin by choosing your template. You can then customize your website with the text, images, pages etc. of your choice.
This is one of the best small business website builder.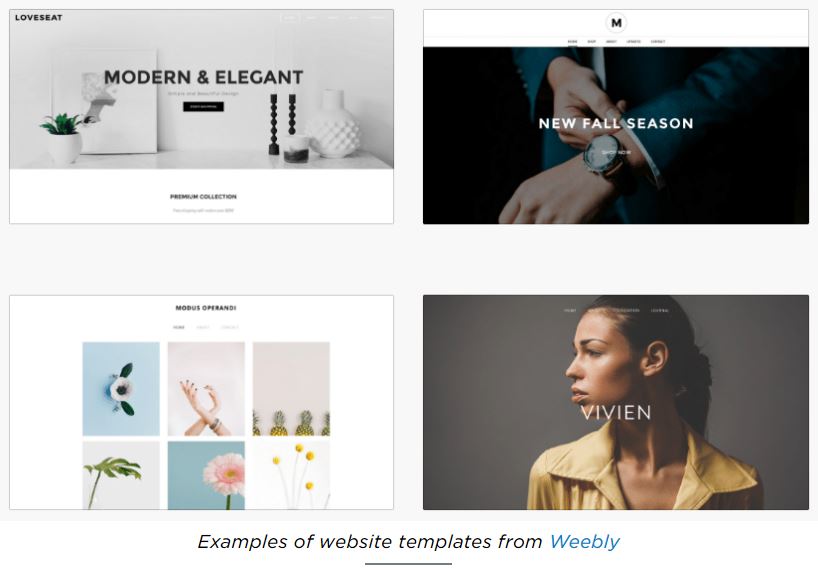 The process of editing is extremely intuitive. If you have not yet used the PowerPoint or Microsoft Word, then you will able to grasp this tool more quickly.
All that you have to do is to just drag and drop the elements from the sidebar.
You will be able to adjust the size by dragging from the corner. By double clicking the text box, you will be able to edit the text.
Besides, another interesting advantage with Weebly is that, you can easily add numerous interactive features to the website.
Most of the people building their websites will have the option "click-to-add" for web forms, Video/YouTube embeds, Google Maps etc.
Doing this will retain the interest of your website users and they will also be able to share it easily.
When Should You Use Website Builders Other Than Weebly?
If you are just selling a few products, then Weebly is capable of handling it.
However, if the sole purpose of your website is to drive sales and sell your products, then you may have to consider other options.
In such cases, website builders which specialize in creating online stores will serve your purpose.
Now, Shopify is one such dedicated e-commerce platforms providing an all inclusive multi-channel selling solutions.
This includes a complete suite of webstore, in-person selling tools, marketplace as well as social media features.
Step #3: Outlining Website Content
At this point you will be aware of the platform that you will be using. So, the next step would be to decide what your website speaks about.
Cracking what kind of content should go on your website can be tricky. This is one of the major places where business owners actually go wrong.
Well, the good news is that there is no need for you to say a lot at all.
Business websites tend to work well only when they are basic, simple, feature minimal text and keep single option on every page. These options may include "Contact Us" button or submission forms.
Websites follow standard formats and there are a few types of pages which have to be definitely be there in any website.
So, we have listed these four types of web pages for you. Do not worry about editing and formatting these pages while you go through the list.
Just sit back and try to understand the kind of text, content and images that need to go into each of these pages.
Home Page – Home page will be the face of your business. So you should include all the essential details of your business including the name and location details along with a simple pitch on what makes you stand apart from the rest/why should customers choose you.
About Us Page – In this page you are required to provide the background of your company. Listing your organizational membership which is associated with a bigger and better business bureau if any, is also important. You can also include customer testimonials here as it makes your business look credible and trustworthy.
Products and Services Page- This is the page that contains all the details about the products or services that you offer. So, you will have to provide at least 5 to 6 lines describing the kind of services you offer and the features of the products for sale. The pricing details of specific products/services also go into this page.
Contact Us Page- Your postal address, contact number, email ids along with the working business hours should be provided here. Links to your social media profiles like Twitter, FaceBook etc. can also be provided here. A Google map of your location should be provided depicting different ways of transport to get to your office.
Tools for Mobile Websites
Today, an increasing number of users browse through their mobile phones rather than using a desktop to do the same.
For a small business owner, this is certainly a huge  opportunity which cannot be missed. So, it is important to convert website to mobile friendly platform.
Well, the good news is that top web builders such as Weebly develop mobile-optimized websites for their clients.
These are known as "responsive themes" and such websites are designed to detect the type of device the user is using for browsing.
It then shifts the content automatically to provide optimal experience to your site visitors. WordPress offers multiple responsive themes.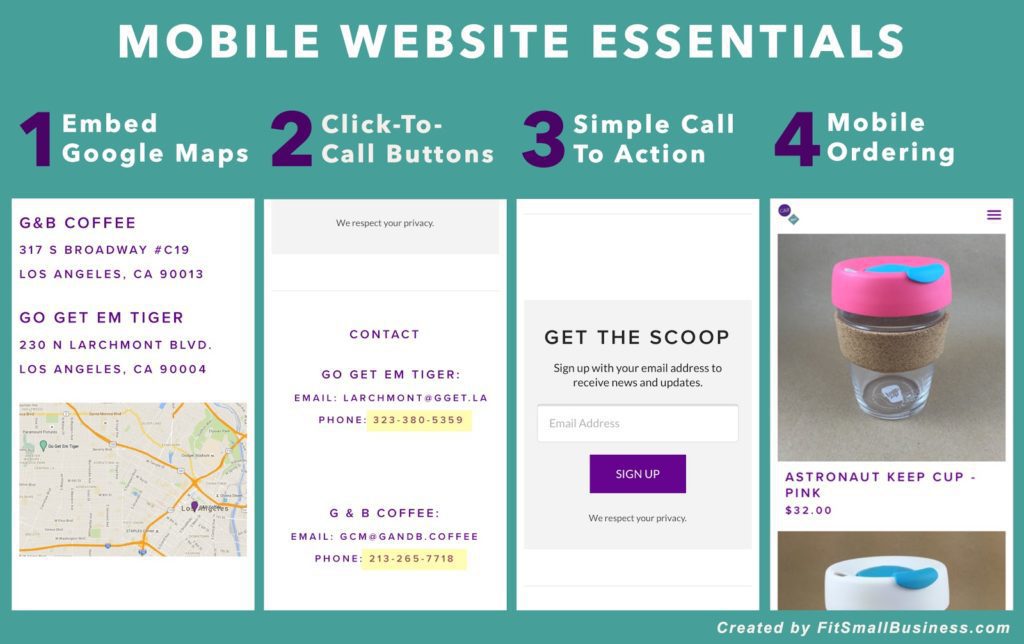 Having said that, even when you have got a responsive website it is better to make extra adjustments for mobile websites.
In general, removing excess details can be great. Mobile websites should solely focus on CTA, filling out contact forms, request to join mail lists or to go ahead and place an online order.
This is because the screen space is too small in case of mobile devices.
You can also add call buttons, which enable you to direct your visitors to call your business.
When the users click on "click-to-call" button, your business' phone number will be populated in the dialpad of your visitors.
Besides, embedding Google Maps widget is also important because browsers who are on the go can quickly get the navigation to your website.
Step #4: Choosing a Catchy Logo
The style, font and color of the logo you choose hugely impacts the overall design of your website.
End of the day you would certainly want the theme to be consistent between your web pages and your logo. Isn't it?
Well, if you have already thought of a logo or if you are already having a logo which you are using offline for your business, then it is perfect.
If you have one, all that you have to do is to create a high resolution image by carefully scanning your logo and then using it on your website.
However, if you have not yet decided on your logo or you are looking to change or upgrade your existing logo design, then here are three important ways to create one that serves the purpose:
Just Do It Yourself- Today, there are numerous logo design software available out there. These allow you to bring your imagination to life while creating and designing your logo. Well, if you are looking for some simple way to create your own logo, then we recommend Tailor Brands. You can just try this out from free. Once you find the design you like, then you ca just pay and download the same.
Try com– This provider keeps running multiple contests where numerous designers take part and compete with each other to take up the designing contract for your logo and other business design services. This can be a great option because you will be able to meet different designers and extensive range of creative ideas. Yet, you will just be paying for the ones that you will be choosing.
com– Here, the website tries to match you with the possible designers and service providers. They will be willing to assist you in your design projects, including logo designing at minimal costs. And the best part is, you will be able to get the designs within the same day or the same week.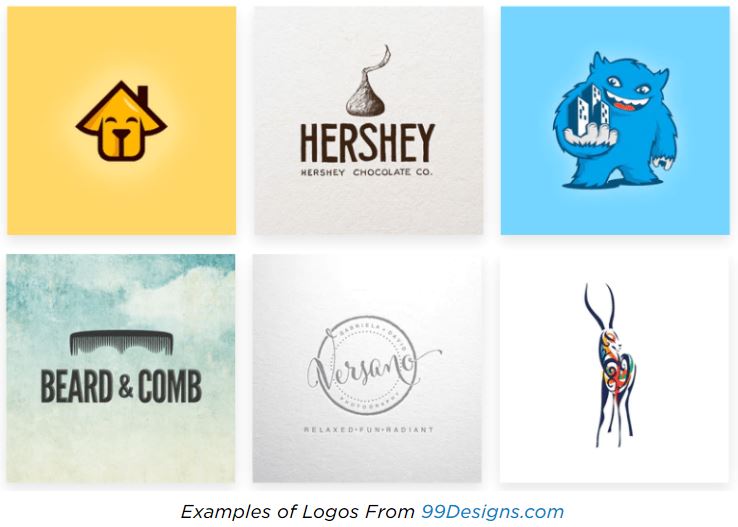 Step #5: Website Designing
If you have come till this step, it only means that you have put together all the pieces that are required to build your small business website.
So, the next step would be to put all of it together to make a perfect looking website that entices the users.
With technological advancements, users are becoming less and less patient.
Today, users take less than 3 seconds to decide whether your website is good enough to stay or just leave as soon as they land on your web page.
Therefore, it is imperative to make a great first impression.
Following are some of the top tips to ensure that your website engages your site visitors:
Clear Navigation 
People who visit your website should instantly be able to understand what your business is all about.
Also, they should be able to easily go and explore your products or services and get information on your pricing structure and your contact information.
If all these things are not clear then the visitors tend to get irritated and they might leave your website quickly.
Highlight Call-to-Action-Buttons
Implementing buttons throughout the web pages strategically indicating clear actions can immediately catch the attention of your users.
Once you have got their attention you can quickly pursue them to take the actions you desire.
Website Loading Time
This is an extremely important factor. If your small business website takes too long to load, the chances are that your users will leave the page.
With average loading time with which the users will put up with being mere 3 seconds, it is essential for you to choose a web host provider who assures fast loading times.
Minimal and Basic Design
When it comes to designing of your small business website, less is more.
After all, you do not want to fill up every core of your web page with loads and loads of information and designs.
White space should be your best friend. By keeping a minimal look, you can grab the attention of your users towards the things that you really want them to see.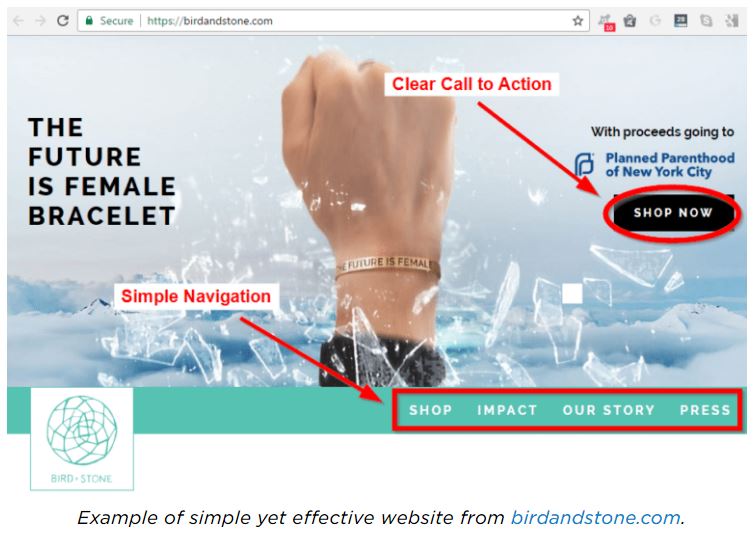 What's the Bottom Line?
Create a website for your small business, which is most versatile and least expensive.
Today, getting a WordPress website, domain and business email ids has become extremely affordable. So, you will be able to get a simple and quick resolution.
Just go ahead create your website and never miss out on the opportunities again.