The Best Techniques That Boost Your Homepage SEO
Is homepage SEO really necessary? If it is, do you have the right understanding and approach towards it? Keep reading to find out whether or not homepage SEO drives traffic to your website!
What is your ultimate purpose, what do you want to achieve using SEO? If it is to allow Google and the browsers to understand what you are up to, then you need to make sure there is as much relevant information as possible.
Let's just split the question two ways. In the name of SEO,
if you have inserted all the search keywords that bring users to your page, but fail to demonstrate your services, would that interest your customers? If you have taken your sweet time and filled in the homepage with a whole lot of text that expands on your services or products, do your customers have the time and patients to go through all that?
In order to play the game of SEO, you first need to analyze the top items that define a healthy homepage. We would request you to open your homepage while you go through this blog and see if all these factors are covered. If not, you need to step on it, in order to have a better serving homepage!
Let's start with the concept of keyword based brand names and their contribution to homepage SEO:
Keyword Brand Name:
Most of the SEO practitioners think it's a great idea to use a search term as a brand name. Are they right? Probably not! Why? Because, if you choose a keyword as your brand name, which may be the same case with many other websites, this will force you to fall in a long race.
Your competition goes high in terms of ranking and if that is against someone big, your chances of showing up on the first page will become very minimal.
By choosing your brand name to be a Google search term browsers use in searching a service or product, you are calling in several complexities.
This could be one of the scenarios you must be facing right now, in brand building. There are certain SEO experts who argue, keywords need not be vigorously targeted on the homepage. In fact, some say they are not needed on the homepage at all.
According to one of the articles posted by Yoast on homepage SEO, keywords are not relevant on the homepage.
Though their point of view is logical, it might not be recommend to ignore target keywords entirely. We agree with them that focusing on a single keyword, in this case, a brand keyword alone is not wise. But it is necessary to identify set of target keywords and incorporate them in optimising your homepage.
Optimising homepage is vital in terms of page ranking. Which means, the keywords can't be entirely ignored. As stated above, your goal must be giving a clear and detailed idea to web users and Google what services or products you are offering.
Now that it's settled, let's comprehend the crucial elements that contribute to an SEO friendly homepage.
Start by Answering The Following Questions
We have broken down the main goals of a homepage into 3 sub sections. These 3 need to be in place to get things right in our opinion.
1. What is The Website all About?
We keep emphasising on this point, if the customers are not able to understand what your services are about, the purpose of homepage or so called welcome page is lost! On the other hand, Google should be able to crawl through and fetch right details in order to present your website services to the search engine pages.
2. How User Friendly is The Navigation?
Navigation is one of the key defining factors in SEO. Your homepage structure should not be complicated at all, it will throw off your visitors. Smooth functioning navigation system succeeds in impressing browsers.
3. Did You Answer The Key Questions?
Let's say you have a service related to "Air Conditioner Repair". Did you answer the questions like what kind of services do you offer, where are your services available, how much would it cost and so on. You don't have to wait for your customers to make a call or write to you to know these basic things. Provide answers to these commonly occurring questions and the visitors will have a positive take.
Support it by giving social proof and presenting your clientele to create confidence in your customer. Customers who are first timers need some proof and support in trusting your services. You can offer this assurance by mentioning the brands you work with, and other media publications. We will discuss this in detail below.
If you manage to achieve these three goals, you attract visitors and please Google both at a time.
Now that you have your primary goals set, let's discuss how they can be achieved
Search Engine Optimisation is a cluster which has several fragments which have their own importance. Splitting the key components of a homepage will allow us to discuss each segment individually. We think the following factors define a successful homepage. These factors are demonstrated with suitable examples for your understanding.
Why Navigation and Brand Logo Important?
A logo is an important part, obviously, it represents your brand. As far as navigation is concerned, you need to consider all the important factors of your services.
The sections will help set an user friendly experience, while you will help Google understand what your site is all about.
Two words define successful navigation: visibility and simplicity.
If you check out this screen shot from Traffic Radius website, it is highlighting directly the services briefly in just few simple lines. You can always add "read more" to give the users an extra bit of information.

Let's do an external example, take a look at MuleSoft below. It has precise yet clear H1 tag and straight CTA.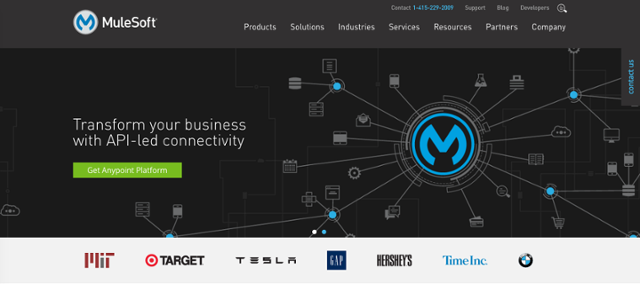 What Services Do You Offer?
Short but sweet! This is the style you need to incorporate in this section of your homepage. You need to be able to give them a clarity on what you do as crisp and direct as possible.
Mouse-flow below demonstrates the preciseness and clarity.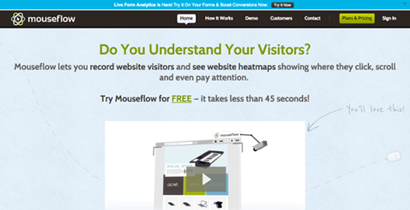 They opened Hi tag with a question"Do you understand your visitors?". Next, they are talking about their services in the H2 tag, followed by an interesting call to action.
Rich Content:
Content needs to be crisp, interesting and must add to unique selling point. It needs to bring value to your page and provide a better understanding to third parties.
On an average rich content on homepage is 400 words, says Business 2 Community. That's it, not too much right! When we say rich, did you expected lengthy content? That's what we been discussing so far. Short and sweet, remember!
If you go through websites that rock SEO wise, you will notice how less yet effective their content is. In fact, go through some to draw inspiration.
Keyword Insertion:
This was mentioned earlier, targeting a single branded keyword is not the way. However, it doesn't mean that it won't do any good. Just make sure you are not targeting only that term alone.
Many SEO experts stress a small subset of keywords will be lead to greater good.
Select these keywords carefully, the ones that define your product and in turn help you rank better.
Also be careful with keyword insertion. It shouldn't look forced and gel well with the content that you put out there.
How to Select Subset of Keywords?
There are few ways to achieve this, but we think the following works the best.
Google Keyword Planner: you can use this tool to search the keywords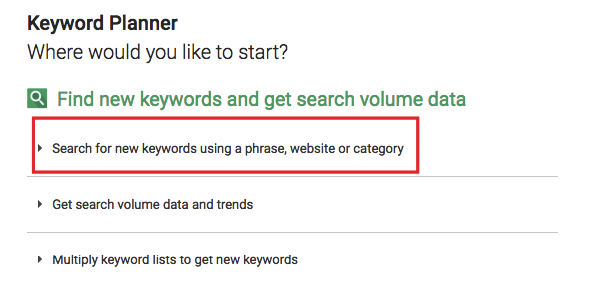 Type the keyword, for instance,"laptops"
It will give you results as follows: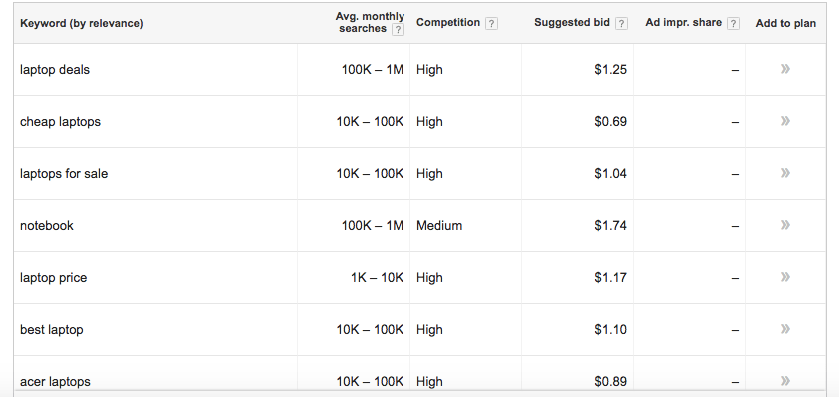 Go through the results, which will lead to more relevant keywords for your homepage.
Long Tail Keywords: This search might lead to few long tail key terms like "laptop computers for sale"or"laptop deals online". These are important too.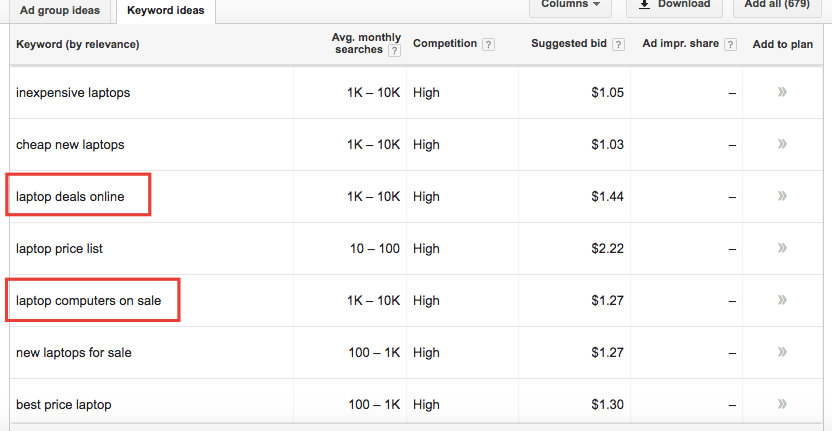 At the end, you should have a set of short and long tail keywords.
Headers:
It goes without saying, headers are crucial in an SEO strategy. Keyword insertion plays a tremendous role here than anywhere else. As usual, they should fall in naturally. Here is a good example below: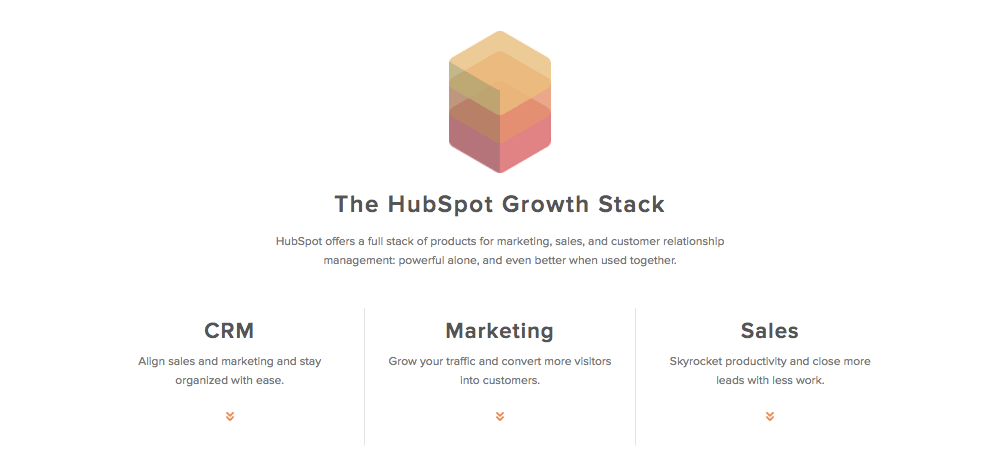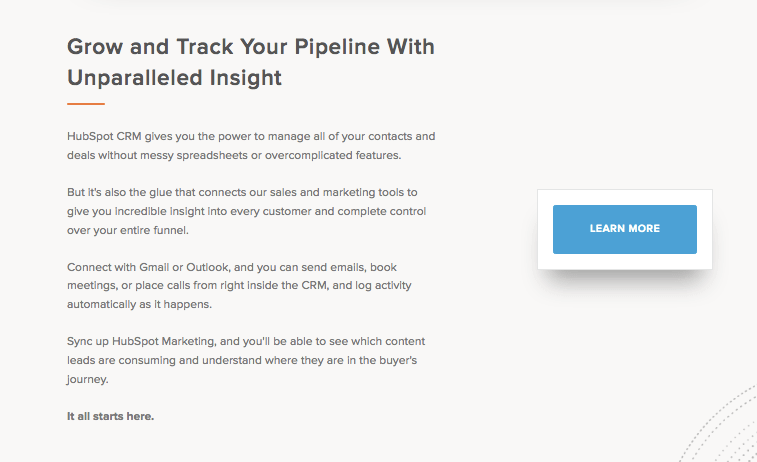 How to use headers?
Start with one H1 tag, straight to the point and with utmost relevance to your services. Introduce H2 to expand a bit. If you still find the need to pour some more information, you can use H3 and H4 as well.
Visual Content:
It is a scientific fact that humans grasp visual content better than written content. Visuals are easy and interesting for humans as they tell the story in a smart, snappy way.
You could add few images that talk about different services or features of your products as it best suits.
This doesn't mean to avoid text. Visual with simple text is highly recommended. It's more like a movie poster display with a title and perhaps a punch line.
Refer to the example below: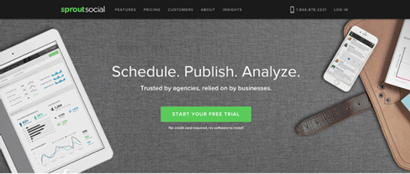 Sprout Social homepage display: they didn't use any branding in H1 tag, it says "Schedule. Publish. Analyze."The support images like an open bag and mobile states schedule and publish, while the tablet with graphic content states analysis. Easy to comprehend!
Videos:
Videos are a bit advanced, although are not new as there are a good number of websites following this trend.
If you have content that can be composed in to a series of visuals, you should go for it.
For instance, check out Dollar Shave Club homepage below: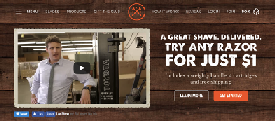 Adding videos on the homepage has two advantages.
Unique selling point
Backlinks (if the video attracts good number of visitors)
Social Proof:
Social proof is essential on a homepage, as it is the welcome page where visitors land and get an idea of your product. They are on the page because they are searching for similar products or services. If you have portrayed your brand services right and supported them with testimonials, news outlets that covered you and known brands that you work with, this make the customers consider you.
Here is an example of a social proof where the client brand logos are added on the homepage: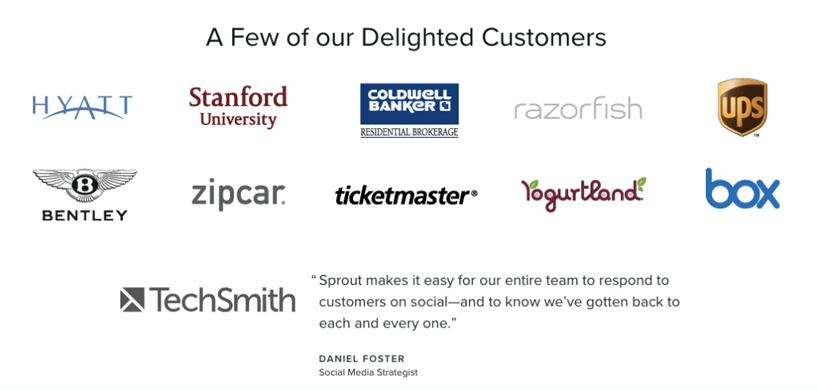 Videos or visual content and social proof also alternatively gives you a good chance of adding rich text.
Links:
Internal linking is one of the best to lead the visitors to related services. You should consider adding a few relevant links at the bottom of the page.
HubSpot is one example that demonstrates the internal linking on the homepage:

This acts more like a "learn more" section where it helps your visitors explore more.
MuleSoft is another good example

They have internal links to other services and products in the footer.
This is one way of optimizing homepage, where the links are naturally incorporated into the text.
However this technique mustn't be abused by loading the footer with random links.
How Important is Meta Description?
Define your services, this should help customers understand this is what they are looking for.
Here is an example of Traffic Radius meta description

Call To Action (CTA)
This is one key element you don't want to fail at. Call to action is what gets your customers to buy your product.
It's the last and the most crucial step to cease the deal. It should be:
– Direct
– Clear
– Conspicuous
You also need to take care of it's visual appeal, colour, positioning and so on. Try A/B testing to verify a couple of styles and finalise one based on the response.
Cloud Bakers is one good example for CTA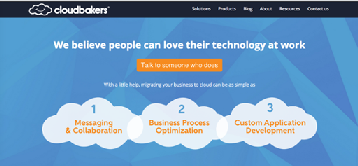 Other Essential Elements:
Mobile browsing has altered how navigation happens. It was, in another time, essential to place key content above the fold.
Do you not really scroll through when you browse a web page on your mobile device? It's not possible, right?
Keep it neat, crisp and clear.
Focus on rich content, internal links, visual content and call to action.
Test couple of models using A/B testing before launching homepage. You can also test the performance of an existing page and make necessary modifications.
Hope this helped you understand how you can create an SEO friendly homepage. Please share your thoughts with us by leaving a comment below.