What are Backlinks and Why are They Important for SEO?
How can you boost your SEO campaign? The simple one-word solution for your problem is – Link Building. In this blog, we will discuss key points related to link building (also called backlinking) and how it is done. You will also learn how backlinking can improve website's organic traffic.
What is a backlink?
Consider that you are looking for a replacement to your damaged car part and your trustworthy mechanic advises you to go for a certain brand which is a little costly. If the mechanic is trustworthy, you will purchase the part even if its price is out of your budget. This concept of trustworthy relationship in the real world is equivalent to backlining in the virtual world. If you visit a website and find a link to a different blog/website, this link is know as an external link. If the first site is trustworthy and it vouches for your content, you will get a decent amount of traffic flowing in from this site. If many websites start following the same, Google will deduce that the traffic from the trustworthy sites is going to your website and hence you will get a better ranking on Google.
For backlinking, there are certain key terms that everyone should know about as these terms are quite common in the industry:
a) Link Juice: As the name suggests, when traffic from one website is passed to another, it is known as passing the link juice. This allows Google to rank the page higher. But there is a catch! The link juice can be passed only when the source website allows for it. Google bots detect the juice from one website to another and by which, it ranks your website.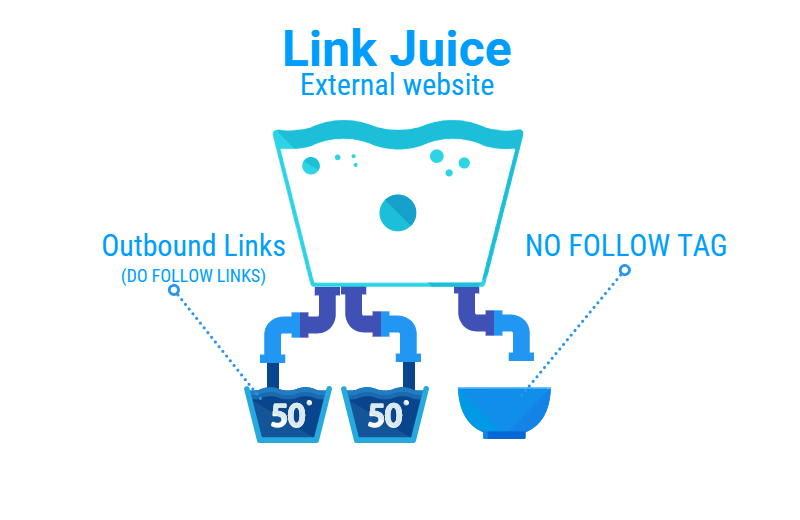 Following are the two tags which explain this phenomenon:
No follow Tags: Certain tags can be used to stop the juice to be transferred to another website and by which, Google bots won't be able to detect the linkage. People who are reading the content will be able to access the link but Google's bots will disregard this link thus not giving you any advantage from this backlink. Though Google has mentioned that they no more follow the concept of no follow tags, it is still advisable to have 10-15% of your backlinks as no follow so that they look "natural" or "organic" to Google. If a website has only Do Follow links (explained below), it may make Google suspicious.
Do Follow Tags: When a link is do follow, it can pass the juice to the other website/blog. By default, the links that you refer, are considered for passing the juice but it is always advised to follow the right approach by using proper do follow tags. Hence, by do follow tags, you can get good backlinking for your blog/website.
b) High Quality Links vs Low Quality Links: You should always double check the source from where you are buying backlinks. You do not want your website to be stated as spamming website. The idea of getting a good backlink is via a trustworthy website/blog. Google bots ranks your website accordingly.
High Quality Links: As the name suggests, these are the links which are present in the good books of google. These links can be websites or blogs who are following the ethical guidelines stated by Google. If you are getting link juice from such websites, you are following a right path.
Low Quality Links: These are the links which usually consist of spam or harvesting websites. These links will derail your ranking on Google or may be worse can happen. Always stay under the guidelines stated by Google and one should be alert when purchasing backlinks for their websites/blogs.
c) Anchor Text: You might have noticed a lot of words linked to another pages/blog. If somehow, you are able to get the links directed to your website from a different source (from a high-quality link rather than a low-quality link), then you are good to go. Moreover, these are the hyperlinks which are also used to push keyword rankings. Even other websites can target your keywords via anchor texts and accordingly, traffic can be redirected to your website.
Before the introduction Penguin algorithm via Google, formatting related to backlinking was not clear. Even with the help of low-quality content, one could get a higher ranking on Google. But now the format is clear and ethical. Now, as we are clear with the main question, i.e. what are backlinks, let's discuss about the advantages of backlinking on your website/blog:
a) Improvement in Organic Traffic and Ranking: Backlinking can increase your organic traffic. If the backlink is of high quality, relevant to your industry, has the right anchor text and is a do follow link, Google will rate it higher and improve rankings for the keywords on your target page. This in turn will help you to get more organic traffic.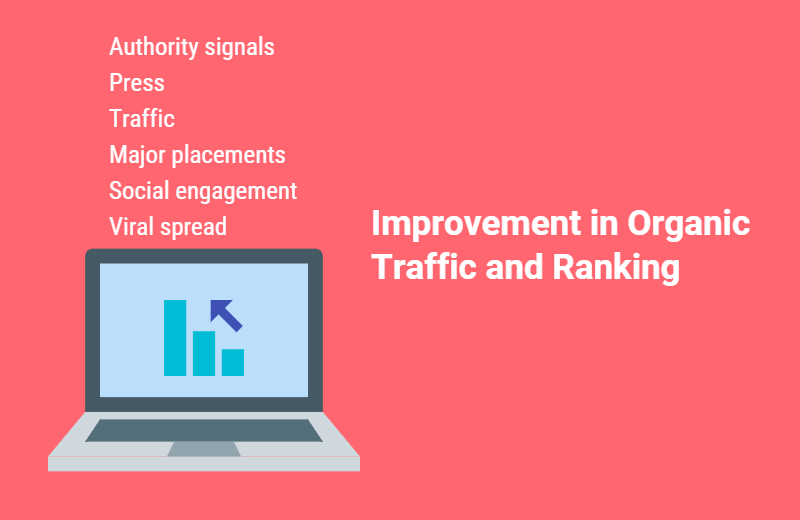 b) Indexing: Google bots play an important role in indexing and you always want to be in good books of these bots. If you are getting juice from a reliable and trustworthy link, you will surely be rewarded. Moreover, the myth which stated that new websites can't get indexed is debunked because if you somehow get backlinks to a new website/blog, you will get a higher indexation. So, stay away from spam websites to get better indexing.
c) Quality instead of quantity: It is quality that matters for backlinking rather than the number of links. If you are getting low backlinks but the referral sites are very reliable, the chances are quite high that you will rank better than the ones with lower reliability and high number of backlinks.
How do you get backlinks for your website/blog?
There are few methods via which you can get backlinks for your blog/website:
a) Quality Content: The website should have good content so that the traffic remains intrigued to your website and by which, the bounce rate will go down as well. Moreover, try to follow proper format and tools for your website and stay up to date with the trend to make sure traffic doesn't bounce away from your web content.
b) Comments/Reviews on high quality forums: One would call that wasting of time but an expert would grab an opportunity of commenting on do-follow content. The main reason is that do follow links help you index better and by commenting, chances are quite high that you will get link juice from such blogs/forums. So, it is better to take the opportunity and post your comment/reviews on such forums.
c) Check Backlinks for your Competitors: Backlinks are important but if you are facing a healthy competition, you can check your competitor's keywords and backlinks and strategize accordingly. There are many online tools which provide competitor's backlinks – for example AHREFS. With the help of such tools, you can enter the domains of your competitors and with the help of the report generated, you can analyse these links further.
d) Web Directories: This technique is diminishing these days because of the spamming websites/directories on Google. Hence, one must be careful and choosy when it comes to posting content on such directories. If the directory/website is a part of a spam group, your content will also be considered as the same. Hence, a proper market research must be made before using this technique.
e) Local Business Directories: Google's rankings heavily depend on your location. With the local directories coming into the picture, you can target such directories and get a better location based ranking as well. The only issue with the directories is the trust and reliability and hence, you should be careful and picky when you are choosing a directory.
Earning High-Quality Backlinks
During pre-penguin era, building up a link was rather easy. You would write couple of articles and blogs and submit to an article submission site and you could have easily got yourself with couple of easy backlinks. Now, the times have changed. Penguin update is on a high. Many will advise you to stop going for backlinking and that's the worst advice you can get. Hence, you must plan as high quality backlinking is still an important aspect of getting high rank (both, locally and internationally). Hence, to get good high-quality backlinks, one must follow the following steps:
a) Your website/blog should be easy to navigate.
b) Patience is a key here. First let Google index your blog/content and then lay a platform by finding the right directories that can help you to find good foundation for your content.
c) Social media will also boost your links for indexing and thus, for backlinking.
So, you must make sure that the content on your website is well-organized. Matter of fact, content is the magnetic point that will attract the traffic. If you have a new website, Google will make the first step, i.e., be patient and get the indexing part sorted. Then, steadily move for the link build up. Be aware of the spammed directories and follow the guidelines set by Google and you will be good to go.
So what do you think? Do you have a backlink strategy for your website? Please put your feedback in comment section below.

(Reference: https://www.youtube.com/watch?v=BkR7L41SroU)