What is SERP? Demystifying the Search Marketing Jargon
While there are thousands of pages across the web, none of these are as important as Search Engine Result Pages (SERPs) for digital marketers. SERP is a list of all the results returned by the search engine in response to a search phrase.
Both the PPC advertisers as well as the Search Engine Optimization (SEO) specialists compete for the one and only precious space across the internet and want to get listed on the prominent parts of the SERPs.
As the competition is fierce and there are technological advancements, it is important than ever before for marketers to understand how exactly search works.
Only when you are clear about how the search works, you will be able to make the right moves that maximize your visibility. If you are wondering what is SERP full form, then let us tell you that it stands for "Search Engine Results Pages". It is also known as search engine optimization results.
In this blog we have explained search results page, search rank results as well as Google SERP. We also define SERP.
What Does SERP Stand For?
SERPs are nothing but web pages that are presented to the search users when they look for something online on a search engine like Google. Here, the users will key in their search queries for which the search engine will serve them with SERPs.
Every SERP is different, even in case of search queries that are done on a single search engine using search queries or same keywords. This is mainly because every search engine customizes the experience for its users.
This customization is based on numerous factors apart from the search terms. These factors may include social settings, browsing history as well as the user's physical location.
While two different SERPs may seem similar and mostly same results, they will often have subtle differences. The SERPs appearance is always in flux because of the experiments done by the Bing, Google and various other search engines in their efforts to provide their users with highly responsive and intuitive experience.
These efforts combined with the emerging, rapidly evolving technologies simply mean that today's SERP are much better when compared to their predecessors.
What is SERP Ranking & How to Check SERP Ranking?
If you are wondering how to check SERP ranking, then you are at the right place. There are several tools that help you check your SERP ranking. Google's SERPchecker is one of them.
However, we have compiled a list of various SERPs keyword rank checker for you below:
• SpySerp
• Whatsmyserp
• Serps.com
• Tiny Ranker
• SmallSEOTools
• SEMRush
• SERPWatcher
• AlloRank
SERP optimizers and SERP ranking factors will help you to get better results when you use SERP keyword checker. While there are several SERP checkers and SERP rank checkers, Google SERP checker is the prominent one.
How to Improve SERP?
If you want to improve your SERP, then you better focus on marketing your content well. When you do this well, it will automatically boost the position of your website in search rankings, thereby improving your search rankings.
Here are a few tips to make the most out of your content and improve your SERP:
• Regularly creating and uploading fresh content
• Repurposing old content
• Testing headlines
• Creating visual content
• Choosing the right keywords
• Creating link-worthy content
How Do They Work?
The way in SERP works can be divided into two major categories – organic results as well as paid results. Let us see each of these in detail to get a better understanding of what they actually are.
Organic Results :
Typically, SERPs contain two different types of content – paid results and organic results. Organic listing are nothing but the web page listings, which will be presented due to search engine's algorithms.
SEO professionals specialize in the optimization of websites and web content in order to rank higher in the organic search results. SERPs contain a feature known as "Knowledge Box", which was introduced by the Google in 2012.
It pulls data to answer commonly searched queries from multiple sources throughout the web. This assures that concise answers are provided to the search queries in a main single location on SERP.
So, search users will be able to get a lot of information about their search queries. The best part of this "Knowledge Box" feature is that it also provides information on other related topics of the search query.
While some SERPs feature phenomenally more organic search results, the others offer less. This is mainly due to the difference in the searching intent of all these searches. Internet searches can be broadly categorized into the following 3 types:
• Transactional
• Informational
• Navigational
Transactional searches :
These are the ones where all the paid results are likely to get showcased on the SERP. These are the searches that always have very high commercial intent.
The search queries the turn out to be transactional SERPs often include the search phrases (keywords) like "buy". It may also contain other types of terms which signify a strong intent to make a complete a purchase.
Informational searches :
These are the ones in which the users would want to get more information on a specific topic. So, in case of these queries, it makes sense for you to present ads or any other types of paid results on informational SERP.
These types of queries will very less commercial intent. Most of the search users who type this kind of query will not be planning to buy anything. However, they will only looking for some detailed information.
Navigational queries :
Last, but not the least, comes the navigational queries. These are the ones that are searched by the users when they looking find out a particular website. They would be often looking to identify and locate a specific website that they had once known but now forgotten.
Apart from this, there could be any other types of navigational intents also.
Paid Results :
On the contrary to the organic results, these paid results are the ones that are paid for in order to be presented by an advertiser. Before a few years, the paid results were mostly exclusive and limited to smaller ads that were text based.
Typically, these were displayed above, particularly to the right hand side of your organic results. But today, the paid results are taking a number of forms and there are numerous advertising format, which specially serve the purpose of the advertisers.
PPC ads are the typical larger text-based ads that appear at the top of your SERPs. They might also feature add extensions that enable prospective clients to easily navigate and land on particular web pages on the website, directly from the ads.
Shopping ads :
Next comes the image based ads, which are known as the shopping ads. This feature is available on the Google AdWords and it allows the product information of e-commerce retailers to be showcased along with all the other SERP results.
Shopping ads will generally have a lot of information, which include special offers, product availability, user reviews and many more. Shopping ads will have two other types of PPC ads below them.
Even these will have feature review ad extensions, which are indicated by the star ratings just below the destination URL. The map as well as the business listings are the results here, which are not heavily paid results.
This map will get displayed based on the location of the user as well as the feature listings for the local businesses which have already set up a free Google My Business Listing of their own.
Google My Business is nothing but a free directory containing the details of the companies that are capable of helping smaller local businesses. They let these small businesses enhance their visibility based on geolocation, which is particularly important for mobile platforms.
Search Algorithms and ranking Signals
Organic results can be defined as the listings, which search engines managed to index based on multiple factors, which are also referred to as the "ranking signals".
For instance, search algorithms used by the Google feature several ranking factors. While nobody besides Google know what these factors are, some are considered to be more significant than the others.
Previously, in the past it was the link profile of a website was a critical ranking signal. This is the total number of external back links that link back to a particular web page or a website.
Well, today, it is, but only to a certain extent. Search has been advancing at such a fast pace that the signals which were once considered to be crucial for ranking by the search algorithms are of less importance today.
SEO – Optimizing Your Website for Search Engines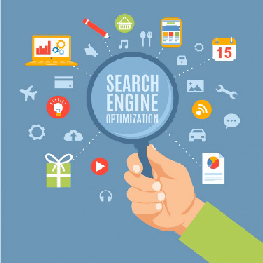 As the name suggests, SEO refers to the technique of optimizing your web pages and websites for the search – that is to get discovered by the search engines.
This finally results in them getting better visibility on the SERP, which in turn is made possible by a variety of factors known as the "on page" and the "off page" practices. Let us briefly see them one by one.
On Page Optimization :
On page SEO can be referred to all the best practices followed and implemented by the website owners and web content creators to make sure that the web content can be quickly discovered.
This entails the creation of a comprehensive page meta data for every web page as well as for images. It also includes the usage of static and unique URLs, including relevant keywords in headings and subheadings, a clean HTML code along with many other practices.
Off Page Optimization :
On the contrary to the on page techniques, off page SEO practices are those that impact the website on the whole.some of the most common off page practices include the following:
• social bookmarking
• search engine indexes
• link building and link exchange
• directory submissions
• creating online communities across social media
While the complete scope of the SEO is way to broad to be comprehensively covered here, all that you should actually understand is that SEO solely focuses on getting higher organic rankings.
Businesses can either implement the SEO best practices themselves or just get an agency to do the same to them. However, beyond this, no investment can make any difference and all the significance is placed on higher organic searches.
SERPs and PPC
Unlike SEO, PPC marketing hugely focuses on making big investments for advertising and keeping aside a budget exclusively to get prominent positioning on SERP.
However, it definitely not as easy as just investing more and more money in PPC campaigns. Advertisers should be strategically think to achieve all their marketing goals.
Paid search always works like an auction. Marketers bid on the relevant keywords for their business which triggers the showcasing of their PPC ads as soon as search users look for those terms.
Several factors determine where exactly an ad will get displayed on the search results. While some ads will get displayed above organic results, the others may appear on the right of the organic results.
Some of the advertisers decide to limit their ads display only to mobile searches. However, others opt out of the mobile results completely. Furthermore, some of the ads will have extensions, while the others do not.