Bing Vs Google – Which Search Engine is Better?
For quite a long time, Google had enjoyed its rightful top position as the first mover. You would talk about "search" and everyone thinks Google. But is this still the case? When Bing was first introduced, people questioned the judgment of its creator. Nobody knew that one day it would rise above all denunciations and wage a serious competition against its counterpart. Does it, however, mean that Bing is better? Well, here we have done some deep digging into each of the search engines to ascertain which is "king" … Read on and discover the truth!
Before we venture into detailed analysis on the Bing Vs Google contest, we need to know what we are dealing with here. Perhaps, understanding some basic information about each search engine will shed some light on our path to a critical comparison.
About Google
Tracing its origin back to 1997, Google is by far the world's most used search engine. Being on the market long enough, Google has been able to acquire a larger share of the market both locally and internationally. There have been constant improvements and developments that have aided its boom. Integration with other Google products has also given it a revamp regarding its market share earlier this year, Google was at 645 % of the USA market – the largest share compared to the other search engines.
About Bing
Bing is owned and operated by the Microsoft Company. It came as an advancement of the previous search engines; MSN search engine, Windows Live search and Live search. It was released in 2009 with new features and modification that was aimed at improving the search functions. In 2012, Yahoo and Microsoft announced that Bing would power most of its search operations – a deal that was altered slightly in 2015. Bing, coupled with Yahoo retains 32.6 % of the USA search engine services.
Differences in search engine layouts and features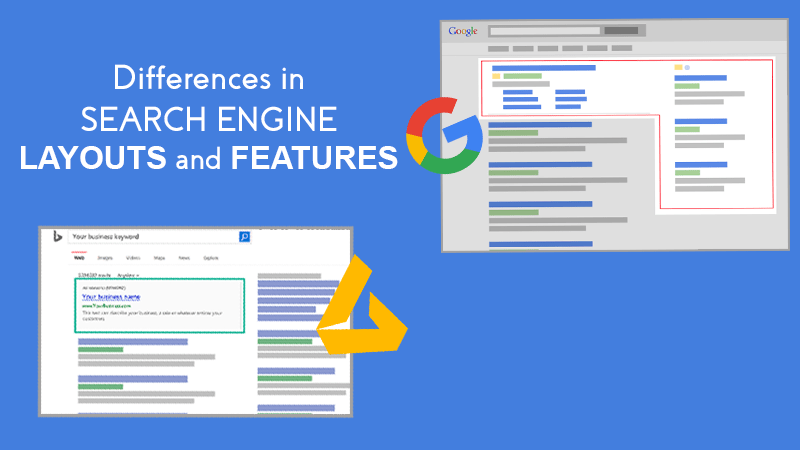 Though they serve almost a similar purpose, there are notable differences in the way they operate and present search results. Below are the main variations in the basic layouts and features:
1. Bing has a more presentable search engine than Google. Unlike Google which gives a vertical list of videos with small thumbnails, Bing presents a more navigable grid that has larger thumbnails. It allows you to click and play the videos without necessarily having to leave Bing. In some cases, it can give you the preview of the video just by hovering over it. Probably, this is the main part where Bing gains its credibility.
2. Google's image search interface is quite simpler to that of Bing's. You can move around images quickly and smoother than Bing's which looks a bit complex. Conversely, Bing has more attractive options like the "layout" option which allows you to search for either portrait or landscape images. Moreover, Bing allows you to remove some parts of your image search term with just one click!
3. You get more auto complete suggestions in Bing than Google. In most cases, when you are searching for something you are not so sure, auto complete feature helps you with options to choose from. With Google, you only get four of those while Bing extends the number to eight. More auto complete options will give you a better chance to find your alternative products or get more wild card suggestions.
Google provides better shopping suggestions than Bing. These suggestions show up more frequently than in Bing. So, if you are looking for the best search engine for your shopping needs, you better go with Google. You will have several options to select from and make better deals.
And, another difference is that while Google puts related searches and image searches near the bottom of the results page, Bing puts them at the right-hand side of your search results. This is just a layout difference, not something good or bad.
Albeit being a late comer, Bing possesses some of the smart features, formerly known to be Google's. Smart searches like weather forecast, time, unit conversions, and movie show times can now be found now on Bing. Needless to say, Google has some other unique searches that Bing has no idea about. Talk about health info, release dates for movies, virtual games, and several other important searches. Therefore, if you are a fan of such smart searches, do your stuff on Google.
Advanced features of the search engines
Both the search engines are pretty stuffed with distinct advanced features. Google takes the hat trick though. It has got several uniquely functional features that yield authentic results. Nevertheless, Bing's features are specially designed to foster clear custom searches. As mentioned above, there are several search engine operators that only belong to Google. But the fact that this is true doesn't mean that Bing has none that is unique. In fact, Bing has three specific advanced search operators that do equally great. They include:
i) Contains – A search operator that allows you to access pages containing certain file types like ".pdf". With Google, you will only be directed to the specific pdf files rather than the pages that have such files.
ii) Feeds – Allows you to search for RSS feeds pertaining a particular subject.
Iii) LinkfromDomain – Allows you to access the best-ranked pages that are linked to a certain topic. It has proven to be helpful in most cases.
Some Google's unique search engine operators include inurl, allinurl, allintitle, allianchor, cache among others. They are specially created to narrow down to details in the Google search engine.
Besides the search operators, Google has a couple of extra goodies in its pack. For instance, "instant search" feature enables you to view the results as you type with a fast internet connection, you won't have to wait for seconds after you finish typing. Google 'Voice search" enables you to search without typing and finally the incredible reverse image search. Furthermore, Google offers other services like Gmail, Google Contacts, and Google now, among several others.
Bing has some nice offers too. The Bing rewards, though available only in the United States, is a plus for the search engine. You can subscribe to this service and earn points which you can redeem for gift cards.
The difference in the quality of search results
This is what matters most for every search engine It signifies the real value of a search engine Unless the results of a search are up-to-date and relevant, it will be pointless to have all of the aforementioned features. Now, comparing the two, basic search shows a lot of similarities in the quality of the results. As you may expect, only a few variations exist. Some searches, for instance, might be better on Bing than on Google and vice versa. Generally speaking, on a basic level, both the search engines are good enough to do simple jobs.
On a more advanced view, technical searches have some little variations. Google, being the elder in the house, it knows more about such issues. You should probably visit Google if you need more subtle results.
Advantages of Google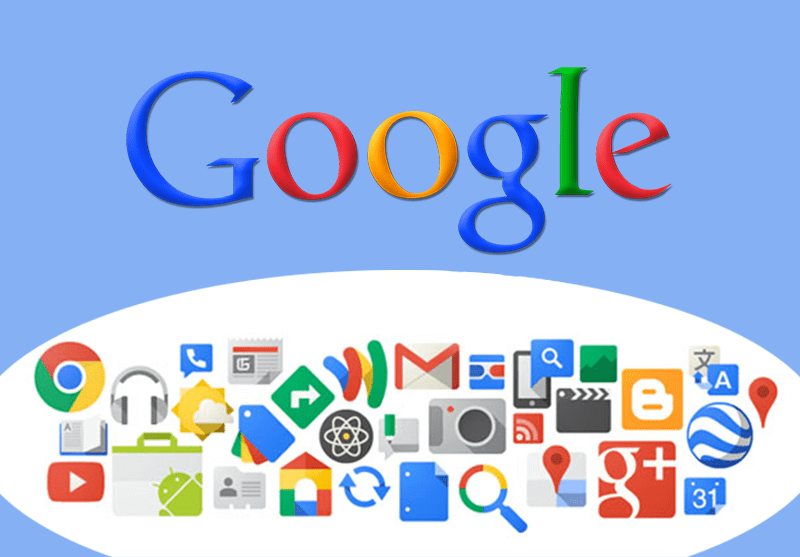 Google provides more relevant results. The precision and clarity that Google search engine organizes the results are of utmost importance. If you are searching, for example, about some technical subject that has a time sense, Bing will be of least help since it does not organize much based on relevance. Go Google instead.
The instant search feature in Google saves time. In-fact, it helps a lot when you are not sure about the exact terms to use you don't have to waste several seconds typing and waiting for your results to load. With the help of Google, your efficiency in searching is greatly boosted.
Google's connected products like Google+ and Google reader provide more background information. The fact that Google is very rich in information, using its extended products would be of great value.
Advantages of Bing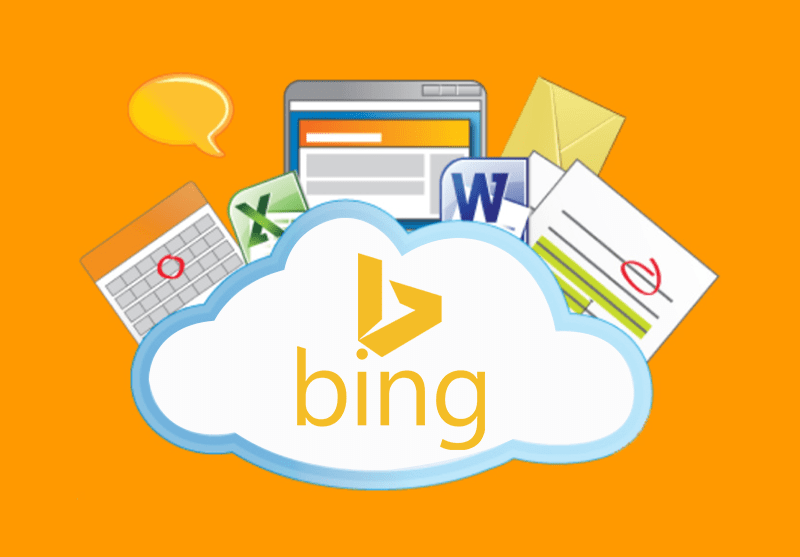 Bing has a better and stronger social integration platform. Its contracts with the social sites like Facebook and twitter allow it better access to social data. You will concur that Facebook and twitter have more popularity than the Google+. This means that Bing has a smoother social connectivity than Google.
Its result pages are more attractive than Google. If you love movies, for instance, you would definitely consider the site that offers more movie-related attractive features. If you can just click on a thumbnail and the movie is on, then nothing else is better. The search results are also neatly presented on the results page.
Who is the winner?
And Google takes the day! Perhaps not for long! The rate at which Bing is Vastly growing is alarming. Google has the first-mover's advantage. Maybe this is the reason it still commands a lot in the search engines ranking. Or, this can be attributed to the fact that innovations are constantly being made to keep it at the resolute top. Most people prefer Google for the sole reason that it can go down and dig out very detailed information. Bing is trying, keeping in mind that it entered the market recently.
Bottom line
In conclusion, therefore, Google is still the "man" in the house though Bing is charging forward with might; little has been done to challenge the supremacy of Google. Unless more innovations are done to improve the Bing's position, Google will still be on top of the list.
Now, what do you think? Will Google stay long in power? Or, is it about time Bing takes charge? Please say what you think in the comments section. We will post it here if your suggestion is good.

(Reference: https://www.youtube.com/watch?v=eUvi6H2srJ8)