How to Advertise on Google for Free With My Business Listing?
As a business owner, you're likely aware of the positive effects that advertising can have on your sales. You have a great product or service to offer, but what use is that if no one knows about it? Without getting word about your business out there, the amount that your income can grow will be very limited. If you're
passionate about your business, why not capitalize on that passion with some great advertising that will keep you moving in the right direction?
Google is a gigantic engine that is so large that its name has become synonymous with web searches. It's a no-brainer that leveraging the access Google provides can do wonders for your business, but how exactly do you accomplish this?
When considering how to advertise on Google, many people immediately leap to pay-per-click ads. These are a viable and effective avenue of advertising, but what if we told you there was a way you could take advantage of free online advertising for your business? If there's zero financial investment and it only requires a little time, what do you have to lose?
We're talking about Google My Business.
This article will focus on the benefits that Google My Business offers, as well as a step-by-step guide to allow you to take maximum advantage of this free business advertising. By the end of this article, you'll be equipped with the tools you need to take your business to the next level.
Google My Business: Free Online Advertising
Before we go into a step by step list, let's start with a quick overview of what exactly Google My Business is and what it has to offer. Understanding the basics of how the service functions is important if you want to firmly grasp the details.
Simply put, Google My Business creates a page with basic information on your business that shows up when people search for the industry in your area.
Try searching for a Mexican restaurant in Melbourne. You'll find that Taco Bill is the first ranking and the information on the business is easily accessible. Best of all, this available information is provided to potential customers at no cost to you!
It's plain to see that neglecting to take advantage of this opportunity for free advertising on Google is costing your business traffic and sales.
How to set-up free Google Advertising?
We discussed some basic benefits of signing up for Google My Business above, but how exactly do you get your business out there? We know you're raring to start, so let's go into a step by step process on how exactly to get started and reap the advantages of free online advertising.
Before we start, make sure you have access to some basic information:
Short, catchy description of your business to inform and entice new customers
Your phone number, website address, hours, office address, and any other pertinent contact information you feel that you'd benefit from advertising.
A logo or image that best represents your business, such as a picture of your storefront or company brand.
Now that you have this information at hand, it's time to get started!
Step 1: Create your Google account
Without a Google My Business account, you can't use the business services. So the first step is to set up an account.
Visit https://www.google.com/business. Click the "START NOW" button located underneath the text.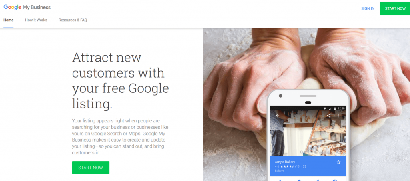 It's important to note that your Google My Business account will be connected to your personal Google account, so make sure you're logged into the account from which you'd like to manage your advertising options and design your page.
Before adding a new business, make a search to see if your business already exists as a listing. It's possible that someone has already created a page for your business. If that's the case, you can edit the existing page – all you need to do is access the Google account used to make the listing, or request editing privileges from the owner.
In the majority of situations, you're going to have to create a new listing for your business. Create a listing from scratch by clicking "Add your business".
Congratulations, you have created your first Google business page and moved one step closer towards getting some great free advertising!
Step 2: Provide Your Business' Location Information
Having a Google My Business listing is pretty useless without any relevant information on it, so it's time to provide your business' location information. Completing this section will add the information needed for consumers to find your business.
Right after you click "Add your business", Google will prompt you to provide location information for your business as well as your main phone number and category. You should have that information handy, so simply fill in the required fields.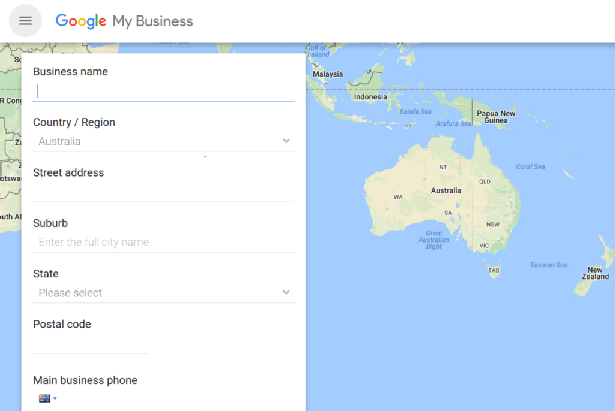 If your business doesn't have a brick-and-mortar storefront, check the box at the bottom of the form to list your company as a service area business. Completing this process will allow you to set up specific service areas, so that your company will show up in search results for customers in relevant zip codes or cities.
There's also the option to set a range for your services, which is a great tool for companies like food delivery business that only deliver in a certain radius from their store.
Step 3: Confirm Your Business and Agree to Terms of Service
This step is simple. Just confirm to Google that you agree to their terms of service and that the information you've entered is accurate. The terms of service are pretty straightforward, and you can trust that you're not getting into any sort of shady business. If you're really concerned, however, take a look at the complete Google My Business Terms of Service.
Step 4: Verify Your Business
This step takes a little while. It can be frustrating to wait when you want that free online advertising now, but allowing Google to verify your business is an important step. During this process Google verifies that your business is legitimate. This verification step allows Google to avoid posting listings of fake businesses.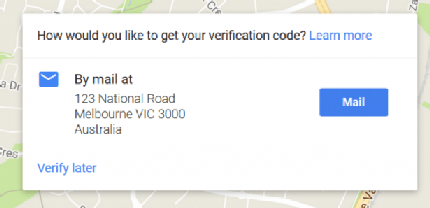 It's important to the search engine that the information shown to customers to be usable and relevant, so they take extra time to make sure everything is in order. In one to two weeks, Google will mail you a postcard in the mail with instructions for additional verification steps.
It's important for you to follow the steps listed on the postcard. You can put off the verification as long as you want because there's no specific deadline, but the faster you follow the postcard's steps, the faster your advertisement will go into effect. Receiving and following the postcard quickly will ensure you're online and reaching new customers as quickly as possible.
Step 5: Complete Your Business' Listing Information
Google uses information from your business' Google+ Page to prove relevant search results to consumers. The next step is to edit your company's Google+ page. Click the Edit button, and get to work.
Fill out all available fields with all of your company's relevant details. You'll notice that a lot of the information for your business has already been populated due to details you provided in Step 2 of this list. Important information to add includes your website, a profile photo, hours of operation, and an introduction of your business.
Use the introduction as an opportunity to give a quick and catchy description of your services. Be sure to include relevant keywords in your introduction to increase the chance that your Google My Business page will rank favorably in the search results. If you're not sure what kind of keywords to include, take a look at competitors and do some reading about search engine optimisation for your business.
Step 6: Optimize Your Business' Google+ Page
Now that you've completed the basic steps, it's time for a process that – if completed properly – will set your listing out from the rest: optimizing your business' Google+ Page. Doing a good job of fleshing out your profile and making it attractive to consumers can lead to big rewards in increased business.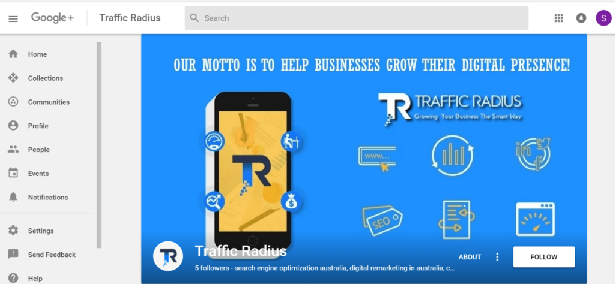 To begin optimizing your Google+ Page, click on the drop-down menu at the top left next to My Business and select Google+ Page. Below, we've listed an in-depth explanation of each category you should optimize. Following each step carefully will make a big difference. If you've followed the guide closely so far, don't make the mistake of leaving off this crucial step.
What You Should Optimize On Your Google+ Page?
Cover Photo: Upload an interesting image as your page's cover photo. It's very important to make sure that this image is a high-quality picture, as consumers are fickle and make snap judgments based on initial impressions. The image should represent your business, demand your customer's attention, and be aesthetically pleasing.
Your Story: Think of "Your Story" as a truncated About Us page. Taking the time to make this section pop with a clear and concise description of your business is paramount. As with the Introduction section we discussed above, make sure to include any relevant keywords for good SEO.
Links: Add relevant links for your users to check out. These links should be listed in addition to your website. Is there a blog you'd like your customers to read? Is your business going to run or be present at any upcoming events? Is there a specific page on your site that you want to draw additional attention to? Use this section as more free online advertising to increase your business' online presence.
Photos and Videos: This section is especially important. Many people respond best to visual advertisement of your business and products. If you sell food, list some great pictures of your most appealing and beautiful dishes. Use this space to create the best possible visual representation of your company. If you want to get really in-depth with this section, consider hiring a Google-certified photographer to create a virtual tour for your business. Allowing customers to tour your restaurant or store will generally increase the chance they'll visit if they like what they see.
Status Updates, Events, and Polls: Maintaining an active social media presence on your Google+ page will pay off in droves. Consumers like a business that's fun, active, and professional with their advertisements. Provide regular status updates about deals or events, and engage with your audience via interesting polls. Involving your local community in the day-to-day activity of your business as much as possible is guaranteed to lead towards growth for your company.
Reviews: A string of bad reviews online can quickly cause your business to tank, and positive feedback can result in continued growth. Tying in with the section above, be proactive in your responses to reviews left on your page. Ignoring bad reviews and hoping they'll go away is not an effective approach. Apologize for their dissatisfaction, and try to rectify the situation. Even if it wasn't your fault, showing that you care about the customer experience can only lead to good things. Customers that see that you respond to each review will feel like you're passionate about providing the best quality service.
Settings: If you'd like to get more in-depth with the management of your page, or manage the day-to-day functioning of your Google+ profile, access your page's settings via the left-hand drop-down navigations. Do things like setting up page notifications and adding additional administrators of the page in this menu.
As we mentioned at the start of this article, effective advertising is a surefire way to continue to grow your business. If you have great products and service, share that fact with the world through advertising on Google for free.
We hope this page has helped you get a sense of the potential that this free online advertising can offer you and your business. Before you spend your hard-earned money on ads, take these steps that are completely free and put the tutorial and guidelines to work for your business. As a business owner, taking advantage of every opportunity for growth is a necessity for maintaining the health of the company. So what are you waiting for? Don't let this amazing opportunity pass you by!
So what do you think? Have you used Google Business Listing to promote your brand? Was it successful? What hurdles and challenges did you face? Please share your experiences in the comments section below.

(Reference: https://www.youtube.com/watch?v=kYIbbWPBkqM)