Comprehensive Guide on Conversion Rate Optimization (CRO) – Optimizing Your Conversion Rates for PPC
Want to get more from your existing traffic? Then Conversion Rate optimization (CRO) can be the solution that you are looking for. So, what is conversion rate optimization?
Most of the marketing teams today are designed to drive more traffic towards the website. This will then be converted to leads which will finally be closed by the sales team. Right?
Although this is commonly followed, few of the marketers focus on making more from their existing traffic. This is exactly where Conversion Rate Optimization comes into the picture.
In simple words Conversion Rate Optimization/conversion rate adwords can be the answer if you want to directly tie marketing to revenue.
In this blog let us see what is conversion rate optimization, conversion rate optimization definition, conversion optimization definition, conversion optimization tips, how to conversions and what is its significance to improve conversion rate.
What is Conversion Rate Optimization (CRO)?
Conversion rate optimization – CRO – is nothing but optimizing your landing pages, sponsored search ads as well as the overall website design to enhance the conversion rate.
Simply put, the actual goal would be to target the maximum possible percentage of the visitors who visit your website and make them convert.
If not, at least make them to complete an action that you want to do. This can be achieved only when you optimize for conversions.
CRO is now quickly gaining huge popularity and this is mainly because it is looked as a major option to increase the profits from the sales, but without increasing your advertising spend.
Hope this answered what is conversion rate optimization.
In general, conversion rates hugely vary widely from one industry sector to another and is also hugely dependent on the business model.
Irrespective of all this, everyone wants a much better strategy than the existing one no matter what.
Normally, even if the AdWords conversion rate for your business is average for your niche, a greater conversion rate is always better for any business.
So why should you settle for the average?
Basically, conversion rate optimization always requires ample time as well as good resources.
Also, you might require proper testing particularly when you are not doing it correctly.
Nevertheless, it is certainly more worthy to spend some time to understand what are the basic principles of optimizing your website conversion and getting familiarized with it.
You will then be able to maximize the chances of the potential customers to transform into paying customers or qualified leads.
So, basically you will be able to focus and optimize the experience of the visitors who land on your website from different search engines.
This is a great way to increase conversion rates and assure conversion optimization.
There are several things which can be done to augment your conversion rates.
Following are some of the most important online tip conversion which you can try implementing.
1. Compelling & Clickable PPC Ads- it is essential to write extremely compelling and clickable PPC ads, which are relevant to your intended audience and your search query or keyword.
It could be much better when you target long tail and mid tail high intent keywords, indicating the search users who are late in buying cycle.
This is because these are the ones who mostly convert.
2. Your Ads Should be Relevant to your Landing Page- the degree of relevance should always be extremely high and to the point between the corresponding landing pages and your ads.
Your landing page should reflect everything that your ad promises and make it simpler for the search users to complete the desired action.
Whether it is to make them complete a purchase, sign up for your monthly newsletter or just download your white paper.
3. Testing the Design of Landing Page- carrying out A/B testing can be the best way to figure out the ideal color, copy and page layout for your web page.
This helps you to identify the formats that push the maximum number of the site visitors to take the required course of action – making a call, filling out forms or just convert to a lead or a customer.
Optimization of PPC Conversion Rates – Leveraging the Right Keywords
When you begin considering and evaluating ways for conversion rate optimization/conversion rate optimizer or wondering how to increase conversions, it is obviously tempting to work around different types of forms and buttons.
Also, you also tend to fiddle with other types of elements that are low in the funnel, which carry the chances of making or breaking your sales.
However, the major goal of optimizing conversions would be to get the right search users to your website:
Higher web traffic can be useless if none of the website visitors convert
When it comes to search marketing, increasing the percentage of qualified traffic is extremely important and it hugely depends on bidding and optimizing the relevant keywords
Better data on keyword traffic will help you to make better informed decisions when it comes to your ad copies and websites and also target the potential customers correctly
Optimizing Landing Pages for Conversion Rate Optimization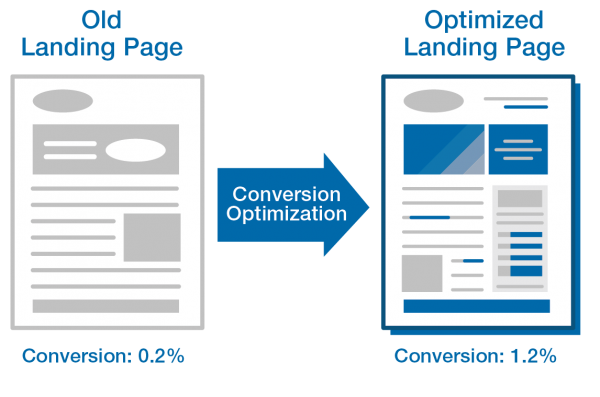 The quality and the type of your landing pages will always have a dramatic impact on your conversion rates.
Just look at it this way – one of your prospective clients will stumble upon your landing page basically due to a query they recently searched.
If the offering and the content on that page will not be relevant or just does not match what they are profusely looking for, then the chances are that you will end up losing leads like them.
Wait a minute. . .the negative effects do not just stop at this. Poorly designed landing pages are also known to make the quality score for your website to drop down in no time.
This will in turn increase your cost per action as well as cost per click while reducing the ad ranks making it next to impossible to get better spots in the ad auction process of Google.
What Does an Ideal Landing Page Look Like?
So, already thinking how would an ideal landing page look like? Then we have put together a few best practices of page designing.
Wondering how to increase conversion rate? Following are the key elements on which you can focus while developing your landing page to ensure website conversion optimization:
Compelling & Relevant Headline
Providing a compelling headline that is totally relevant to the PPC keywords can be a great way to begin with.
This is because it compels your prospective clients to stay on your landing page and complete the desired action
Targeted Yet Concise Copy
The content present on your web page should properly communicate what is it that you are offering.
It should also directly communicate directly with the keywords that are associated with that particular ad group.
You can try using bullet lists as it helps you to prevent copies from becoming very lengthy and overwhelming
Easy-to-Notice CTAs
Your CTA buttons should always stand out from the rest of the content only then your visitors will be prompted to make the next move.
So, use crisp, gain-focused texts to create clickable call-to-action buttons
Easy-to-Use Lead Capture Form
An ideal lead capture form will be designed to have all the fields that are required to complete your offer.
However, adding too many fields will only overwhelm your clients. So, filter out only the information that is necessary and include just that.
Overall Enticing Design
Your landing page should always be uncluttered and clean, which not only conveys trustworthiness, but also highlights your professionalism to the prospective clients.
Besides it should be consistent with your brand to prevent your search users from experiencing a disconnected browsing experience.
Following all these CRO conversion rate optimization best practices can help you to maintain top-quality landing pages that are extremely relevant to your PPC ads and the keywords.
This will add tremendous boost to your Quality Score and CRO.
Found it helpful. Do let us know by keying in the comments section below.