Importance of Website – 7 Reasons Why Your Business Should Have One
So you have a well established website with great word of mouth recommendations. You have a huge customer base that's loyal and as a result you don't have to worry about marketing. So what's the importance of website ?
Although you will find later in the article that marketing is one of the reasons that underlines the importance of website, there are many other reasons that warrant for your business to have a website.
The landscape of modern business is forever changing and one cannot simply rest on past laurels.
You will never know what your competition is up to.
With all the convenience of doing business over a website instead of visiting a brick and mortar store, your customer base can be gone within a matter of days.
The world is full of examples of mighty business empires that have vanished simply because they refused to adopt to the modern world.
So let's take a look at some of the benefits of having a website.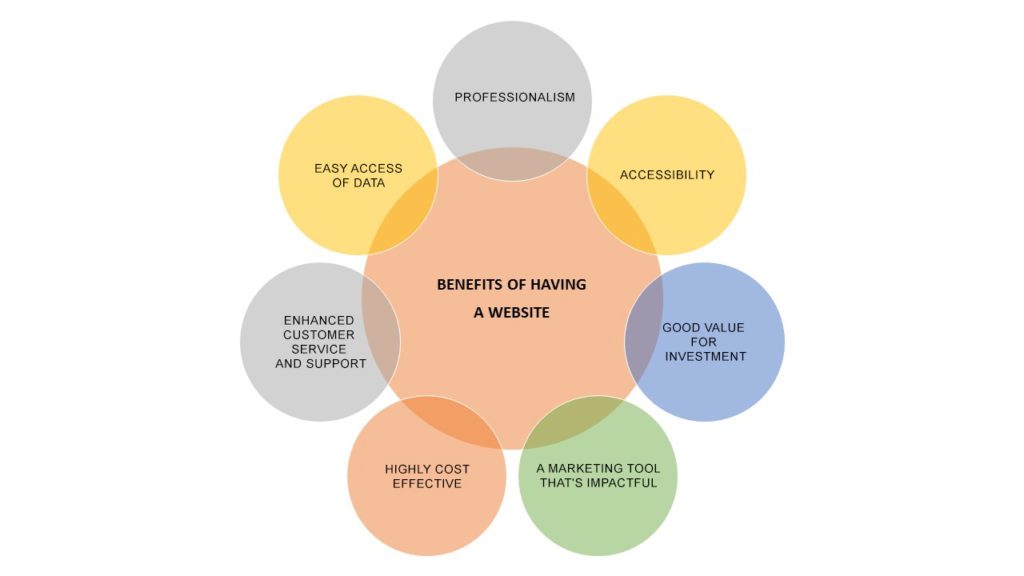 1. Professionalism
A well built website complete with all the information that your customer needs to find out portrays your business in a professional manner.
From getting to know your entire team to having access to your audited business statements, you will be able to project your business as trustworthy and credible.
You can also include testimonials from your satisfied customers so your potential customers know what they expect from the products or services you offer.
2. Accessibility
A website provides easy accessibility on more than one level.
Customers these days are so used to finding out what's in store for them before they make any decision.
With your website, they will be able to know everything about your business and the products or services your offer.
All these at their convenient time and place.
As you might know, running a good business is all about making it as easy as possible for your customers to do business with you.
Having a website and an online presence is the first step you should take towards this regard.
3. Good Value for Investment
Consider running a newspaper or a TV ad for your company. Once the ad is run, it's over.
Unless you are ready to spend on it for a lengthy duration of time, which will cost you a great deal of money, you cannot expect it to generate new customers forever.
With a website, the story is completely different.
Although it takes some initial investment to build a good site with great content, you will reap the benefits for years to come.
As you will find in the next section, your website can be a great marketing tool.
4. A Marketing Tool That's Impactful
One of the most significant manner in which a website can positively influence your business is through effective marketing.
Until the advent of website and online marketing, targeted advertising was very limited.
Products that were meant for young men were advertised during an important match or those targeted at housewives were advertised during soap opera.
With online marketing and big data analytics, you can take advantage of highly sophisticated targeted advertising that's based on several factors including demographics and online history of each of your potential customer.
Add to that social media marketing, search engine optimization, and search engine marketing, and you marketing possibilities are virtually limitless.
5. Highly Cost Effective
Some of the largest ecommerce websites that have turnovers to the tune of billions of dollars don't have a store of their own.
Let alone a store, they don't even have a warehouse.
If you order something on Amazon.com, the order is just processed by an executive.
Your product will be in one of the supplier's warehouse and he will do all the work including shipping.
So what does this mean?
In today's digital world, it absolutely possible to do business without incurring overhead costs of running a store, having salesperson on payrolls and the likes.
And that's the importance of website towards cutting your costs.
6. Enhanced Customer Service and Support
The way businesses offer customer service and support has drastically changed with the advent of websites.
Customers no longer have to wait on the phone for long time.
Common queries such as those related to usage of products, assembly, etc can be solved by posting guides and manuals online.
A separate page on the website that answers frequently asked questions are also an effective way to offer better customer service and support.
Most websites also have a section dedicated to customer forum where customers can interact among themselves to address their issues.
All these features of your website are sure to make your customers happier and satisfied and they are highly likely to remain loyal and recommend your business to others.
7. Easy Access of Data
In today's data centric word where everything from marketing and sales to accounting and investor relations depends on easy access to data, having a website makes it easier to run a business.
Through password protected, secure sections your employees will can have access to all the information they need.
From the accounts department that needs financial information to the sourcing team that need data on inventory, a centralized website can facilitate easy functioning of your team.
From your customer's perspective, it becomes convenient for them to know in detail about the services or products you offer, the mode of delivery, and other details of doing business with you.
The value proposition that ease of access to information brings is intangible.
However, you will notice that both your employees and customers are happier at the end of the day.
This results in better productivity and sales.
So you now appreciate the importance of website!
How a Website Helps Your Business?

Now that you have learnt about some of the benefits of having a website, let me make a further case about the importance of website from a business standpoint.
First of all, you should now be able to appreciate how the world wide web has drastically changed the way businesses interact with the customers.
From providing all the information about products and services an organization offers to providing after sales service and customer support, a website can boost the overall experience of your customers.
According to a recent survey conducted by a leading internet firm, about 78% of all the adults spend at least 30 minutes online on a daily basis.
This is an excellent opportunity for you to promote your business and target a much larger customer base than the one you currently have.
Another compelling reason for you to have an online presence is the way search engines promote local businesses.
If you are in a niche that's all about targeting local customers, you couldn't have been in better times.
Online tools such as Google My Business Listing are making it easier to attract local customers thereby boosting your sales and revenue.
What's more, while you are targeting your local customers, having a website also lets you to make your products or services be available for potential customers world wide.
One thing that the world wide web has done to the way businesses carry out their interactions is slash the geographical boundaries.
A tribal in deep interiors of Africa is now able to sell her hand woven carpet to someone halfway across the world.
A coffee planter in India can sell his coffee to someone in Japan.
All these are happening only due to the power of the internet and there's absolutely no reason for your business not to have a website.
Now, let's talk about branding.
Although the internet has fundamentally changed the way we conduct business and the importance of website, some of the traditional aspects of running a business are still the same.
One of those aspects is branding and brand equity.
The way your business is perceived by your potential and existing customers is the single most important aspect of measuring your company's success.
By having a website, you are able clearly communicate your brand story and control your customers' perception of your brand.
The Bottom Line
As the old Japanese adage goes, the branch that doesn't bend during high winds will break.
You have to be flexible enough to adopt to the changing times and having a website for your business should be your first step in that direction.
You need to fully appreciate the importance of website.
By making available all the information that your potential customer needs about your products or services, you are making it easier for them to do business with you.
This enhances their experience and you can then leverage it to convert them into your brand evangelists.
It also makes your company more efficient and cost effective thereby cutting don costs and improving revenue.
You cannot ask for more.
So what are you waiting for? If you don't have a website yet, get the ball rolling and start building your site today.
If you are not sure about how to start or have a strong reason to not have a site, feel free to use the comments section and I will get right back to you. Good luck!