10 Free LSI Keyword Research Tools that Work for You
Is Latent Semantic Indexing or the LSI keyword research something really new to you? With the growing competition to rank higher on the search results pages, "LSI keywords" has now become a 'celebrity' term that you have been hearing for quite some time now.
Well, if you are not really sure of what exactly are LSI keywords and LSI keyword research tools, then there is no point in getting into other details. So, let us briefly understand what exactly it is. LSI keywords are just the related keywords, which include synonyms of the topics and other terms that you come across while writing about a topic.
For instance, let us say that you have a blog on 'Apple'. LSI keywords help search engines identify whether it is the 'fruit' or the 'brand'. So, these keywords will help search engines to know what your web content is all about and also increase the relevancy of your content to a given topic.
This ultimately boosts your organic search traffic followed by higher organic ranking. Now that you are clear about what LSI keywords are, let us now move on to the next step – finding LSI keywords. Relax, there is no rocket science involved in that.
All that you actually need is some creative thinking and a few good tools. Again, you do not have to spend a fortune on some sort of premium keyword research tools.
If you are looking for some of the best free keyword research tool 2018, then you are the right place. Here are a few top LSI keyword research tools that we have put together for you to try out.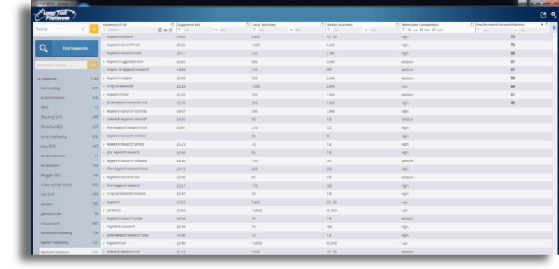 Targeting some long-tail keywords? Then this can be the best LSI keyword research tool for this. The tool has now emerged as one of the powerful competitor keyword research and LSI keyword tools in the market.
Here is what the tool provides:
• Generates hundreds of keyword variations quickly with the seed keyword
• Once you add the domain, it helps you identify what level of keyword complexity you should be targeting
• Helps you do deep competitor analysis with highly detailed metrics for every search result
• Its new feature – Rank Value – helps you to evaluate Keyword Profitability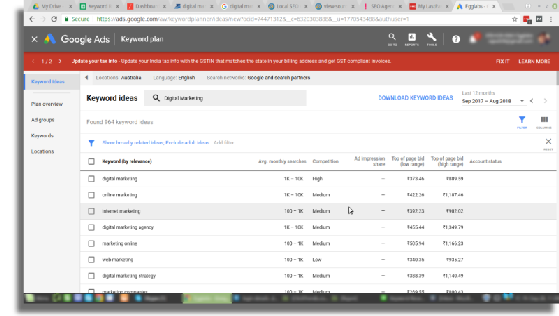 Want to find the best keywords to to target the search ads, display ads, apps, video ads, etc.? Then Google AdWords Keyword Planner can be your best LSI keyword research tool option. Apart from helping you to find new relevant keywords, the tool also displays the keyword search volume using a specific phrase, category or a website.
Designed for advertisers, this latent semantic indexing tool can be used in various ways to make the most out of it. But here, we have shared the basic steps to leverage this tool to get immediate results consistently.
Step 1: Type the name of your products or services in the search box
Step 2: Choose a target landing page or a unique category (this step can be avoided though)
Step 3: Use keyword filters to customize your search
Step 4: Click on "Get Ideas" once you are done
The results you see will have keyword ideas, ad group ideas, suggested bid, monthly searches as well as competition.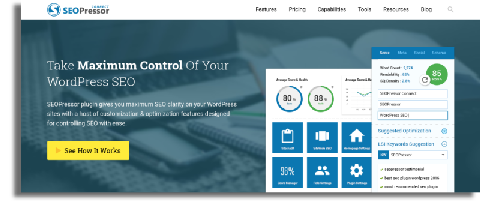 While this LSI keyword research tool was just designed to provide LSI keywords, it has now developed into a full blown WordPress plugin. The tool first gathers all the necessary information required to optimize your website. It provides unlimited LSI keywords.
Next, if you are concerned about not being able to optimize your website in a way that Google wants you to, the system can emulate the way in which Google ranks any given website.
Furthermore, as the internet is moving, if you want to know whether your website geared up for the semantic web, then the 'semantic builder' feature will help you to check this.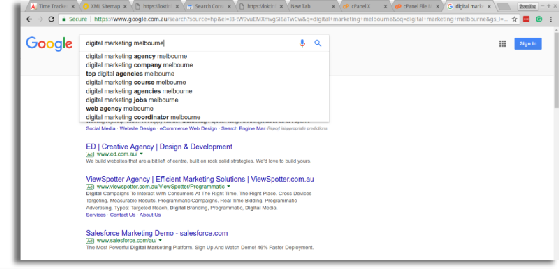 This keyword list generator is the most simple and the easiest way to find your LSI keywords. Here all that you should be doing is to simply choose a given keyword and key it in the Google's search bar. When you do this, Google will automatically provide the best possible list or the matching phrase for the primary keyword that you chose.
When you choose one of them and hit 'search', you will get a list of semantic keywords at the bottom of the page. For this, you just have scroll down to the page's bottom to find the related searches.
Pretty simple, right?
5. KeywordTool.io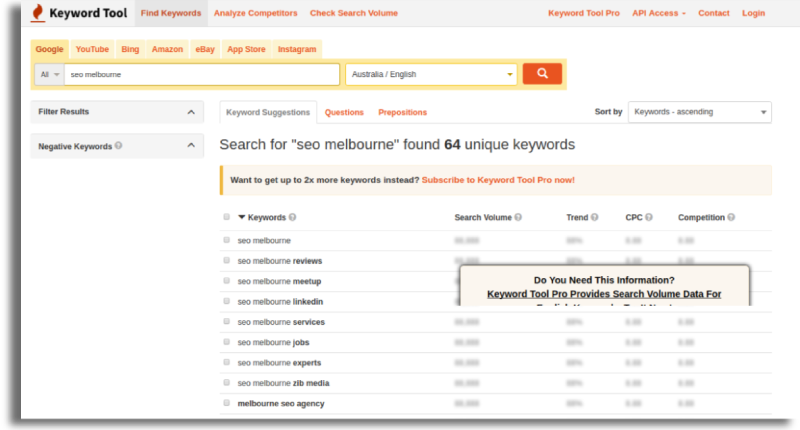 Being a popular LSI keyword research tool for most of the industry sectors, Keyword Tool is considered to be the best free option. The tool provides long tail and latent semantic indexing keywords from the Bing ads, YouTube, Google Suggest, Amazon, App Store, Google, etc.
Besides, the tool also offers a 'PRO' version that is optimized for YouTube as well as Google. This version has features like competition, cost per click, search volume, etc.
Following are the two major differences between the 'Pro' and the 'Free' versions:
1.Just 10 auto complete keyword suggestions will be included in the free version, while the Pro version covers up to 20 keywords
2.The keyword Tool includes auto search terms, which is not included in the Google Keyword Planner. These relevant and popular keywords will be extracted by the Pro version of this tool
How to Use this Tool?
• In the address bar, you just have to key in the search terms
• Choose the search engine, language or even the domain that you prefer
• The results will be displayed in two groups – Questions and Keyword Suggestions
• The results can be further filtered by selecting negative keywords – limited to mere 5 in the Free version and up to 2000 in the Pro version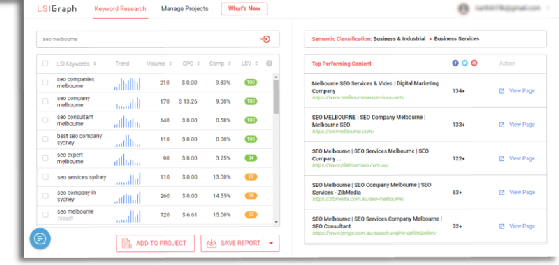 This is a free tool or LSI keyword generator that is popular for generating identical keywords. Besides, LSI Graph is also preferred and used by most of the top bloggers today. The best part is, it is now available as a WordPress plugin.
Following are the steps to leverage this tool:
1.Just key in the name of your search terms in the given text field
2.Next, make sure to verify the 'captcha' – you are all done
Simple right? Once you are done, you will be left with a long list based on the popularity of your target keywords. So, make sure you choose the best and add that to your web content.
Yet another free keyword research tool is Niche Laboratory. It is known for generating niches and topics for all your primary keywords. One aspect that is worth appreciating about this tool is that, it offers results that cover different areas like:
• Niche specific images and website competition matrix
• Ambiguity detection, phrase usage chart, synonyms' word cloud etc.
• Top ranking websites for titles, meta descriptions and other meta tags
• Related news stories, data from discussion forums and other raw data
• Niche products from AliExpress and Amazon.com
Steps to search for long tail keywords using this:
• First key in the search term in the search box
• Choose the option – Generate Report
• The site then generate a report containing useful information
• You can use this report for your web content
This remarkable LSI keywords finder tool is chosen and trusted by over 50,000 users. Keyword Eye comes with features such as competitor research, Amazon, YouTube, keyword research as well as Google Auto Suggestions.
This tool also has a free as well as a paid version. So, you can try the free version, if satisfied you can go ahead with the paid versions.
If you want to get highly suggestive terms for your content, you can try doing the following:
• Go to the 'pricing' tab on the Home Page of this website and then hit on 'choose your plan' option
• Choose the tab 'Keyword Eye membership'
• Fill out the pop up form
• Go back to the mail and then click on the confirmation link
• You can now use your Dashboard
• Go to new tab, type the keywords and get the results
Keys4up is an extremely simple to use LSI keyword generating tool, which comes back with approximately 10 LSI keywords for every search query that is presented. However, once you register using your email ID, you will be able to access the complete list of the keywords.
After some more searching, the toll will then ask you to share it across your social media platforms to further access the list completely. The results can be extracted in the form of CSV files. '4Up' index is the special feature of this tool that suggests how frequently the suggested LSI keywords should be used in your web content.
This unique free tool generates LSI keywords and it can be downloaded and installed before usage. Unfortunately, it is available only for the Windows systems. This tool is definitely more complex to use when compared to the rest of the free tools discussed here.
However, a tutorial will be provided on the web page that makes it simple. While the tool is more complicated, it also offers special additional features that assist you with web content creation.
This is how it works:
• The tool analyzes the top 50 websites on Google before presenting the results
• Based on this it comes up with the list of LSI keywords
• You can suggest how many pages you want the tool to analyze
• The keywords will be separated according to their lengths after analysis
• You can then sort the keywords accordingly
• In addition, you can also filter out specific texts that your keywords should include
Final Thoughts
LSI in SEO is critical. While there are several latent semantic analysis tools and keyword suggestion tools to generate LSI keywords today, it is important for you to understand which one of those works best for generating LSI keywords in SEO. Hope this list will be helpful for you to find relevant and high quality LSI keywords for your web content and various other requirements.
Do let us know which tool you chose and how helpful the tool was.