The Ultimate Guide to AdWords Conversion Tracking That Will Make You a Conversion Tracking Ninja
Picture this.
A business owner sets up an AdWords campaign and suddenly observes a surge in traffic with truckloads of clicks into their website. It's so overwhelming that they don't know what to do.
Sounds familiar?
Well, I am not surprised. There are millions of business owners out there who have no clue about how their AdWords campaign is performing.
It's quite understandable. There are so many mfetrics and parameters to track that it's easy for someone to get lost in this ocean of data.
But you must remember – the insights you can get by AdWords conversion tracking is simply priceless.
So how can you go about gathering those priceless insights and make them work for you?
This article aims at taking you through a step-by-step process, that's easy to follow, so when you're finished reading, you can be a self-proclaimed Adwords conversion tracking ninja.
Alright then. Let's get started.
So What is Adwords Conversion Tracking?
It is the process of tracking the key performance indices using a powerful tool within the AdWords interface.
You can establish if your ad campaign is doing a good job of generating leads, converting leads to sales, enticing your visitors to download apps and other files, signing up for email newsletters and other important parameters.
With this data, you are able to recognize which areas of your AdWords strategy is working and can be continued, which areas are working partially and requires tweaking, and which areas need a total revamp.
Some of the parameters that you can play with include your bid strategy, the displayed ad text, and the keywords.
As you can see, it's all about finding a method to madness, finding a pattern in chaos. Interesting, isn't it?
So how do you define a 'conversion'?
Well, this depends largely on your business.
If you are an e-commerce company, a conversion is a purchase a customer makes on your site.
You've read about other types of conversions in the previous section such as signing up for a newsletter, downloading an app, making onsite calls from mobile phones, etc.
In general, any desired action by the visitor that adds value proposition to your business is a conversion.
Can you think of all the conversions that are suitable for your business? Jot them down.
Now that you are familiar with the concept of conversion tracking, let's go to the basic set up of the interface.
Initial Setup of AdWords Conversion Tracking:
This step involves generating HTML codes within the AdWords platform. These codes will then be pasted into the coding panel of the pages that your customers visit soon after they complete a conversion.
These pages are 'triggers' that auto-populate. "Thank you for subscribing to our newsletter", "Order confirmation", are some of the examples of trigger pages from a web page.
Similarly, triggers can be obtained when customers call the number on your site from their mobile phone, or when they download an app.
When you have your AdWords panel opened, click on Tools and Analysis tab. From the drop-down menu, select Conversions. This should bring up All Conversions page. Click Conversions tab and then +Conversion button.
Boom! You're all set to come up with your first conversion tracking definition.
The next step starts with filing out a form, the details of which will determine which set of codes will the platform generate.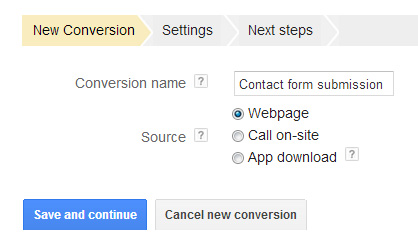 Start with giving this conversion definition an apt name. For example, if you are tracking the number of newsletter subscriptions, you could name it "Newsletter subscriptions".
Now, select the source of conversion.
Your choices are:
Webpage
Call on-site
App download
Let's explore each conversion source type in detail.
Webpage Conversions
When you choose Webpage as the source of conversion, you will land up in the next section.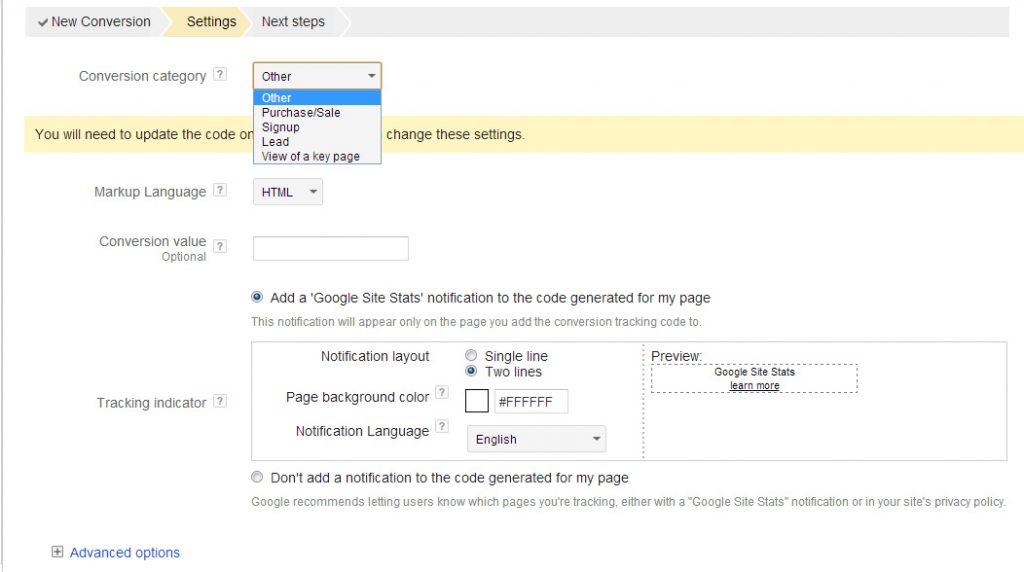 Under the drop-down menu Conversion Category, choose the most apt option.
Your choices are Purchase/Sale, Signup, Lead, View of a Key Page, and Other.
Next you need to select a Markup language.
Although HTML is the de facto standard, you can also choose from XHTML, WML, CHTML and other alternatives.
If you are not sure about which Markup language is best for you, consult your web developer.
Choosing the right language is very important especially if you are hosting a mobile-based site.
The next field is optional and applies to purchases that your customer makes.
If you are selling a single a product, you can enter its price.
For multiple products, the tracker can be set up to capture the shopping cart values.
These values change on the site dynamically. More on this in the Advanced section.
Tracking Indicator
This is a feature that lets your customers know in an unassuming way that your customers' visits to your site and subsequent actions such as purchases are being tracked.
It's entirely up to you to decide whether or not to display this message. This feature is turned on by default.
If you choose not to, you need simply select the corresponding option at the bottom.
You can also personalize the message displayed including the size of the window, background color and the language.
The next page is where the HTML code is generated.
Google, like it always does, makes it easier for you.
Depending on whether you or someone else is in charge of the changes to your website's codes, you choose the right option here. And you can email the codes directly from the AdWords platform with customized instructions!
Call On-Site Conversions
Does the mobile version of your website has a click-to-call button or phone number in text that allows your website visitors to make a call directly?
This feature allows you to track the number of calls thus made.
To generate your codes, carry out the same steps as the previous one. Once you have the codes, you need to manually insert "on click" HTML tags"

Here's an example of an onclick tag for a text phone number:

Replace the phone number in this example to the phone number that you use as text in the web content and "Call now" with any text of your choice.
Onclick tags can also be used with click-to-call buttons. Again, simply replace the phone number in the example with your phone number:

If your click-to-call button is a custom GIF image, replace "call_now_button.gif" with the name of your gif file.

App Conversions
Through AdWords, you can track the downloads of Android apps through the Google Play store, and iOS apps through the Apple Apps store. Although the tracking options for the latter is to a limited extent.
Tracking of iOS apps is not available for Google Display Network or Google Search. Tracking is possible only for those ads that are offered in mobile apps through the Display Network.
Before you set up tracking for an Android app, be sure to have your app's "Package Name" handy.
"Package Name" can be found by visiting the app's page on the Play store. Copy the URL from the web browser. The package name will be the part of the URL after the details?id= string, and before the &feature=string.
In the example below, the highlighted string is the package name.

You can then copy-paste the package name in the window.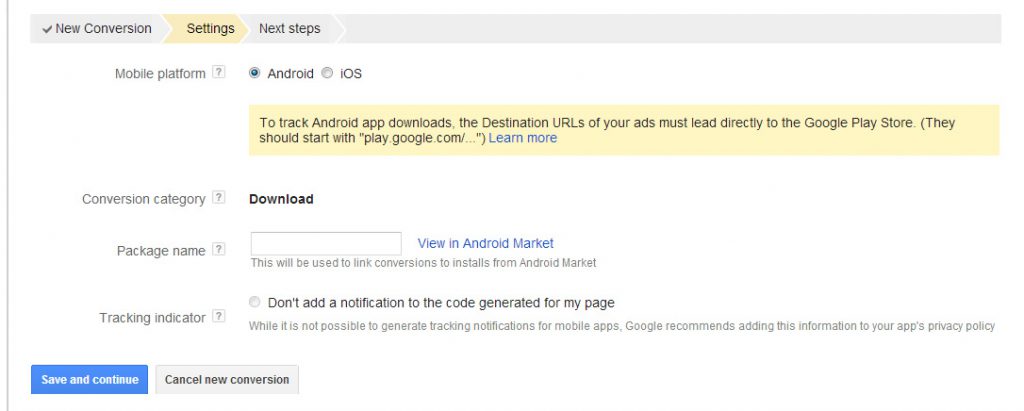 Just to make sure that you have got this right, click on "View in Android Market" and you should land on the app's page on Google Play.
There's nothing more that you need to do to track app downloads. Conversion tracking usually starts within 24 hours.
How to Analyze AdWords Conversion Data?
The Conversions tab displays the information obtained from your conversions. Click on the Columns tab, one of the options there is Conversions.
Here you will be able to select and deselect so you end up with only those columns you need.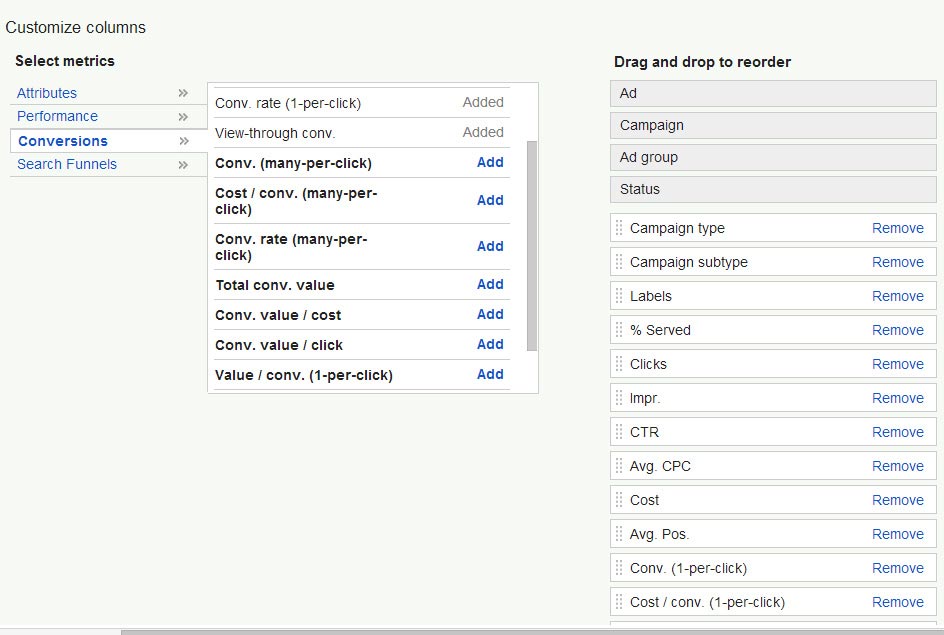 Some of the most widely used columns are:
Conversion (1 per click): This gives the count of one or more conversions from a unique ad click.
This gives you an approximate number of new customers/clients.
Cost/Conversion (1 per click): It's the ratio of your costs on clicks to your total conversions.
Your total spending on clicks should be less than your total earnings from conversions, ideally.
Conversion rate: It's the percentage of clicks that led to conversions. If this number is higher, then you're on the right track with your ads and keywords.
View Through Conversions: It's the number of times a customer viewed your ad without clicking on it. However, it resulted in a conversion at a later stage.
Advanced Tracking Options in AdWords Conversion Tracking
Advanced Options for Tracking From Shopping Cart
If your website sells multiple products and you are unable to enter a specific value to your conversion, you'll have to tweak the original codes provided by Google.
This way you can make sure that the codes you are using are unique to your requirements.
It's recommended that only those with a working knowledge of HTML coding and web programming undertake this effort.
With proper configuration, conversion value metrics such as total conversion values and cost per click will be accurately reflected and not a static value.
View Through Conversions and Search De-Duplication
View Through Conversion happens when a customer looks at your ad but doesn't click.
The conversion happens only when he visits at a later time.
It should be noted that the ad was successful as it was able to influence the visitor.
The duration between the view and conversion can be set to any desired value.
Search De-Duplication is a way to avoid registering the same conversion twice.
A typical scenario is when a customer clicks through the ad to make a conversion after viewing the Display Network ad.
When this option is enabled, click through always trumps view through conversion.
The Conversion Optimizer and Ways to Set It Up
There are two ways in which you can optimize your ad rotation – for click through and conversions.
If you are tracking click through, AdWords will more frequently populate ads that have higher rate of click-throughs.
If you are tracking conversions, AdWords will more frequently populate ads with a high rate of conversions.
The default setting is for click-throughs. However if you want to change this setting, you can do so in the Settings section. Scroll down to Advance settings.
Open Ad Delivery: Ad Rotation and under Frequency Capping, select Optimize for Conversions and save the changes.
You can also change the conversion bid metric and configure Conversion Optimizer to focus on 1 Per Click conversion or many per click conversions.
This can be set under Conversions tab > Settings >Edit Settings.
Using Search Funnels to Analyze Conversion Data
Search Funnels are a great way to find detailed data about customer behavior.
How many times did the customer see your ad before converting? How much time elapsed between viewing the ad for the first time and conversion?
These are some of the insights that you can gain from Search Funnels.
To access this feature, click Tools and Analysis and then Conversions. Search Funnels is an option at the lower left of the window.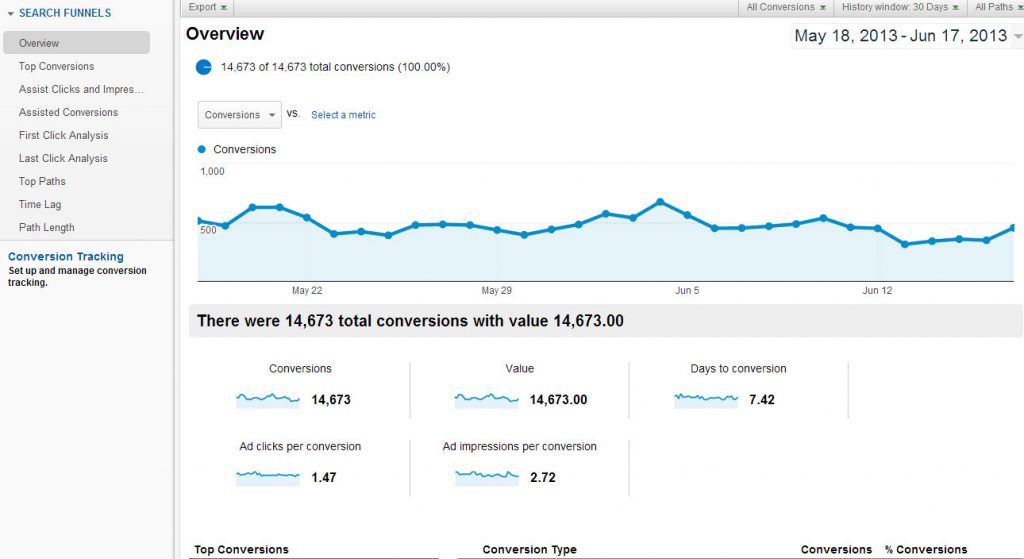 Troubleshooting AdWords Conversion Tracking
Data Doesn't Appear in the Conversion Column
You can expect the conversion tracking data to appear in about 24 hours after you have set up the tool.
If the data doesn't appear after 24 hours, chances are that no customer has converted.
One way to test this scenario is to go through the same steps that a customer goes through to trigger a conversion.
If the conversion data still doesn't show up, make sure that the codes are installed properly.
Installing additional plug-ins or moving the codes to a different part of the page also helps to resolve this issue.
Data is Inaccurate
Conversion tracking requires cookies to be turned on.
While most users browse the web with cookies turned on, displaying Tracking Indicator link might result in your customers opting out of your tracking.
Any changes you make to the Conversion Tracking settings in AdWords result in changes to the codes.
Make sure to paste the new codes every time you make changes to the settings.
Conversions Are Far Lesser Than the Number of Clicks
It doesn't make any business sense to run an AdWords campaign if the cost of running the campaign is more than the revenue generated.
This is where Search Funnels come into picture.
Use various Search Funnels to get as much data as possible to analyze the situation.
You might also want to review the AdWords text and the keywords.
A thorough audit of your website is what is required to make sure that it is making it easier for them to navigate to the conversion page.
Make your landing page as appealing as possible.
Make sure that the keywords and AdWords text set the right expectations and reflect the products/services in the right way.
The Bottom Line
While running an AdWords campaign can significantly increase the inbound traffic to your site, it is really important to track the activities of your customers on your site.
The importance of the insights and data that you obtain by tracking various parameters such as click through and conversion rates cannot be overstated.
Now that you are equipped with all the information you need to successfully track your conversions in AdWords, you are all set to run an efficient campaign that will surely boost your return on investment.
Good luck!
Your comments, suggestions, or any questions you might have will be sincerely appreciated. So let us know what you think in the comments section.