SEO Score – Scoring Website SEO in Less Than 10 Minutes
What comes to your mind when you plan to SEO optimize your website. Well, most of the marketers and website owners hugely focus on keywords and sideline the rest of the elements – including the important ones like the SEO score.
Sounds familiar? Are you one among the?
Well, then you should change your focus and concentrate on your website as whole – that is your "SEO score".
While digital marketers tend to know quite a lot about SEO, they often have a trouble getting the bigger picture.
What is SEO Score?
Getting your SEO score or the snapshot of your website's SEO can be extremely helpful and is one of the most essential skills that is worth developing.
All it really takes is mere 10 minutes and the best part is it just does not require any expensive tools.
Today, in this blog we will be demonstrating you the broader overall process to get your SEO score.
While it does not get into the meticulous details of the SEO analysis or explores deep into off site SEO, SEO score certainly helps you with quick pulse taking of your website's overall SEO.
Carrying out a thorough SEO website check will give you an opportunity to check SEO score of your website.
Wondering what is a good SEO score? While there is no specific number that defines a good or ideal SEO score, the measure will give you a decent idea of your site score.
The process of getting an SEO score can be broadly divided into the following steps:
1: Identifying the domain authority
2: Determining the load time of your website
3: Checking whether there is a site map
4: Checking the robots.txt
5: Checking for all the meta content
6: Checking the H tags
7: Checking the onsite content
8: Testing the keywords
Let us now look into the details of how every step contributes towards helping you to check the SEO score of your website.
Step 1: Finding the Domain Authority – DA
Domain Authority – DA – is nothing but the score or a number that is assigned to your website.
This number ranges on a scale of 1 to 100 and the higher the value more authoritative the website will be.
Websites having higher DA scores tend to get much better search results.
The DA of a website always increases along with its overall SEO, age of the website as well as the authoritative links that point back to the website.
The DA is the critical piece of information that is required to give the SEO score to a website.
You can get this by visiting open site explorer, keying in the URL of your website and then hit the "search" button.
Refer the image below: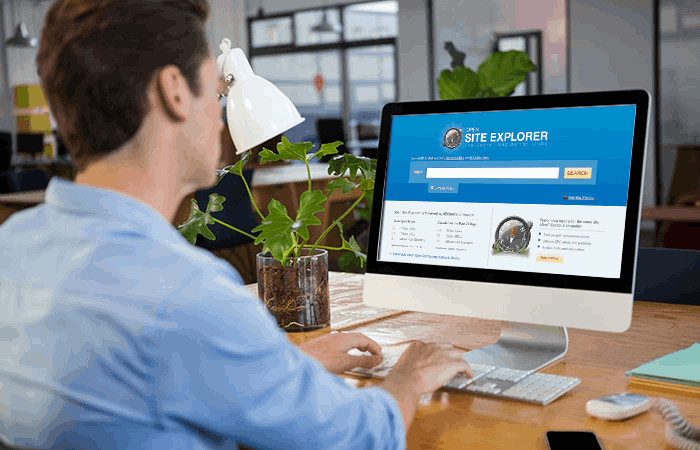 You will be able to find the Domain Authority value on the left hand side top on the screen.
This will be the DA score for your website.
Refer the image below: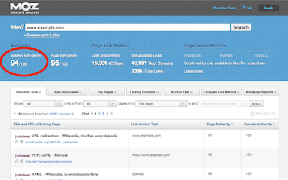 We have put together the following table to give you a clear picture of the DA scores and what do each of these score mean:
| | |
| --- | --- |
| DA Score | Rating |
| 1-10 | PoorYour website is weak and young and requires a lot of growth. |
| 11-20 | DecentWhile you website is not stellar and your are doing fine, it is better to grow. |
| 21-30 | FairQuite SEO optimized website, while there are multiples things to be looked into and worked upon. |
| 31-40 | CompetitiveThis means not bad and that you are on your way to the sweet spot. |
| 41-50 | GoodYou are on your way to a comfortable position – where most of the successful e-commerce companies find themselves. |
| 51-60 | StrongYou are out of lower half & are in a better position – a good place. |
| 61-70 | ExcellentThis DA score represents a great website with quality backlinks. |
| 71-80 | OutstandingYou are a dominating website on the SERPs & own your niche. |
| 81-90 | Extremely OutstandingA top echelons of authority, you are considered to have arrived. |
| 91-100 | UniqueVery successful websites and this position is difficult to attain. |
Step 2: Determining the Website Loading Time
This is an extremely important factor because Google provides a better rank on the website only if it has a quick loading time.
If your website is slow, then it means that your SEO will be poor.
You can test it your self by visiting Pingdom. Here just type your URL in the box provided and click on the option "test now".
Refer the image below: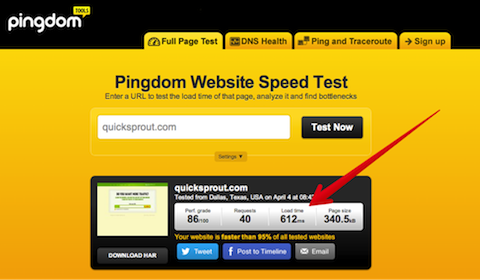 Pingdom will then analyze the load time and the performance of your website.
You will instantly get a report.
While the numbers in the report do not hold much significance, the sentences beneath it indicates how competitive your website is.
Step 3: Checking the Sitemap
Do you have a sitemap for your website? Well, sitemaps are known to symbolize an easily indexable and organized website, which is ideal for SEO.
As you are just scoring the website SEO, you need not fuss about having a perfect protocol for sitemap at this point.
If you own the website, then you will very well know whether you have a sitemap or not.
If the website does not belong to you, then you may type "sitemap.xml" or " fullsitemap.xml" in the URL, based on the website to find out the sitemap.
Still unable to find the sitemap? Don't worry – type the Google query: website URL, followed by single space and finally sitemap.xml. For instance www.sample.com sitemap.xml.
Unable to find the sitemap still? Don't panic. It means that there is no sitemap. Sitemap is always a good sign of SEO.
Important takeaway: No sitemap is synonymous with poor SEO.
Step 4: Checking robots.txt
Websites with good SEO will always have robots.txt files, which do not have any major disallows.
One of our blogs explains how to create robots.txt files that are perfect for SEO.
So, it is important for you to ensure that your robots.txt file exists and also it is not disallowing search crawlers from disallowing different vital areas of your website.
Most of the robots.txt files will have simple list of the areas, which the crawlers are not allowed to index.
However, it is important for you to ensure that none of the major areas are disallowed.
Step 5: Checking the Meta Content
Check for the following to ensure that you have all the important meta components in place:
Go to the homepage
View the source code
Check for the title<tag> – if you have one it should be visible
Search for the meta description – the best option would be to use quick search rather than wading through the code
Furthermore, it is okay to not use the meta keywords because Google no longer considers them as a ranking factor.

Step 6: Checking the H-Tags
Apart from getting it right with the meta content, it is essential for you to have H-tags or the header tags also.
Good SEO optimization involves one H1 tag, and H2, H3 as well as H4.
You can look out for all these elements by viewing the source code.
Step 7: Checking Onsite Content
Websites should always have continuously updated content for them to rank well.
Without consistent and regular content output it is difficult to ensure sustained SEO.
While scoring for your own website you will know whether you already have active blogs.
While scoring for a client's or a competitor's website, you can easily find the blog or the content source. Just go to the homepage and look for "articles" and "blogs".
If you are unable to find blog content, you can try the Google search: inurl:sample.com blog.
In case of websites having landing pages aimed to drive conversions, they might not necessarily have blog links.
However, the signs of a healthy blog would be – having consistent and recent blogs.
Step 8: Testing the Keywords
An ultimate way to score the website SEO is to figure out how it is performing in the queries.
To gain best results, just sign out of Google
Carry out searches on correctly targeted long-tail keywords
Today, there are services which provide Google rank results that are up-to-the minute for any website. However, you can just Google and then count.
You can also create a keyword list targeted by you or your competitors and work through them sequentially.
Summing Up
This is a simple and brief way to get an overall perspective of the SEO of a website.
While this post does not answer all your queries, it will definitely give you a clear understanding of a website of doing.
The best part about this method is that it is very quick and totally free.
You need not purchase any subscriptions or learn some special tools. All that you really have to do is a little bit of the digging.
Once you do it a couple of times it will become quite reflexive to carry out searches, use keyboard short cuts and check the right SEO elements.
Do you know any other quick and simple ways to check the SEO score of a website?