Leveraging Google shopping
Introduction to Google Shopping
Being an online merchant has its fair share of perks and challenges. While it's easy to set up an e-commerce store, it's even easier to sell online and take home a handful of profits, thanks to the significant increase in marketing channels over the last decade. Beyond the bells and whistles of selling your products online, the only catch here is 'competition', which is at an all-time high, and to cope with this, Google Shopping can be a saving grace.
How Google Shopping works?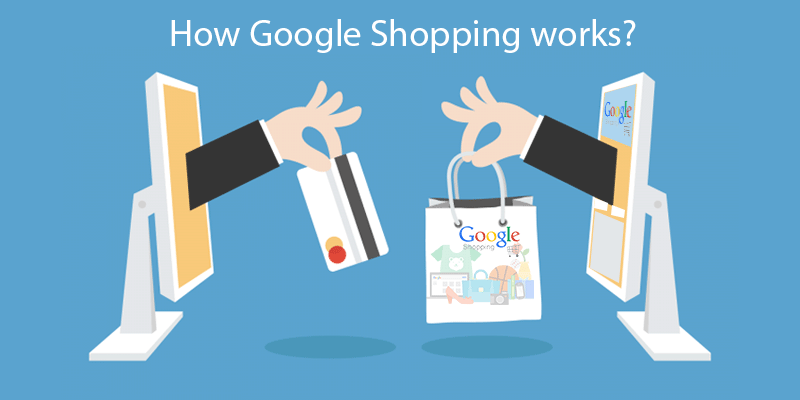 Simply put, Google Shopping allows merchants to display their ads for product-specific search queries. Primarily, Google Shopping focuses on conversions by providing relevant results for corresponding searches.
Google Shopping is powered by Adwords and Google Merchant Center. While Adwords stores your shopping campaigns and enables you to manage your bids, Merchant Center stores your product's details and organizes them in Google-friendly manner.
What is a Google merchant center? And how does it work?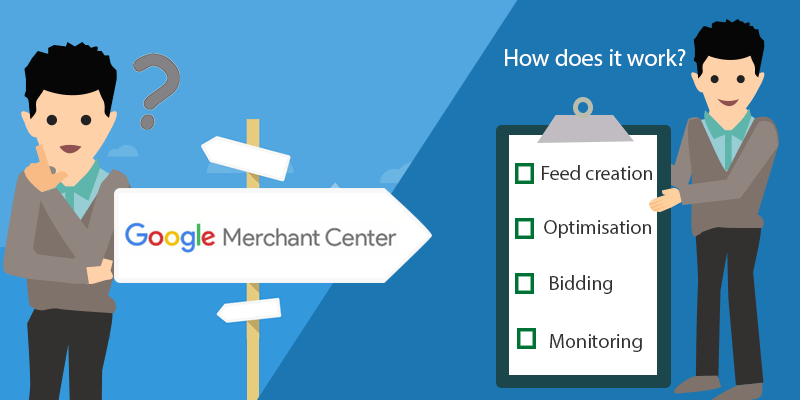 If you have a Google account, Google Merchant Center quickly gets you on board and enables you to upload and store your product's listing – to be used for Google shopping and other paid and free services that Google offers.
Getting started with Google Merchant Center is easy. After signing in to your account, simply upload your brand or product's data, and Google will make it available for Google Shopping as well as other services you may want to use.
Important aspects related to Google shopping
If you are using Google shopping or planning to use it in future, you must not miss out on the below-mentioned aspects:
• Feed creation and optimisation – Creating a feed as well as optimizing it for better outcomes is crucial. Your feed contains key details of your product, such as description, image and price. How you prepare a feed using these attributes determines your chances of success.
• Bidding – there are several ways of bidding on Google Shopping. The right bidding formula can help you make the most of Google Shopping platform and drive desired profits.
• Monitoring and optimisation – with an improved Google Shopping roll out, you can now make better use of monitoring and optimization feature. It is possible to view granular data and optimize your campaigns accordingly. Monitoring and optimizing contribute to your overall success, so make your last-ditch effort count.
Understanding your goals and competition before getting started
There are various SEO tools available that can provide a clear line of sight into your competitors' operations. Using a tool, such as SEM Rush, you will get to know the keywords your competitors are using, as well as the title, image and price they have put on display. You may also run manual searches to study and analyze merchants that appear in the top search results.
More than knowing your competition, you must know your goals and have them defined clearly. Gathering information – as much as you can – should help you make decisions you will be proud of.
Before setting up your Google Shopping campaign, take the following factors in your stride to define your goals.
CPA targets
You will want to look into your CPA target. CPA is the cost of acquiring one customer. CPA(Cost Per Acquisition) will be determined by your budget, average margin and lifetime value of the client.
Low competition/High demand products
Let's face it; such products do not exist in today's highly competitive world. Whatever you are manufacturing, there are hundreds and thousands others making the same product – better or worse, that's a different topic to be discussed later. But if you are fortunate enough to have a Low competition/High demand product, seize the opportunity.
Entry-level products
Your entry-level products can be a great pick to attract new customers and build trust. And once you win your customers over, you can pitch for bigger products to increase your profit margin.
Now that you have got wind of your competition and have defined your goals as well, it's time to start off.
Creating an account for Google shopping
In order to use Google Shopping to the fullest, you will be required to make 3 accounts:
• Google Merchant center
• Google AdWords
• Google Analytics
Allow us to walk you through these accounts individually.
Creating a Merchant account
A convenient shopping experience on Google starts with Merchant Center. Creating a merchant account involves a few simple steps:
• Verify and claim your URL.
• Upload your product data.
• Create a Shopping campaign in AdWords.
Further, you should also review your tax and shipping settings and make changes wherever required. For tax settings, go to Settings>Tax>configure your settings. For shipping, go to Settings>Shipping>Shipping Methods.
The final step would be to link your Merchant Center to AdWords to start a Google Shopping campaign.
Google Adwords account
You can create Google AdWords account in just 4 simple steps.
• Visit this link: https://adwords.google.com/home/ and click on Start Now.
• Provide your email address and website URL
• Create your ad and set your time zone and currency preference
• Verify your account
Further, you will be required to set your default bid, budget and delivery. Also, linking your AdWords to Google Analytics is an important part of Google Shopping management, so make sure you don't miss out.
Google Analytics
Linking your AdWords account to Google Analytics enables you to track conversions and gather information related to average page-views, amount of time spent by visitors on your website, bounce rate, customer engagement data and more.
Knowing these metrics will help you optimize your campaign better.
What is Google shopping feed and why is it important?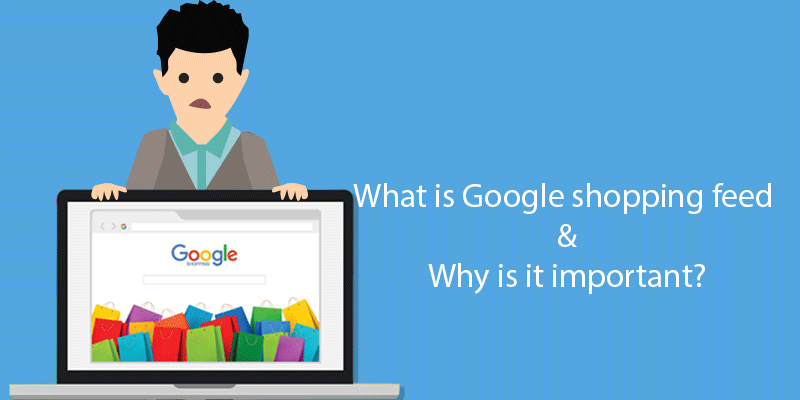 Google Shopping Feed collects information about your products for Google to crawl through and display your product next to the search results in case a relevant search query comes in. However, it's up to Google whether to display your product or not and when to display.
Google Shopping feed is important because this is where you will be making all your optimizations to your campaigns. Secondly, your product will show up for relevant queries, and thirdly, you will earn more and more clicks on the specified landing page.
Setting up Google shopping feed
There are two ways of setting up a Google shopping feed. The easiest way is to use a plugin or an extension, which automatically fetches data from your website. This way, you can list hundreds and thousands of products without doing the laborious work. This method is fast and saves time.
Another way is to manually enter your product's details in a spreadsheet and export it to Google. If you have a few products and want customized listings, then this should be your preferred method.
Using Data feed tools can also help you feed the data automatically. But you need to be careful while using these tools. Always remember to select the right automation process, lest you will get the wrong data, which can be disastrous to your campaign.
Leveraging PLA (Product Listing Ads)
PLA campaigns are easy to set up and even easier to manage through Adwords Editor. A PLA allows up to 45 characters, so choose your words wisely. Put the most relevant information and make every character count.
Bidding in Google Shopping
A fully optimized feed only makes sense when you make the right bidding. Bidding too high or too low can defeat the purpose of running a Google shopping campaign.
Finding a sweet spot
The trick is to find the middle ground for your bids so that you are consistently showing up in the ads and getting meaningful profits. Start with placing low bids (not too low) and observe the number of impressions and clicks for a couple of days. If you are not happy with the numbers, increase your bid amount gradually until you start getting enough clicks to see a shift in the fortune.
Factors to consider
Here are a few factors to consider for placing the right bidding amount.
• Product price – the bidding price for each product should be commensurate with its selling price. Placing the same bid for an entry level product and a big-selling product doesn't make sense.
• Profit margin – if you are putting your stakes on large profit margin, you will have to place a bid accordingly.
• E-commerce conversion rate – using conversion rate analysis, you can find out the conversion rate of your website. If it's higher than the average, you can safely go for higher bids.
SKU and RSLA level bidding
SKU level and RSLA level bidding are two different approaches that can help you optimize your campaign for better results.
The first one is SKU level bidding in which you hold each product accountable for the overall success of the campaign. If you feel that a certain product is not performing well and pulling down the entire campaign, you may either raise the bidding amount or simply chuck that product out of your campaign to increase the overall performance.
On the other hand, based on the number of repeat visitors you get, you can execute RLSA Bidding, and notify Google to place a higher bidding amount. Apart from that, you will have to turn remarketing on in Google Analytics.
Reporting and Analytics on Google shopping
Google shopping serves up a detailed report to help you monitor performance and use results to optimize and improve. Now what to look for in this report? Here are some points laid out for you:
• Products with little to no impressions – this usually occurs due to low bid amount or a poorly optimized feed that is not helping Google in looking up your products. Fixing these issues will get the things rolling.
• Products with high impressions but no/low clicks – this happens when Google is displaying your product, but your prospects don't seem to be interested. It could be because of poor image quality or higher price of the product as compared to your competitors.
• Products with high clicks but no conversions – in this case, the problem could be your product page, or perhaps, your product is not justifying its price.
Optimizing your Google shopping strategy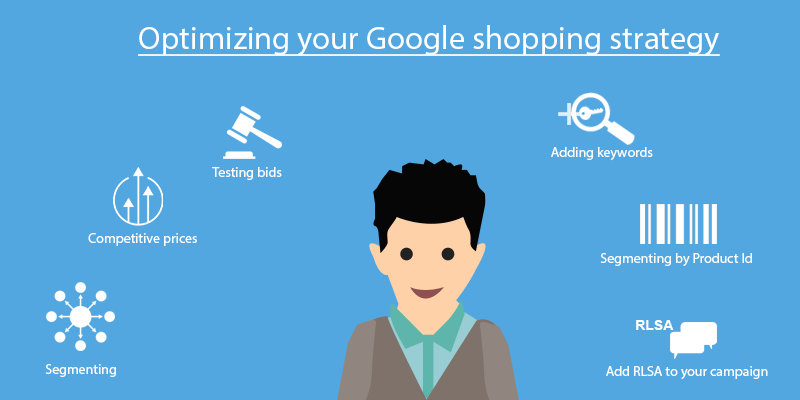 Unless you know the problem, you cannot solve it. Knowing the metrics above can help you figure out the problem and optimize your Google shopping strategy for better results. Here are six optimization strategies that can help you get greater returns on investment.
• Segmenting – it's a fact well known that branded queries and generic queries perform differently in Google Shopping. You can segment traffic by specific brands as well as generics and then place a higher bid for the best queries.
• Competitive prices – if you're running Google Shopping campaigns, you ought to keep your prices highly competitive. Statistics reveal that products, which are competitively priced, generate more conversions than those which are priced higher.
• Testing bids – it would be wise to keep testing your bids since bidding is quite volatile in Google Shopping – much more volatile as compared to Google Search.
• Adding keywords to the product title – there's no doubt about the significance of product titles in a Google Shopping campaign. Therefore, it is important to optimize your title according to the target keywords to generate more impressions.
• Segmenting by Product Id – setting different bids for different products makes sense since each product has different profit margin and cost. Therefore, it is advised to segment your feed by individual product ID.
• Add RLSA to your campaign – your repeat visitors are highly likely to convert into paying customers. Therefore, it's a great idea to use RLSA to increase bids and tell Google to show your ads more often.
Conclusion
Google Shopping in Australia and across the world is gaining immense popularity. When set up properly and managed wisely, Google Shopping can drive profits higher than your imagination. It's a powerful tool that is set to change the landscape of e-commerce industry.
Google shopping management is no trick or rocket science. Follow this guide to get the hang of this platform and rest will depend on your execution. If you are aiming for profit margins as high as 500%, then you must give Google Shopping a shot.