What Are On Page SEO Ranking Factors and Why Are They Important?
Did you know that Google considers around 200 factors to rank a website?
Well, yes that is the kind of dynamics that you should expect when it comes to optimizing your website to rank higher on search engine results pages.
But, the good news is not all the ranking elements are created equal, so you can enhance your SEO efforts by doting on specific factors.
With updates being in full swing, we have put together some of the top on page SEO factors that are worth considering to achieve on page optimization.
Search engine is a dynamic field and it continues to evolve very quickly with every passing day. With constant updates from Google, SEO's best practices also keep changing.
To make the search experience cleaner, smarter and semantic Google page ranking factors and the latest SEO techniques keep changing from time to time.
Having said that, there is no short cut to regular content optimization. On page optimization in SEO is hugely dependent on the web content.
Now, let us look in to all the important on page ranking factors. After all, the way in which your page is optimized will have a major impact on your website's ability to rank higher.
Before you dive into Google ranking factors, Google local search ranking factors and on-page SEO checklist, it is important for you to understand what exactly are on page SEO ranking factors.
What Are On Page SEO Ranking Factors?
On page SEO ranking factors are the ones that help your website to get ranked higher on the SERPs.
These factors are known to contribute towards better search visibility followed by higher ranking on search results.
These on page SEO ranking factors and on site SEO best practices will have a major impact on the ranking ability of website when they are properly optimized.
Following are some of the major on page SEO factors that impact search engine rankings:
1. Web Content
The content on your web page is the element that makes your page worthy of a position on search results.
Now this is what a user would come to see and this makes it an extremely important element to search engines.
On the whole, as a site owner it is important for you to create web pages with great content. So, what makes a good content?
Well, from the SEO perspective, good web content will have two major attributes. It should be able to supply a demand and should also be credible enough to be linked back.
Now let us look into both of these factors in detail:
a. Supply to Demand
Similar to the volatile world markets, information is also impacted by the "supply and demand".
The best web content will be the one which does a great job by supplying for the largest demand.
It could be the Wikipedia that provides detailed definition of the queries to the web users or specific XKCD comics that supply nerd jokes to a huge group of techies.
Furthermore, it can also be an image, text, video or sound. All that your content should do is to supply to the demand. Only then it will be considered as a good content.
b. Good Content Will Be Linkable
When it comes to on page SEO, there is hardly any difference between the worst and the best web content if it is not linkable.
That is if people are unable to link to it or find it not appropriate to be linked to.
Basically, if people are unable to link to your web content, then the chances are that the search engines are not likely to rank it.
Due to this, your content will also not be able to drive any traffic to your website.
Unfortunately, this is something that happens very often than what marketers assume.
Some of the examples for this include – web content that is accessible only if you are logged in, image slide shows that are powered by AJAX as well as content which can neither be shared now reproduced.
In other words, this is the category of content which cannot be linked to or the one that just does not supply the demand is considered to be bad by search engines.
2. Title Tags
Title tags are the next important factors that impact your search rankings. These on page SEO factors play a major role.
Title tags are HTML elements that specify the title of your web page.
These are always displayed on the search engine result pages, which serve as clickable headlines for specific search results.
Furthermore, title tags are extremely essential for social sharing, search engine optimization as well as usability.
So, the title tag of your web page has to be very accurate and should provide a concise description of the content on that page.
However, to make your title tag work, you will have to follow a specific format. Following is an optimal format for a title tag:
"Primary Keyword – Secondary Keywords I Brand Name"
Here the primary and secondary keywords can be either the product name or the services name that the page talks about.
Next, title tags should also maintain an optimal length.
As the Google displays only the first 50-60 characters of your title tag, it is a great idea to limit the length of the title tag to 60 characters.
Research suggests that when you keep your character limit to 60 then 90% of your title tag gets displayed.
Above all, your title tag is the first experience that a search user will have with your website. Besides, it also gets displayed at the top of the web browser, which serves as a placeholder when the users have multiple windows open.
3. Credible Backlinks
Backlinks are still one of the strongest elements that determine your website's ranking in Google Algorithm.
When you have more links from numerous high-authority domains, the higher will be your chances to rank better for the top keywords.
Therefore, as a marketer, you should pay close attention to your backlink profiles.
4. URL
Apart from having smart internal linking, it is also important to have the category hierarchy of your website in your URLs. One good example of a good URL structure is:
"http://www.example.com/hair-care/hair-spa-services"
This URL structure clearly explains the hierarchy of the web pages on the website. This information will be used by search engines to determine the relevancy of a specific web page.
In other words, the URL structure helps search engines understand relative significance and add relevancy metric to your web page.
In addition to this, it is also great from the anchor text perspective, as users tend to quickly link to relevant phrases or words when they are present in the URL.
5. Page Speed
With Google's mobile-first indexing approach, page speed has now become an extremely essential element.
Websites with pages that load very slowly will have a difficult time ranking better on the SERPs. Increasing page speed assures better user experience, thereby increasing your chance to rank better.
6. Following Overall SEO Best Practices
Content is king when it comes to SEO and it is the primary reason that search users visit your site. Ideal web content should be extremely specific to the topic or the search phrase.
Usually, it could be content pertaining to products or services and should be totally relevant.
Following are the four critical areas where the purpose of a particular web pages must be directly stated:
Page URL
Image Alt Text
Title Tag
Web page content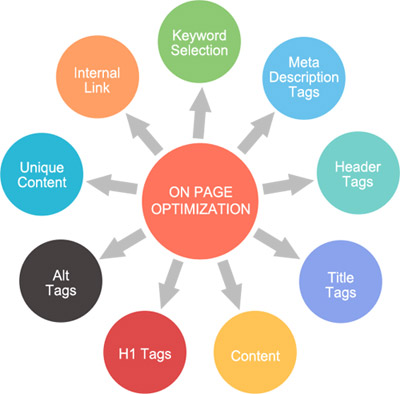 How Can a Web Page Be Ideally Optimized?
Although there are numerous factors that define an ideal web page, following are some of the major factors that define a web page that is ideally optimized:
Hyper-relevant to the given topic (generally a single object or a product)
The subject should be included in the URL
Subject should be included in the image alt text
The subject should be included several times in the web content
Provide high-quality unique content about any given topic
Appropriately link it back to the category page
Link the web page accurately to its sub category, wherever possible
Link the content back to the home page – generally using an image/website logo that links back to the home page
Summing Up
SEO is a continuously evolving industry. Over the last few years you would have witnessed Google making a steady push for content that is rich with quality links.
At the same time it is also essential to make it mobile efficient. After all, search users have gradually turned to their mobile devices leaving behind desktop.
There are various other factors that will certainly have a role in impacting your website ranking. However, it is up to you to prioritize these and improve one by one.
Efficient prioritization will enable you to stay ahead of your competitors.
Your Turn to Speak
Did you find our blog helpful? Then please do not forget to share your insights in the comments section below.
We would be glad to hear from you.