Google Maps Ads – 10 Questions That Need Immediate Answering
What is Google Maps Ads?
Over the past few weeks, Google announced a plethora of changes to many of its products and services.
While some of them were centered around the more traditional aspects such as AdWords and Analytics, a huge chunk of changes were centered around mobile devices.
From search engine to virtual assistant, a lot of work at Google over the recent past has been revolving around enhancing the overall experience of mobile users.
So it's not surprising that the latest announcement from Google is in the same direction.
Described as the next generation of local ads, Google Maps Ads is billed as the game changer when it comes to searching local businesses.
And what better way to integrate this with another block buster of a product – Google Maps?
I thought of putting together top 10 questions that need to be answered immediately so you can take full advantage of this service to drive in-store visits to your shop.
Here are the 10 questions (not necessarily in any order).
1. How is Google Maps Ads Changing Local Search Ads?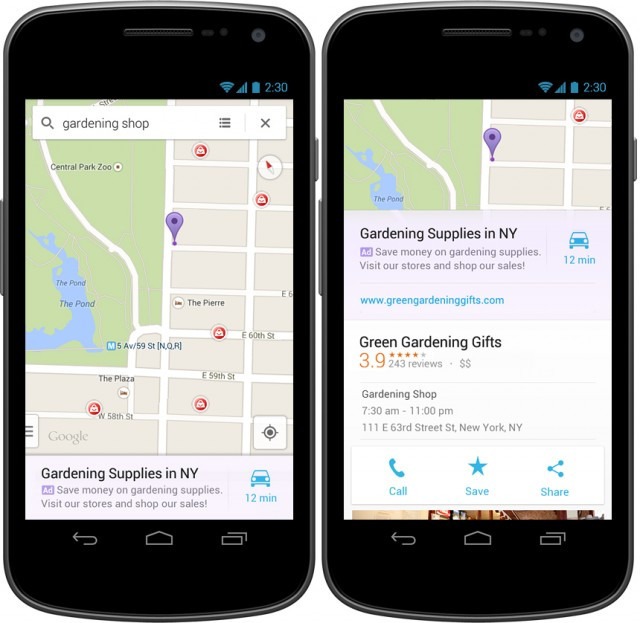 It all started with Google identifying a trend – people use local search for primarily two types of businesses, restaurants and shopping.
So Google Maps Ads is designed to make such businesses more visible in the local search results.
Google's primary objective is to enhance Google Maps experience by introducing local ads in a way that's not obtrusive.
You wouldn't want your navigation to be affected by a pop up ad right on your maps screen.
So the idea here's is to let you know where the local businesses are without distracting you from driving.
As an example, audio elements and interstitials are not expected to be a part of this feature.
The interface itself is expected to go through some major changes by introducing additional features such as Promoted Pins with brand logos, customized business pages, and in-store promotions.
2. Where Exactly Will the Ads Be Positioned?
It entirely depends on how you access Google Maps.
This feature will be available on Google Maps mobile app, Google Maps site across all devices, and the Expanded Maps feature on Google.com to show Google maps.
In the mobile app, the local business will appear with a purple label.
This ad will be placed right above the organic search results.
For now, there's only one coveted spot for this type of ad.
The display will be the same on Google Maps site on all devices.
However, there will be two featured ads for Google maps search instead of one on the app.
The display is slightly different when you advertise on Google maps.
On Extended Maps on Google.com (known popularly as Google search location based searches), once you click 'More Places' under local three pack, the Google Maps Ads will appear above the map results.
Only one business will be displayed with a yellow label.
3. So Why Make These Changes?
The statisticians at Google have been working overtime to understand how mobile devices are taking over the internet.
During the recent summit, they came up with unbelievable numbers that are sure to grab every marketeer's attention.
Here are some of the most important statistics:
Of all the global sales that happen, 90% happen in stores and only 10% online
A whopping 33% of all mobile searches are location based.
When compared to mobile based searches, location based searches are growing 50% faster.
Google Location Map now has over 1 billion users
About 1.5 billion people now rely on Google.com and Google Maps to reach their destinations
84% of all the customers use local business search
3 out of 4 people who used a smartphone to search for a local business visited the store within a day and 28% of those searches ended up in a purchase
From a business owner perspective, it becomes extremely important for you to make it as easy as possible for your customers to find you.
Google Maps Ads is designed keeping this situation in mind.
4. What Are Promoted Pins?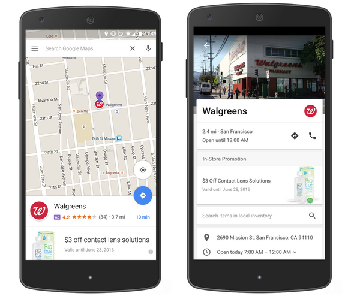 Simply put, it's a way to differentiate your business location from the rest in your locality.
Think of all those red pins that pin point a location on Google Maps.
Now, think of a purple pin among the sea of red pins.
That's how your business will stand out when a user searches for your business niche in your locality.
I used purple in the above example to denote Promoted Pins in Google Maps app and Google Maps site on all devices.
On Google.com location based search, this pin will be yellow in color.
Local businesses can also use this to promote offers in addition to standing out from the competition.
Let's say you are looking for a pharmacy store in your locality.
In addition to being on top of the search results, Walgreen can also use a promotional coupon to entice you.
What's more, with big data, you will exactly know if a regular customer of yours is driving close by and your location can immediately pop up on his navigation screen.
With the right promotional offer, you can easily lure him to take a detour and spend some money at your business.
5. How Will Google Prioritize Which Ad to Show on Top of the List?
There can be numerous business listings for any given search term within a location but there's only one top spot on Google Maps Ads.
So how does Google zero in on one store? What makes Google think that one store is more relevant to a specific user than the rest?
There are several parameters based on which Google makes this decision.
Some of the most important ones are:
Browsing history
Search history with Google maps running
General interests based on social media and other signals
Demography of the user
Time of the day
Frequented locations
From Google algorithm perspective, nothing has changed much really. It's just the interface.
The underlying logic is pretty much same as the one used for ad serving in Google Display Network.
6. Is Google Maps Changing Too?
Google Maps advertising is changing only to the extent to support the Google Maps Ads.
It's all about driving foot traffic to your store than driving online traffic to your website.
One addition to Google Maps is actually outside of it. In that, if you tap on a local Google search result, you will be taken to a separate page.
This page is fully customized to support the business for Google maps advertising.
It's completely up to the imagination of the business owner to use this page.
From using general information such as business hours and contact information to using highly specific information about the products or services, one can find a variety of information including local inventory and on going promotions.
7. Why and How to Display Local Inventory Within Google Maps Ads?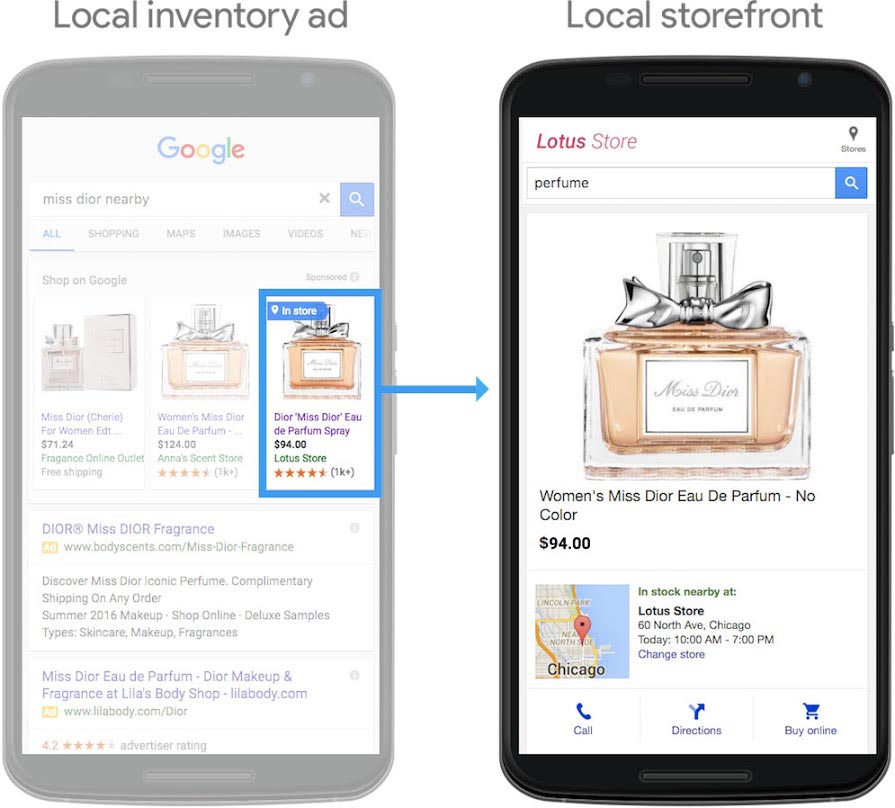 About 25% of all search users will not visit a local store only because they are not sure if the product they are looking for is in stock.
With the customized local page within Google Maps Ads, you can include your latest inventory so your customers can know if they want to visit.
You can also include a search query within the page so they can easily locate the product.
Another feature you can add is to request for a product that's currently unavailable.
To list your local inventory, you need to provide Google access to your inventory feed on a real time basis.
8. What's the Pricing Policy on Google Maps Ads?
At the present, Google will charge these ads on a cost per click basis. The triggers for clicks are:
Get directions
Click to call
Get location details
9. When Will This New Local Search Ads Roll Out?
The local search ads is currently in beta testing and Google has not yet announced a launch date.
With more advertisers being on boarded everyday, and going by the past history of how quickly Google brings its products to mainstream from beta such as Google business ads, you can expect this to be rolled out in the next three months.
10. What Can Local Businesses Do in the Meanwhile to Prepare for the Roll Out?
You know by now how to pin on Google maps and Google maps features.
There are a couple of things that can do while waiting for this launch.
First, enabling your local extensions is a prerequisite to qualify for Google Maps Ads.
What's more, local extensions by themselves can positively improve your online performance.
Second, get Google My Business labels if you don't have.
If you already have one, make sure that all the information is up to date and no field is blank.
The Bottom Line
With mobile devices coming under increased focus by Google, you can expect a lot of changes to occur in the local business search and local ads scene.
This is a great news for business owners – both local businesses and businesses that have brick and mortar stores.
By adopting this service early, you will be in the pole position to take full advantage when Google Maps Ad goes live in the near future.
Now that we have covered 10 questions, I am curious to know if you have the 11th for me.
Just use the comments section below and I'll be glad to respond.