SEMrush Review – The Ultimate Review and Tutorial of the Best Tool for Keyword Research and Competitor Analysis
Gone are the days when SEO was the privilege of the elite few website owners. Today, almost every website owner is aware of SEO and has access to truckloads of articles on the web to optimize their sites as this SEMrush review notes.
So if everyone is adopting SEO techniques, why is it only very few sites perform well?
What is it that the few are going right that others are not?
The reason is simple. Adopting SEO techniques is not same as adopting SEO techniques well.
Having a set of keywords and creating great content is not be-all and end-all of SEO.
There are two crucial aspects to SEO that most website owners ignore – a thorough keyword research and full competitor analysis.
This SEMrush review aims to focus on these two critical factors, in addition to few others, so your site can compete with the best of the best.
So let's dig right in to this tool that will help you not only drive traffic to your site but also convert those visitors to customers.
The Quintessential SEMrush Review
So What Is This SEMrush Tool?
SEMrush is an all round SEO tool that let's you take control of all your SEO endeavors.
From keyword research and competitor analysis to helping you fix SEO related issues on your website, this tool can do just about everything you want, including spying on your competitors' backlinks and keywords! More on that in this SEMrush review later.
Started by SEOquake, SEMrush has come a long way since its inception.
Just so you know the power of this tool, here's a little sneak-peek into the numbers:
1. Number of active users: 70,000
2. Number of domain base: 29
3. Number of keywords in analysis: 120 million+
4. Number of domains information stored: 73 million
As an all-round SEO tool, it offers a host of features and options that won't find in other tools or plugins.
Here are a some of the most important ones:
Thorough keyword search that's easy to use
Tacking website traffic- both yours and your competitors
Analysis of backlinks – both yours and your competitors
Find and fix technical and other issues through site audit
Fully updated database for fresh and accurate data
Competitor's ads information through Product Listing Ads
Built in advertising analysis tool
Compare two or more domains to track performance
Get precise positioning and ranking of your keywords
And much more!
We shall look at each of these features in this SEMrush review so by the end of this article you will be ready to compete with the best and most authoritative sites.
How to Use SEMrush for Great Website Traffic That Converts?
To say that you can beat your competitors no matter how big they are is not even an exaggeration.
So how does this tool all this? Simple. It uses database from 28 bases that covers US, Europe, Australia, India, and just about every geographical region that matters in today's SEO world.
This ensures that their database is updated all the time and you have access to the latest keywords and backlinking opportunities as and when they surface on the world wide web.
Remember, using the right database is just as important as targeting the right keywords.
To help you understand this tool, this SEMrush review it breaks down into four distinct aspects.
Each of these four aspects are grouped together in such way that they address unique challenges that website owners and SEO specialists face.
In the process, each of the point discussed below may include two or more features that were mentioned earlier in this article.
You may find that some of the features will overlap and appear under more than one section.
So let's dig deep into this SEMrush review and take a look at the four aspects of this tool.
1. It's All About Finding and Targeting the Right Keywords
You have heard it before and probably you will hear it again many times over: A thorough keyword research and proper implementation is the most important step in the entire SEO process.
But the underlying questions that most website owners ignore is "How do you perform a good keyword research? Which is the best tool out there?"
While Google's Keyword Planner is a great way to start, as are some of the other free online tools, it doesn't produce desired results in most cases.
And why is that?
The answer is simple. Everybody else is using the same tool and therefore targeting the same keywords.
So even though you choose low competition keywords, it's still difficult to rank.
There has to be some differentiating factor.
You need to come up with a different way to find new keywords that are not targeted by your competitors and SMErush can help you with that.
By leveraging its database sourced from 28 different bases and more than 73 million domains, SEMrush is able to uncover keywords that were hitherto unavailable.
From fitness and IT to real estate and automotive, no matter which niche you are into, you're sure to find the most profitable keywords.
Need an extensive list of keywords that are easy to rank based on a keyword idea you have? No problem.
This SEMrush review is all about making it easier for you.
Have a look at a screenshot of the tool so you have an idea about the layout and interface.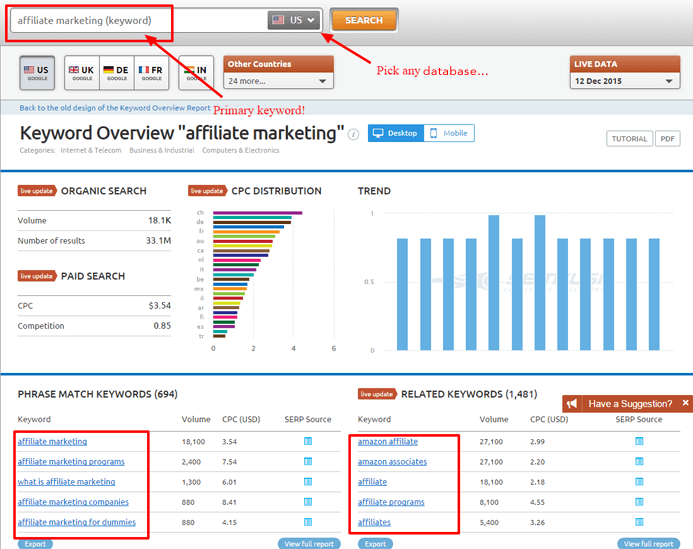 Keyword research with SEMrush tool
As you can see, once you enter a keyword into the tool, you will get a list of keywords based on phrase match.
What's more, you will also get a list of related keywords.
This is great because with Google's latest update to include Latent Semantic Index, using these related keywords in your content greatly boosts the page rank.
You can also choose which database to target so the keywords that you get will be highly relevant to your targeted market.
Then comes the search volume. With a clean graphical representation of the search volume broken down to each region, you can make informed decision about choosing the right keyword.
And that's not all.
When you click on "view full report", you open the Pandora box that will give yet more keywords that are highly profitable for your specific niche. And it's all based on the keyword ideas you enter and the database you choose.
2. Competitor Backlink Analysis Has Never Been This Easy
One of the most powerful tool you'll find in an SEP specialist's arsenal is competitor analysis.
While this analysis can also include keywords and other parameters, one factor that's more important than all others is competitor's backlink analysis.
So why is it so important to know where your competitors are getting their backlinks from?
Well, typically your competitor is one who is already ranking well and appears high on Google's SERP.
Which means, there are certain things that your competitor is doing right and the most important factor among those is building quality backlinks.
Search engines place high emphasis on the quality of backlinks.
It means the sites that point to your site must be related to your niche and at the same time have a good domain authority of their own.
With millions of sites on the world wide web, it can be a tedious task to find such sites that are willing to give you a backlink.
With an analysis of your competitor's backlinks, you can unearth a list of authoritative websites in your own niche.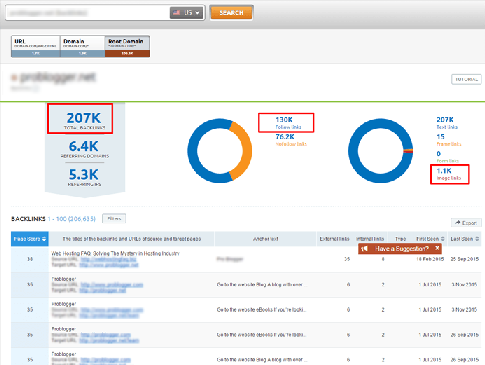 The screenshot presented above gives you an idea of the interface you will be using to perform this analysis.
The report gives you detailed information regarding every backlink that points to your competitor's site including the domain authority, the exact URL where the backlink is present and the anchor text used.
With this information, you develop a clear strategy to develop relevant content on your site so when you approach the same sites, your chances of getting a backlink is high.
And remember, by performing this analysis (and hopefully getting those backlinks to your site), you are only being on par with your competitors.
To get an edge over them, you need to build more quality backlinks. The next section of this SEMrush review helps you with that.
3. The Complete Site Audit Tool
Along with good on-page SEO (keyword research and implementation being a part) and off-page SEO (building quality backlinks being a part), there another aspect of SEO known as technical SEO.
This part of SEO deals with the technicalities of your site such as broken links, server errors, meta data, page load speed, and a host of other factors.
It is highly important that you address any possible issues arsing out of these functional parameters as search engines allocate a good part of their page rank factors to these.
Therefore, it becomes highly important that you conduct regular audits of your site to ensure that it is in good health.
With SEMrush, you also get a an audit tool built in to help you conduct these audits.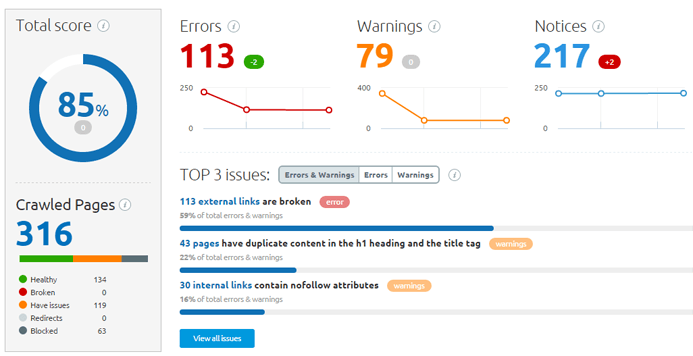 As you can see, in addition to diagnosing the errors, it also suggests possible fixes to rectify the issues.
This feature is also regularly updated just like the rest of the tool so all Google and other search engine algorithm updates are factored in to diagnose and fix your site.
4. Top 3 Features That Make SEMrush Such a Great Tool
1. Keyword Position Tracking
When you are working on improving the ranking of several keywords, it's important to prioritize the keywords and allocate resources accordingly.
To do this, you need to know where each of your keyword stands and how well it ranks.
What's the point in allocating equal resources to all keywords when one clearly deserves more than the other?
With SEMrush, you get almost real-time ranking of all your targeted keywords.
You will be able to track the rankings on a daily basis so you can focus on certain keywords that show a dropping tendency.
Timing is very important in SEO as a keyword that loses its ranking will attract lower traffic which in turn further affects its ranking.
Soon, before you know, you are caught in a downward spiral and there won't be much you can do about it.
If you are targeting certain keywords for affiliate sales, this tool will be all the more important.
2. Domain Comparison
This is one of the best features of SEMrush.
You will be able to place your site side by side with your competitor's site and compare performance parameters.
From the list of targeted keywords and their positions to search volume, cost per click and trends, you will get a detailed comparison with actionable insights.
3. Accurate Website Traffic
Another feature that distinguishes SMErush from tools is its web traffic figures that's accurate and reliable.
Whether you want to check your own website's traffic or that of your competitor's, SMErush always gives you the right figures.
You may have other free tools such as SimilarWeb, Alexa, and others.
But the results they give is only approximate and nowhere close to the accuracy of SEMrush.
Price Packages
When it comes to pricing, SMErush offers flexible plans depending on the size of reports you need.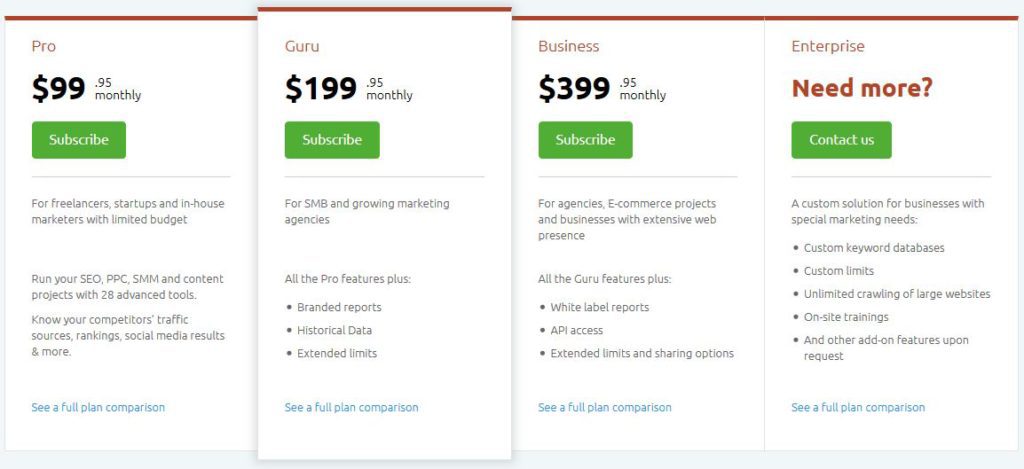 It also has a 30-day free trial so you can decide which package is best for you or if you need this tool at the place.
Why Should You Focus on Your Competitors?
No matter what your niche is and whether you run a brick and mortar store or an ecommerce site, you will find competition.
This SEMrush review cannot overstate its importance.
However the competition to reach that coveted first page of Google's search results page is more transparent.
There only limited number of steps that a website owner can take to beat the competition.
What SMErush does is, it gives you accurate information about what your competitors are up to.
Armed with information, you will be ready to beat them at their own game.
This also lets you come up with a good content strategy to target the right keywords.
There's a two pronged strategy that you can adopt:
First do everything that's working for your competitor – it's important to note that everything your competitor is doing may not be affecting them positively. They maybe targeting highly competitive keywords eating up their resources. They maybe getting backlinks from poor sites that are spammy.
Analyze to check what your competitor is missing on. Is there a profitable keyword that drives a lot of traffic that's not targeted by them? Is there a highly authoritative site in your site that they are not getting a backlink from?
All these can happen only if you give enough importance to competitor analysis and SMErush is right there to help you with it.
The Bottom Line
Why use a combination of several tools when you can find all the feature under one single dashboard?
SMErush is a highly respected tool among some of the leading SEO professionals.
In addition to being a versatile tool, SMErush is based on a large database of millions of domains from across the world.
This gives you access to an immense amount of data.
When data is everything in today's SEO, having access to such large volumes of data that's regularly updated is certainly a trump card that you simply cannot afford to miss.
The best part is the flexible price plan that this tool offers is one of the best in the industry.
So what are you waiting for? Sign up for free 30-day trial and make the most of your SEO efforts.
Are you new to SEMrush or a seasoned practitioner who needs more information about this tool?
No matter your level of proficiency, I will be glad to answer any questions you might have about any point discussed in this SEMrush review.