Why Local SEO Is Important For Your Business?
Starting a new local business and not ready to invest much in marketing? Switch to local SEO services, an organic method to earn a free high-ranking spot on prominent search engines. Keep reading to know all about Local SEO services.
Definition of Local SEO
Businesses of today depend a lot on digital marketing and local SEO is one of the most effective types of digital marketing. This enables you to higher your ranking on search engines and allows your website to attract more targeted traffic.
The main purpose of using Local SEO services is to promote and increase business growth. It stands as a fundamental part of an online marketing strategy.
It is a strategic process to improve your website visibility in the search engines like Google, Bing etc. and attract maximum visitors to your site. An effective local SEO strategy increases the website traffic by adding simple and most commonly searched keywords to the content of your site. However, adding a whole lot of any keywords that come to your mind might not always serve the purpose. Therefore, at times you might need some help from SEO experts to conduct thorough research of your business and come up with top search key terms in search engines to higher the ranking of your website in search results.
Wherever you are, there are other businesses just like you who are also looking to target their audience. People will search their queries in various search engines like Google, so, to show your website in the first ranking of search results should be your goal and this is done through local SEO.
In an extensively competitive marketplace, it will not be wise to compromise on your digital marketing quality and let your competitor overtake you. Such kind of situations can be potentially evaded by professional local SEO service providers who will analyse your business and come up with benefitting SEO marketing strategies.
Which Business Needs Local SEO The Most?
Local SEO is primarily for physical businesses whose products or services are specific to local demands. Such businesses target the local audience as their target consumers. Therefore, local SEO will find keywords that are mostly searched in the considered consumer group or geographical area. These keywords will help to rank your website higher in search for local services and products. As it is an effective digital marketing strategy, businesses that operate nationally or internationally can still benefit from using it.
The Importance And Contribution Of Local SEO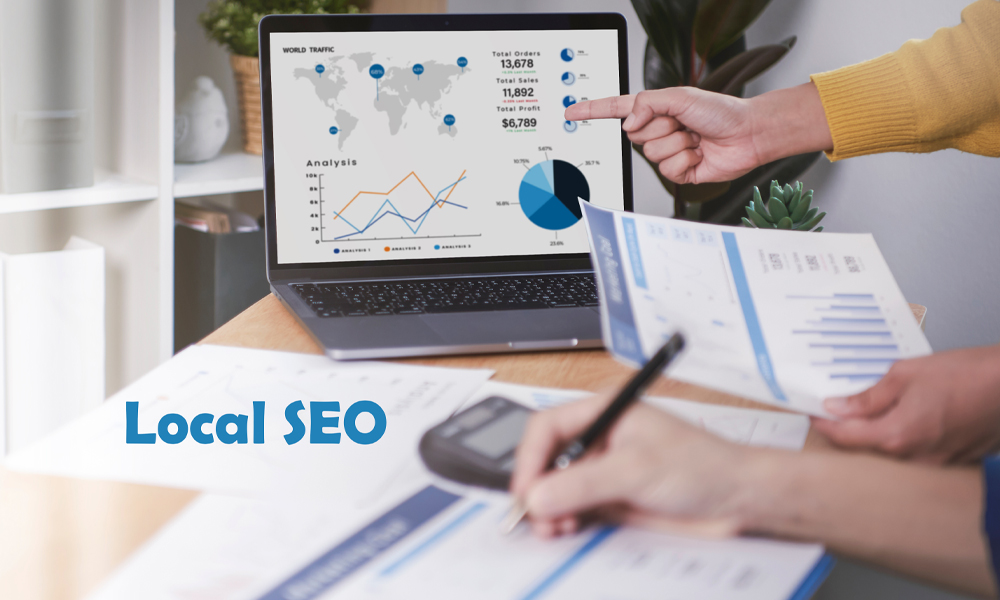 Most people search for their business queries on mobile these days. That means your website should be responsive and with an active internet presence. Local SEO will optimise keywords, website content and website links to increase your online presence, hence increased sales and revenue.
Local SEO enables you to utilise Google to plan your digital marketing and business strategies with built-in services like Google My Business, Google Maps and Google Images.
Let's closely look into some important components of local SEO and how it is benefitting your business.
Google My Business
Having an account in Google My Business boosts your business to the next level. It allows you to show up in search results when potential customers are looking for you online. It is the best marketing tool for small businesses or local businesses as it's free and very effective.
Local SEO and Google My Business are intertwined with each other. Both will increase website ranking and attract maximum traffic. Having a Google My Business account will further improve your local SEO effectiveness. A Google My Business account ensures that when someone looks up your company on Google Search and Google Maps, they will find it. Once they do, your listing shows searches where and how to visit your shop, whether you have a web or physical address.
Google determines local ranking based on three factors:
Relevance: How well your listing matches a search
Distance: How far your location is from the search or searcher
Prominence: How well-known a business is (based on several other factors)
Using the right keywords will improve relevance.
However, you should make sure that all the information on your Google My Business profile such as your address, hours and contact info should always be accurate and up-to-date at all times.
You can also create posts for your business to inform customers of updates, new products, offers, and events. Depending on your goal, these posts can keep your profile fresh, drive sales, and encourage visits to your physical or digital storefront.
Listings In Directories
Listings in directories bring huge benefits to your business and improve your website rankings in local search. Listings in directories will essentially link your location to your associated Google Plus account, which will help you rank for local searches. Moreover, links, citations on quality directories can also play a great role in enhancing your local business.
NAP consistency is also an important key here, especially, when building citation listings. NAP stands for Name Address and Phone number and writing it in a consistent format helps Google with data normalisation, as its algorithm lists multiple citations for your business.
Effective local SEO contributes to your business in multiple ways, for example, to increase your internet presence, reach your target consumers, remarket old customers, promote your products and services and increase your business revenue. Local SEO makes ground-breaking strategies to create or rebuild your marketing strategies. An emerging business first needs to work on a good quality website optimisation by developing its landing pages, web pages, blogs, articles, review sections etc. This can be skillfully monitored with an effective local SEO strategy.
SEO experts work skilfully in enhancing the overall quality and experience of your website. They work on optimising your website's meta description and keywords which will help in viewing your website in the list of customer's search results. This is done by updating your website's title and static page titles to include your business name and other important keywords. The 'contact us' page can be optimised by adding your business location in the meta description, page title tags, subheadings etc. Furthermore, you can also add your Google map location on your 'contact us' page that will help your customers navigate your store much more conveniently.
To Sum UP
Local SEO services provide you with a higher ranking and help to attract potential visitors to your website. By doing so immensely increases your internet presence. It is an organic search that you can conduct by yourself or can collaborate with a good digital marketing agency. Hence, it is a cost-effective marketing process.
It enables you to be at or near the top spot on search results, getting you the first clicks. This way you will always remain a step ahead of your competitors. It filters from general visitors to target customers who are more willing to use your services or buy your products. Local SEO helps to increase the business revenue and enhances business growth and development.
Reach out to us to know more about Local SEO services. We'd be glad to hear from you!